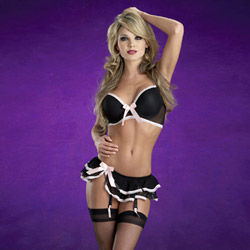 Bow beautiful bra skirt set with hose
Bra and panty set
by Escante
Simply Sexy with a Little Disappointment!!
I really enjoy this sexy piece even tho I wasn't thrilled at first with it being a skirtini, I really do like it. I do have issues with the cheap crappy thigh highs and the garters. I love that the bra gives me extra support where I need it. Unfortunately I can only recommend this piece for those who can fit the two size available. So I'm going to give it 3 out of 5.
Published:
Pros:
Sexy design, Adjustable garters/bra straps, Bra band, Hose included, Padding and underwire.
Cons:
Crappy hose, 2 sizes, Wide bra band, Non-removable garters, Not for everyone.
Use
- Bow beautiful bra skirt set with hose by Escante is to wear in the privacy of your own home. You can wear this before sex and this piece will make you feel sexier.
Material/Texture
- Everything is made from 89% Nylon & 11% Spandex. Most of the set is smooth except the hose, they're rough. The lace is a little rough too, but not like hose. Not scratchy or itchy.
Design/Shape/Size
- This very sexy design with black and pink as the colors. The bra's black straps are 1/4" thick with 1/4" pink lace ruffle and 1/4" wide elastic band start from where the top of cups and straps connect together then goes 8" back. The bra dips for cleavage and has underwire with padded cups for extra lift. The pink lace ruffle and elastic band also connects to the cups. The measurements for those ruffles and bands are the same 1/4". Now, the lace ruffles on both the straps and cups are kind of rough, but it doesn't scratch or itch. It outlines the top of each cup, but stops in the middle of the breasts where a big 4" by 4" pink bow is none removable. The bow got smashed and doesn't stay up. The bra band is thick and has 1/4" pink lace ruffle and 1/4" elastic band, which is stretchy and goes the whole way around to closures. The bra closes with it's 2 sets of eye hooks, 5 eye hook closures on one side and the other side has 5 eye hook clasps to close the bra securely.
The sexy skirt starts with a 1" black elastic band. On your right hip, of the skirt is the last 4" by 4" pink bow in better condition. There's two tiers of big black ruffles, each having a 1/4" pink lace ruffle and 1/4" elastic band, which are stretchy. The black g-string has a wider panty with a decent panty liner. There are four non-removable garters. They are mostly black except the end where there are pink ribbons covering the clasps. The black thigh highs are the WORST! They unfortunately are so cheap and rough. They feel horrible against my skin. The bra's shape cups, holds, and supports your breasts. The skirt is free flowing and the g-string fits and feels great.
Measurements:
Bra: The bra is 27" and stretches to 42". Cups are 5 1/2" long and 7" wide. Padding is 2 1/2" long and 5" wide. Straps are 20". Bra closed 12" and 11 1/2". Width of bra band is 8" and the seam on bra 4".
Skirtini: Side to side is 13" and stretches to 21". Elastic band is 1/4" wide. Tiers of ruffles; first 3" long and second 5" long. Seam on skirt is 5".
G-string: 7" and stretches to 12". Panty is 8" long and 4" wide. Pantyliner is 4 1/2" long and 2" wide.
Garters: Down un-stretched 8in & up 4in, stretch 11in.
Thigh Highs: 23" long, 30" up on thighs, stretches 22"(on my thighs)
Lace ruffles and elastic bands are 1/4" wide.
Escante measurements:
Cup Bust(in) Waist(in) Hip(in) Weight(lb)
Small 2 - 6 A - B 32 - 34 24 - 26 30 - 32 90 - 120
Large 10 - 14 C - D 36 - 38 32 - 34 34 - 36 140 - 160
My measurements: Cup Bust (in) Waist (in) Hip (in) Weight(lb)
B 34 28 36 154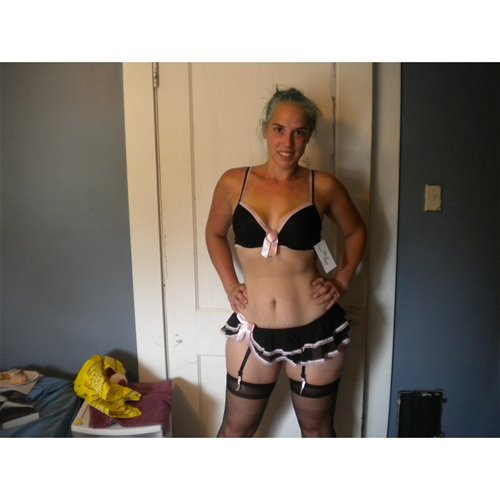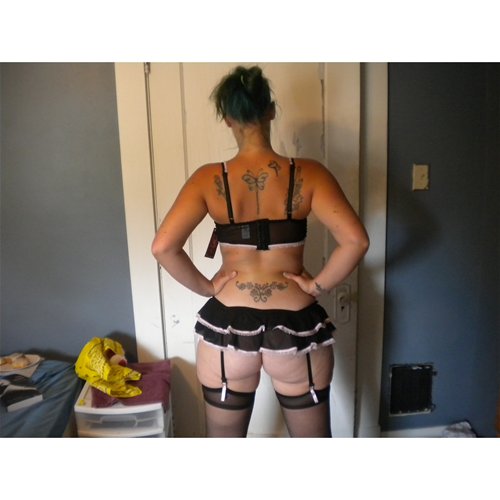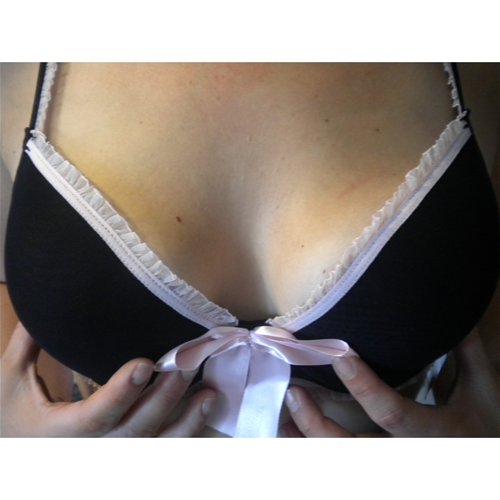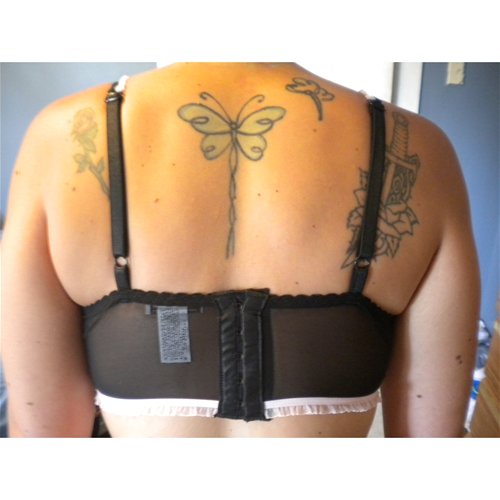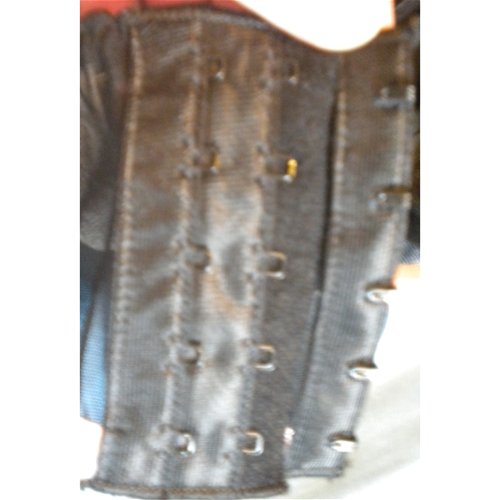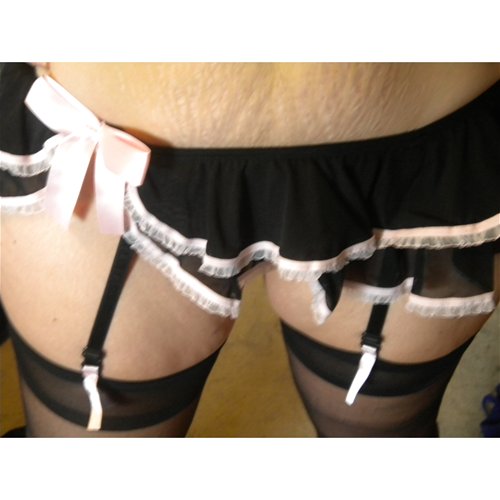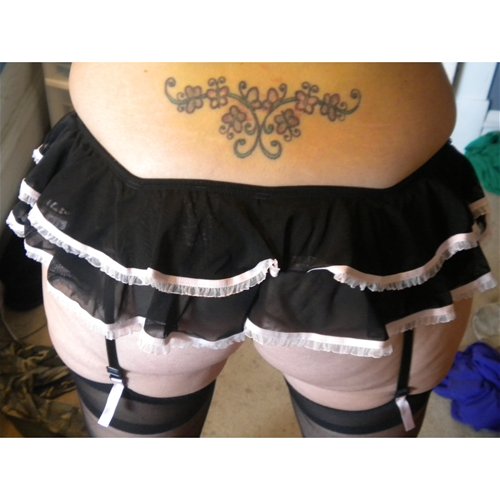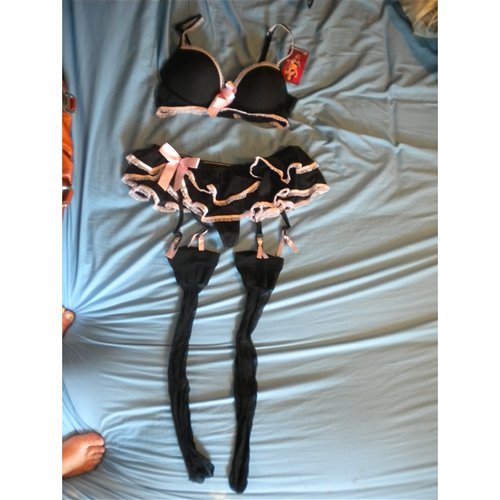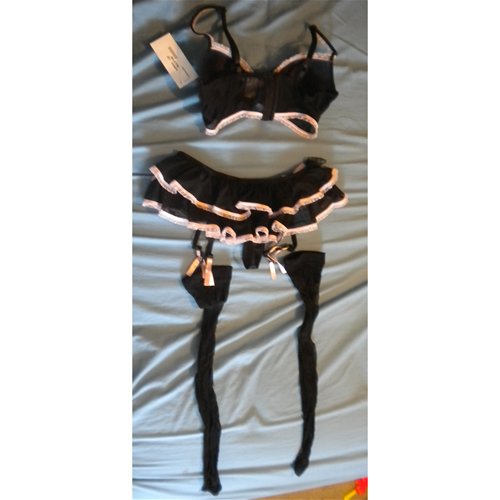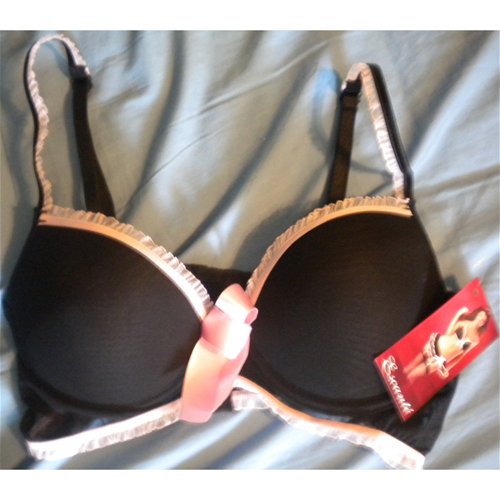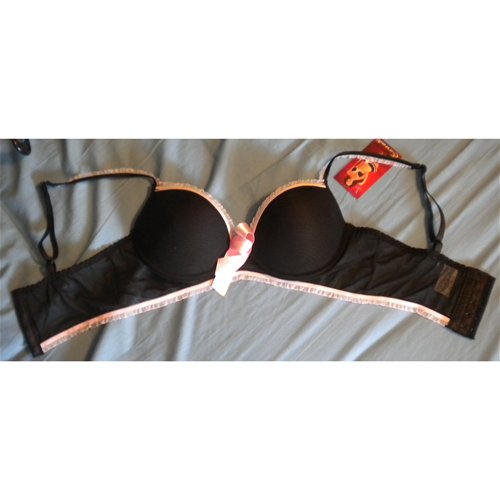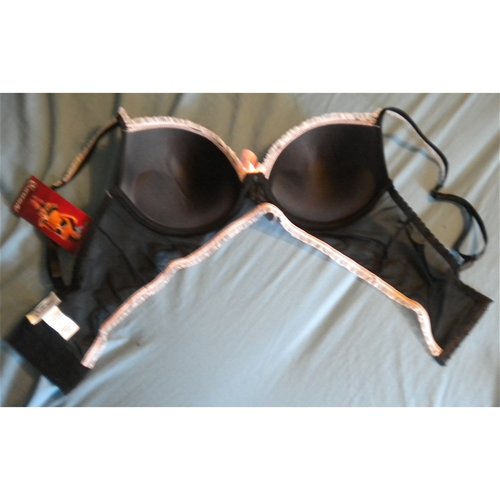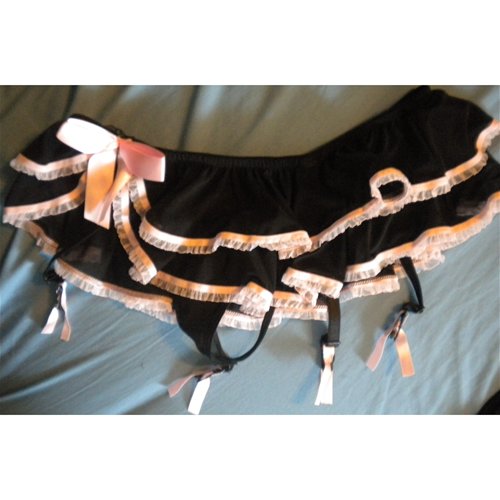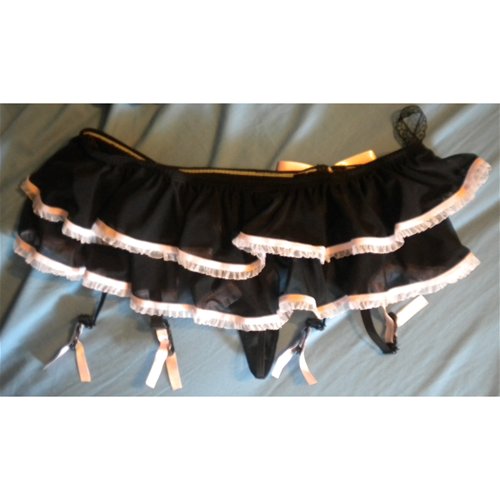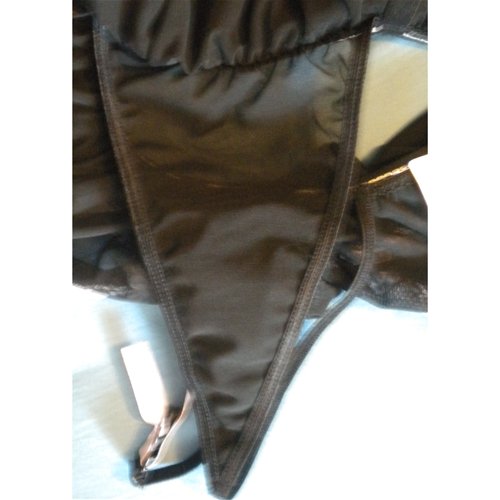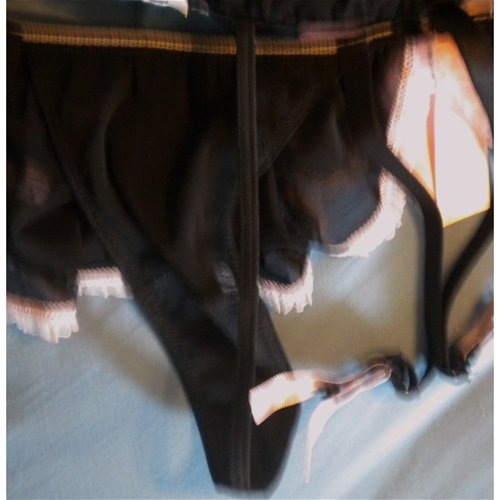 Functions/Performance
- Functions including adjustable straps and garters. Underwire and padding for support. The two sets of eye hooks to adjusts the band. The hose were horribly made and that's probably why they were free. Everything is very stretchy and returns too original shape. When testing, I never heard ripping or tearing. No loose threads or bad stitching.
Care/Maintenance
- Set can be washed separately using non-chlorine bleach or hand washed in cold water. Do not wring or twist, line dry. You may iron on low temperature if necessary. Hose needs to be hand washed in cold water then line dried. Simply hang in closet or put in your dresser for maintenance. Place bra with the cups up. Don't try to fold in any way, this could damage the underwire or make the bra lose it's shape, skirt can just be folded.
Packaging
- The set came placed on a hanger with the bra in front and hose attached in little bag, followed by the skirt behind. All inside of a long plastic bag that can be seen through. The bag was too long for product and also wasn't shut at the end. There was a risk of something leaking into the package. Bag can be recycled and hanger can be reused.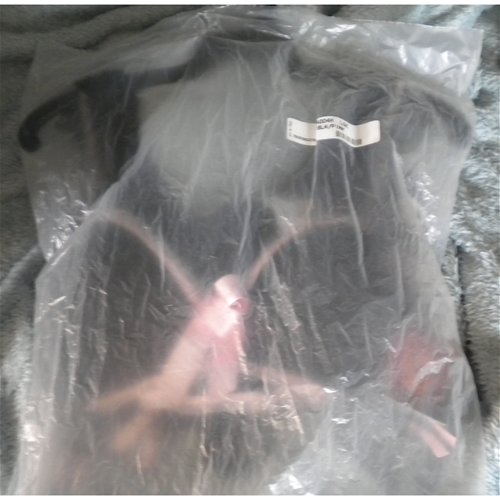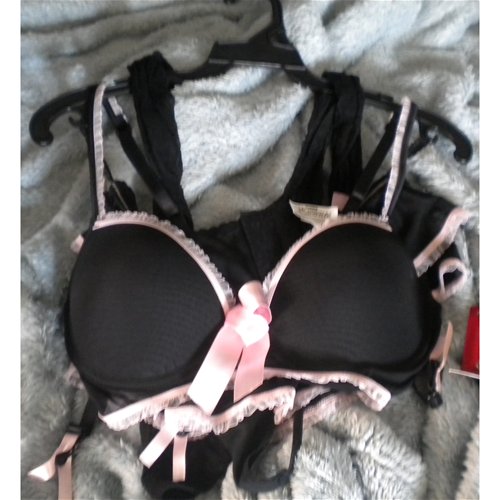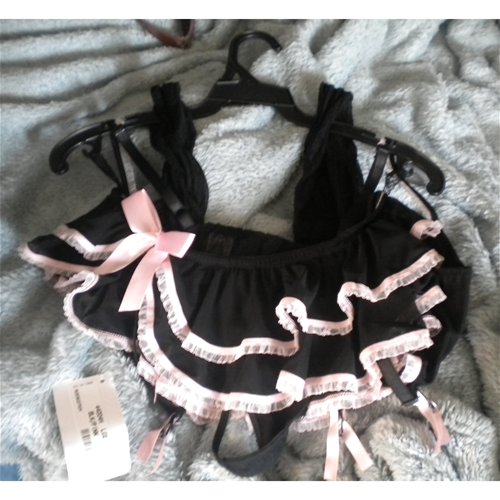 Experience
I picked this as my free assignment for the month. The hubby and I looked over a few different pieces that we really liked and then narrowed it down, eventually picking this one. We both thought this piece was sexy, since I had such a great experiences with a previous bra and skirt set, I thought this was a great choice. I got it next day, pulled it out of the brown box, and out of it's packaging. Placing it on the bed we both look at each other, eager for me to put it on. So I quickly put the piece on and I'm slightly disappointed. I put the bra on and then the skirt, I really need to read instead of just looking, but there was no review, and when I really like something I want it and I want it now. Anyways, I didn't realize everything was connected. It does make it a little easier when you're in the mood. You don't have to fidget with a skirt and then a g-string, so it does have it's perks. Those are thigh highs? For my first pair they were horrible, but since they came with the set I decided to use them for my pictures. Big mistake, this is why I don't like both the hose and garters. I got very frustrated very quickly, and then I wanted to rip the damn garters off and burn the hose. But I eventually got the front ones working, but what about the back? That's where hubby comes into help well try's too help. He had as much trouble as I did with the front, getting just as frustrated as I did. Every time he thinks he got it on the thing comes undone. I had to pull the skirt down past my ass so he could them attached. After all that I was able to pull the skirt up. But then I was afraid to move, walk, sit, or even bend down slightly to put my heels on. The garters did stay attached to the hose. This is why I don't like either off them it was an awful experience.
Follow-up commentary
2 months after original review
I have kind of started to like this outfit a little bit. I mean, it's not one of my favorite outfits and probably never will be one. This is one I will wear every now and then. There's always been things I like about it and things I didn't. I'm trying to move past the things I didn't like. For example; the hose that came with, but those are gone and the garters, I had to cut those off. Personally I had no use for them after what the hubby and I went through. I couldn't imagine doing that every time or having them dangle there getting in the way. So even though I'm still not thrilled with all of it, I'm still willing to wear it. Plus, the hubby thinks I look sexy in it and I don't think it looks bad either. Maybe after each wear here and there, it could grow on me more. Who knows, it just might.
This product was provided free of charge to the reviewer. This review is in compliance with the FTC guidelines.
Thank you for viewing
Bow beautiful bra skirt set with hose
– bra and panty set review page!