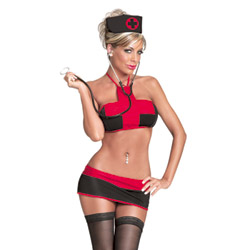 Private nurse costume
Costume by Magic Silk
"Sir, would you like me to check your privates?" (L/XL)
The Private Nurse set by Magic Silk isn't your traditional white with red medical crosses. It's not a button up or the all too popular bra and panty combo that we see so often. This refreshing red and black halter, hat and skirt set changes things up. It could be the next great addition to your lingerie collection or your first dabble into role play and costumes. Either way, this is a cute piece that could work for a variety of different shapes.
Published:
Pros:
~Cute and Unique Design
~Stretchy Material
~Machine Washable
Cons:
~Limited Sizes
~Hat
~Halter Fastener and Support
~ Material/Design/Craftsmanship
This sexy red and black nurse set consists of a mini skirt, a tie on halter top and a hat. The tags on the set say that they're made of 85% Nylon and 15% Spandex. The top and skirt are both very stretchy and soft to the touch, they aren't itchy, irritating nor sheer. The set does have a bit of a chemical smell but it wasn't over powering or unpleasant. I would say this is a pretty middle of the road set when it comes to quality, not bad but not outstanding.
~Halter Top
The halter top is probably my favorite part of this set. The main color of this piece is black with red elastic trim all the way around. It has a big red medical cross that goes along the bust, down to the elastic and up to the halter tie strings. The strings are made of the same red elastic around the edges of the halter top. They are a good length (right around 36 inches unstretched from end to end) so they should fit anybody's neck. One really nice thing about this halter is that it has a plastic closure in the black. Although I wish it were a stronger material like metal it works nicely. No dealing with multiple fussy ties you can't see and no having to squeeze it over your head. One tie around the neck and one snap and you're done.
This top has no underwire and very little breast support. Sadly it also looks ridiculous with a normal bra underneath (stick to strapless if you'd like to wear one). So if you have large breasts or feel uncomfortable without a fair amount of support, this isn't for you. The only real way to adjust the halter is to pull the strings on top tighter, which you can only pull so tight without hurting yourself.
Due to the plastic fastener I'm a bit wary about wearing this during intercourse. You probably could if you were very careful but I wouldn't recommend it.
~Skirt
The main color of the skirt is black with 2 1/2 inches of red towards the top. It has the same red elastic around the top and the bottom as the halter top does. Just as the stock picture shows, the skirt is really short and probably wont cover your whole bum. It's about 8 inches unstretched from elastic to elastic. It's important to note because of the length that moving around a lot will cause the skirt to ride up.
I think this would look good on a variety of shapes so long as you're within the measurements on the size chart. The material is pretty thin so it was visible that I was wearing a thong underneath the skirt.
I'd like to say for women like myself with large hips and/or love handles that the red band around the top isn't very flattering to those parts of your body. Without shaping underwear you may find yourself with a bulge around the red portion and/or muffin top over the red elastic band on the top.
I would wear the skirt during intercourse only if it were pulled it up to my waist; without doing that I would be too scared of ripping it.
~Hat
The main portion of the hat is black with red circle in the middle. Inside the circle is a black medical cross. It's made from a foam material and secures in the back with a thin stretchy elastic string. The elastic is held in place by two holes in the hat; the strings slip through the holes and are knotted around the other end. This knotting is supposed to "prevent" the strings from pulling out of the hat, sadly this isn't the case.
I feel like this had such potential. It looks great, but the struggle of putting it on without pulling the string through the other side makes me not want to wear it. Not to mention I'm afraid of ripping it. I think if they had invested in some fabric and ribbon (maybe even the thick red elastic found elsewhere in the set) that it would be much more useful. I wouldn't wear it during intercourse, or really any other time than just taking some pictures.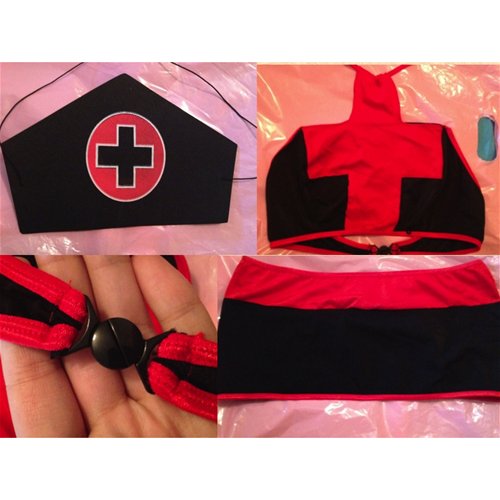 ~Packaging/Care
This set came in a box, it had the stock picture on the front and back, the company and product name and a small description. Machine wash in cold with no bleach. Dry flat.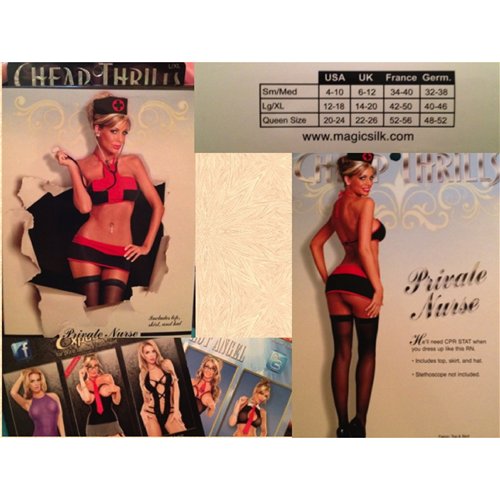 Experience
~Sizing
By no means would I call this set "plus sized". Magic Silk's Lg/XL should fit women's US sizes 12-18 which I found to be pretty accurate. I'm right around size 18 pants and this was right on the money. If I had the option to get the "Queen Size" (if it were available) I would, just to be comfortable. My breasts are around a 38D and my hips are between 44-46 inches. If you're my size or smaller I would recommend this set to you. If you're any larger I simply don't think this set will fit you very well.
I really wanted to love this costume. The top is adorable and unique. But I feared breaking the plastic fasteners and the lack of support was a bummer. The skirt wasn't bad but sadly it gave me little baby muffin top, so I had to wear shaping underwear underneath for it to look right. The hat had so much potential but was practically useless. For those reasons I gave this set a 3 out of 5. The costume is very cute and a nice idea, however I'm just not sure if I love it. I would recommend it to a friend with reservation.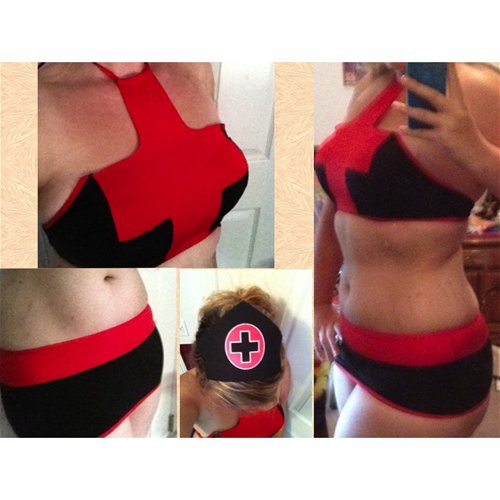 Follow-up commentary
2 months after original review
I still enjoy this costume and have warmed to some of it's faults. However I've also reenforced some of them as well. I've grown to be much more excepting of the halter fastener, it's not as much of a problem as I originally thought it was. The material has held up nicely with no problems so far. The hat is still just useless.

I had a friend of mine (with nearly same measurements as myself) try the costume on to get her opinion. She was disappointed with the lack of breast support and wasn't "wowed" as she is with some of the other pieces in my collection. We both agree that this piece should stay at three stars with a reserved recommendation.
This product was provided free of charge to the reviewer. This review is in compliance with the FTC guidelines.

Thank you for viewing
Private nurse costume
review page!