(Size 38) To Be DIScontinued?
This corset is great for wearing by itself or as an addition to your wardrobe. Use it under a blouse or a t-shirt, or toss a jacket on top of it - however you wear it, this corset is going to look stylish!
Published:
Pros:
Stylish,
Comfortable,
Versatile.
Cons:
Soon to be discontinued,
Shoestring laces.
One of the first corsets I picked up here on
EdenFantasys
was Escante's
Black Side-zip Corset
. I picked it up way back in January during a major sale event. I have not reviewed it up until now because, well, I had so many other things to review. I still do have many items yet to cover, but I am choosing to review this one now for two reasons: 1) I decided to do a series of corset reviews on the ones I already own, and 2) this corset may be about to be discontinued. The only size still in stock is the size 38...the same size about which I am writing here.
The Basics
This corset is exactly what the name implies: a black corset with a zipper on the side. It features a raised floral pattern and has a matte finish. The corset's shoulder straps narrow from two inches above the bust to one inch on top of the shoulders. These straps adjust on the back like bra straps, complete with the elastic bands. There is a black, metal zipper on the left side of the corset which allows for ease of dressing and undressing. The back has two black, shoestring-like laces that work their way through the 13 pairs of eyes that are located on each side of the corset. The corset also has plastic boning - 1 on the section of the corset containing the zipper, and 6 on the rest of the corset. These help give the wearer an hourglass figure. The material for the corset is 65% polyester and 35% cotton.
Floral pattern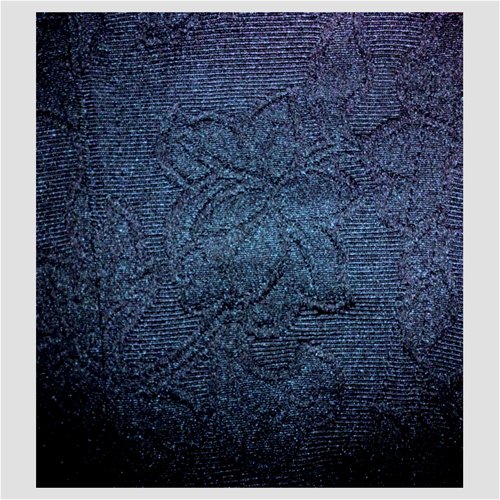 Sizing and Measurements
As I mentioned at the beginning of this review, the only size still available for this corset is 38. By happy coincidence, that is my bra band size, and the size of the corset I am reviewing. I would say if you are a large or extra large, this corset should work for you. If tightlaced, this corset is 36" at the bust. The laces are 84" long, and with each covering half of the corset, this should expand the width of it by up to 6" - or up to 42" if the laces are split evenly. If you are larger than that in the bust, but smaller in the waist, you could have the top string laced through fewer sets of eyes in order to make this work for you. This is a corset for someone with a short torso - it is 14" long in the front, and 11" long in the back.
Top left: front view
Top right: zipper side view
Bottom left: back lacing
Bottom right: adjustable shoulder strap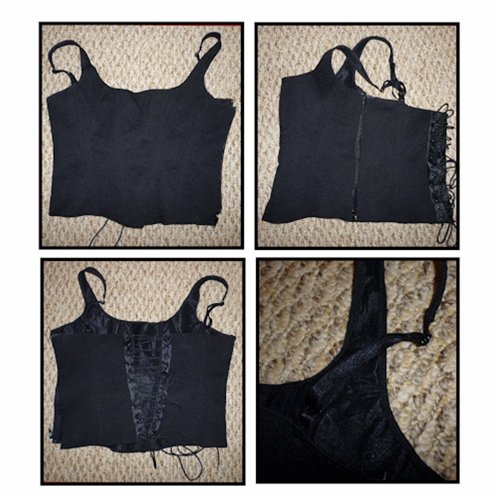 Care Instructions and Storage
As is usual with corsets, this should be hand washed in cold water with a mild soap. Chlorine bleach should be avoided, as should wringing or twisting the fabric. The corset should be allowed to drip dry in the shade to avoid fading. The care tag says it should not be ironed or dry cleaned. If you do iron this, make sure to place a cloth over it and use a low temperature setting.
As this corset has straps, it would be appropriate to store it on a hanger in the closet. Otherwise, you may roll or fold the corset in such a way that the boning is flat and store it in a drawer or wherever else you keep such items.
Experience
Personally, I love this piece. It is probably the most functional corset I own. It looks good by itself, but it is also nice with a t-shirt or blouse underneath, or with a jacket on top. It is very versatile. It is so much easier to get in and out of than corsets with hook and eyes. The only problem in that area is that since it is a side zip, you may have a little trouble getting it started...if you can't see the bottom of the zipper...because your boob is in the way. Ahem. Also, you do have to be careful to avoid getting any skin caught in the zipper - Yikes! It is not a pleasant experience.
Top row: front views
Bottom left: back lacing
Bottom right: over t-shirt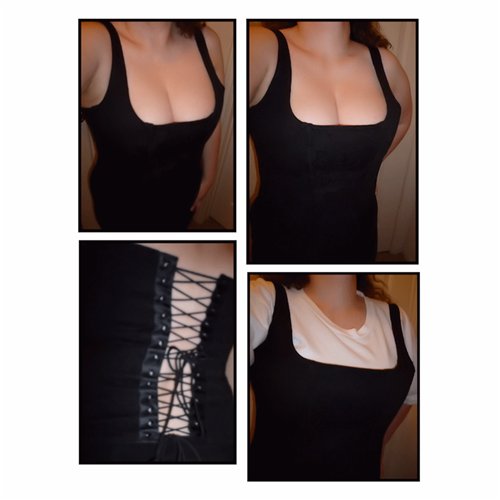 Those things aside, the only other warning I have to give about the Black Side-zip Corset is that if you wear deodorant, you are going to want to make sure it isn't one of those that leaves white marks on whatever it touches. That is really something that shows up well on the black fabric.
I have to take off half a star for the shoestring laces. Otherwise, this is a great corset. It is comfortable, stylish, and extremely affordable with its Summer Clearance price tag. I have checked, and there is
only one left in stock
. There is no confirmation that these are coming back. If you are a size 38, grab this today...right now...before it is too late.
Rounding up, this corset gets five stars from me.
Follow-up commentary
11 days after original review
Alas, this is now out of stock completely. Hopefully, something similar will come along in the future. It isn't often that you find a corset that you can wear anywhere, anytime. I'll be hanging on to this one.
This content is the opinion of the submitting contributor and is not endorsed by EdenFantasys.com
Thank you for viewing
Black side-zip corset
review page!