(Size large) Never judge a book by its cover...or lingerie by its product picture.
Trust me: This piece looks much better in person than it does in the product page pictures. Pencil skirt bottom? Only if you want it to be! The two-way zipper allows you to customize the piece to your liking.
Published:
Pros:
Pretty, Comfortable, Good quality, Adjustable zippers and straps
Cons:
High price tag, No underwire (though this is a "pro" for some people)
When Eden is having a massive sale on lingerie, it makes it very difficult to find a piece for a free assignment! I requested five different items on five different days and had all five items cancelled by the administrator. I was beginning to become frustrated, but I really wanted to get a new piece of lingerie to review. So I thought I would give it one more try...
I have become a fan of the
Cottelli
brand that is available here on Eden. I have two of their items, the
wet look set
, and the
animal print chemise
(review pending). Both of these fit well, so I decided to try another of their pieces. It was time to "take one for the team" and pick something that it appeared no one else wanted to review...the
zip front dress
. Comments on the product page have been overwhelmingly...mixed. I decided that I would request this item, and let the pieces fall where they may.
In doing a little research on the Cottelli brand, I found this (rather literary) description of their style...
Cottelli Collection distinguishes itself through exclusive designs for extravagant women. Fashion made for women who seduce and want to play to the gallery. Women who are sexy and sinful, stylish and beautiful.
Don't we all want to know that woman or
be
that woman? If we didn't, would we be shopping here?
The Basics
The Cottelli zip front dress is not a dress. It would be better classified as a gown, and is definitely lingerie, not for wear outside the bedroom. Its look is a combination of satin and lace, though the fabrics of the gown are polyamide (80%), spandex (10%), and polyester (10%). The bodice is lace appliquéd with purple flowers in the front, and solid black in the back, and features adjustable shoulder straps. The skirt is mostly solid black, except for two small lace panels at the bottom of each side, which are embroidered with the same purple floral pattern as the bodice. A two-way zipper extends from between the breasts at the top of the bodice all the way to the hem of the skirt. The back of the gown features a ribbon lacing its way down from the waistline to the hemline.
Sizing
The gown is available in small, medium, large, and extra large. The size chart found on EF lists the measurements in centimeters, but for all of us who are not fluent in Metrics, here is the chart in Imperial measurements.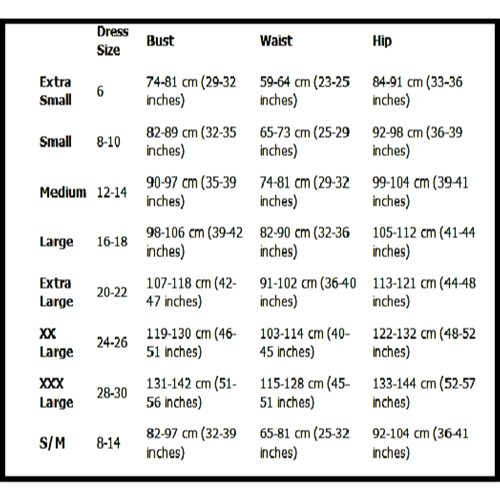 I like Cottelli as a brand. They are a European company based in the Netherlands (though the items are made in China and distributed through Germany), where obviously, a woman is appreciated for having a few curves. Using their measurement chart on three occasions, I have found that I am definitively a size large in their clothing line. I feel confident about my orders from them. I know that whatever I order is going to fit. With a 42" bust line, 34" waist line, and 40" hips, I am within their limits for all but my hips, which are a slightly smaller than suggested, so this is not a problem. I will mention, however, that this particular piece is 34" long, excluding shoulder straps, and I am just over 5' tall, so it comes to below the knee on me, as you will notice on the pictures at the end of the review. This is not necessarily a negative, but as the gown is a longer piece, it is something to consider.
Care Instructions
All of my Cottelli items have had the same care instructions: Wash dark colors separately. Because of the delicate nature of the lace sections, I suggest washing this separately on a delicate cycle in a lingerie bag.
Packaging
The item arrived in a clear plastic box with a picture of a model wearing the gown on the front. Strangely, even though it is a different model from the one on the Eden product page, she is also holding her hand up to the zipper. Why? I do not know. I also don't know how to avoid getting a big glare off of my flash on the plastic box in my picture. Sorry.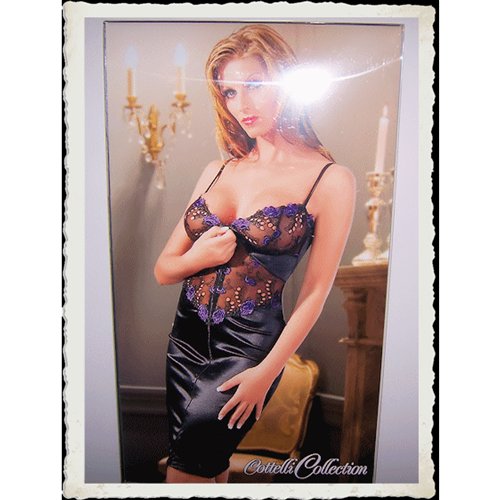 Experience
From the moment I opened the box, I knew that this gown was a lot better looking than the appearance given on the website. It is soft and comfortable, including the lace sections, which are not itchy at all. The pattern of the lace is gorgeous, and the color of the flowers makes this piece really stand out. The two-way zipper is great in that you can show a little leg or a lot of leg, depending on your mood. It also allows for easy access to all parts of the body. Because of the sheerness of the bodice and the wide, low-cut angle of the neckline, this is a piece that will likely be confined to the bedroom, as there is little way to avoid
northern exposure
. This, along with the hefty price tag, knocks a five star piece down to four stars from me. In the end, I am glad that I was turned down for all of those other assignments. If I hadn't been, I might never have gotten this piece, and that would have been a shame.
Here are way too many pictures...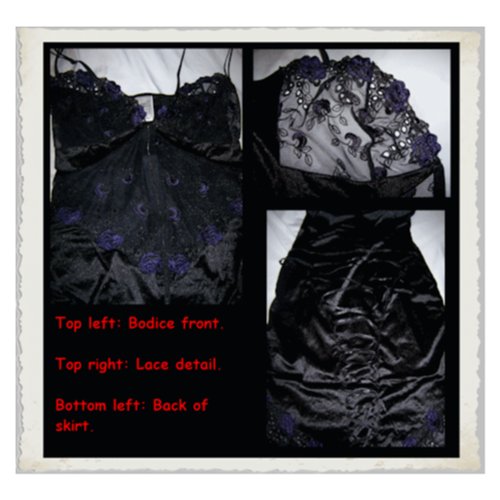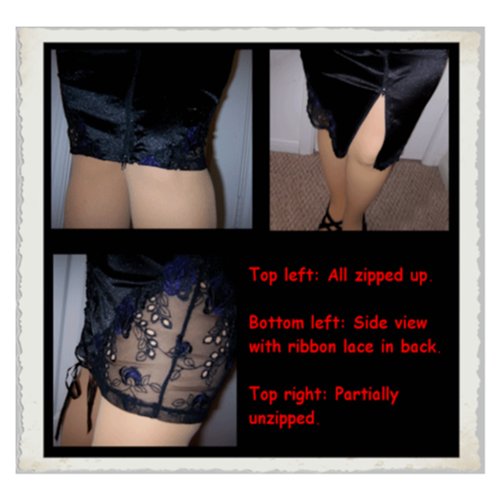 Excuse the bodystocking. The bodice is rather revealing, as I mentioned. Even with the bodystocking, some careful editing had to be used in order to make these fit to show here.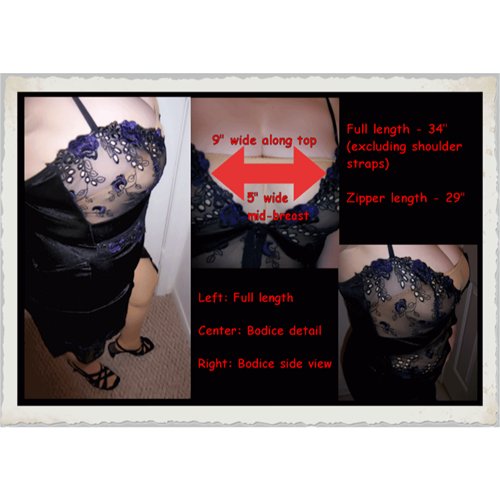 I admit, I was as nervous as anyone else about this particular piece. As the saying goes though, you can't judge a book by its cover. I hope that this review helps to alleviate some of the concerns people have had about the zip front dress, and that others will give it a try.
If you like this item, I would suggest buying it soon, while it is still priced 30% off, as at full price, it is one of the most expensive pieces of lingerie on Eden. Additionally, I have noticed that it does not seem to be listed on Cottelli's own website, which leads me to suspect that when the ones that are in stock here are sold, it
may be
discontinued.
Follow-up commentary
27 days after original review
This is still a wonderful piece that I absolutely love. It is so sexy, and makes me feel sexy too. I hope that more Cottelli items are added soon, because I love the way they fit me.
This product was provided free of charge to the reviewer. This review is in compliance with the FTC guidelines.

Thank you for viewing
Zip front dress
– maxi dress review page!