(Size LXL) B.Y.O.B. - Bring Your Own Boobs...
If less is more, then Xena by Male Power must be the most! Supply the goods to fill out the open bust and the cheeky rear view, and then let the games begin!
Published:
Pros:
Beyond sexy, comfortable, covers tummy bulge, not sheer.
Cons:
"Out of stock," short, may be too tight for breasts above a D-cup.
Some people say that, compared to total nudity, lingerie can be sexier for what it
doesn't
show. Of course, some people would disagree. Not one to argue, I present
Xena
by Male Power as a compromise between the two points of view. It is revealing and concealing at the same time...and sexy? Oh,
absolutely!
Read the review, look at the pictures, and then you can decide on which side of the debate you stand.
The Basics
Although the product page describes this as a dress, it is categorized with the babydolls and chemises. In my point of view, that is definitely where it belongs. Henceforth, I'm going to refer to Xena as a chemise. All in favor say "Aye." All opposed...well, it is my review, so get over it.
Xena has a shiny, stretchy, solid black, leather/wet look fabric that will hug your curves along the stomach and hips. The bust is open with a triangular shape made by the trim of the solid portion and two thick straps that meet above the breasts. The trim and straps are decorated with 19 nickel-plated studs. Thinner straps make up the halter ties that hold the chemise up when being worn. There is another tie that wraps around the back at underbust or bra closure level. The rest of the back is open down to the waist, where the skirt begins.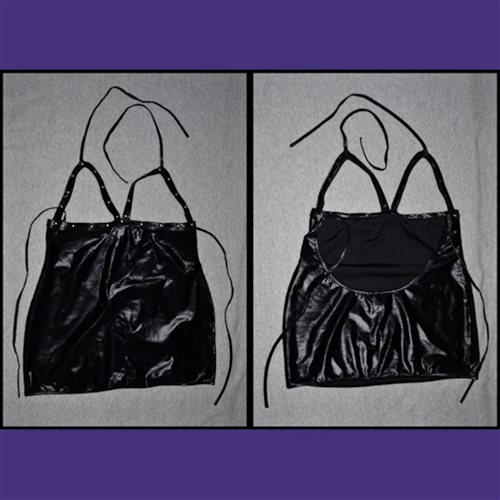 The material for the Xena chemise is listed on the care tag as 85%
Nylon
and 15%
Spandex
. A
press release
for the company calls this material "Cire, a nylon spandex fabric that is characterized as more comfortable and supportive and less expensive" than leather. Whatever you want to call it, the material is certainly comfortable and stretchy. Even the trim, straps, and ties are stretchy! It is also opaque, in spite of the amount of stretch it has, and that is a rare and amazing thing to find among Eden's lingerie pieces.
Sizing and Measurements
Though it is currently "Out of stock,"
EdenFantasys
still lists this chemise as being available in two sizes: SM and LXL. The size chart for Male Power is not listed here, but the particulars for Xena were listed on the packaging. It says that the Small/Medium is meant to fit sizes 4-10, and the Large/Extra Large is meant to fit sizes 12-18. (There is also a Queen Size listed on the packaging, meant to fit sizes 20-24, but it was never offered through Eden, as far as I recall.)
To choose your size for this piece, I would consider two things: dress size and cup size. Personally, I usually wear a 12 or a 14 in dresses, so it was easy for me to see that I needed the LXL. As for my cup size, I wear a D. Even though this is an open bust chemise, there are limits to the amount of flesh that will fit between the triangular straps comfortably. From reading
another review
of this piece, I am going to say that a D-cup hits that limit, and someone with larger breasts may find that the straps cut into the flesh unpleasantly.
Here are some measurements for the chemise:
Strap thickness: 3/4"
Trim length, underbust: 20"
Within the triangle, bottom length: 6"
Within the triangle, outside strap: 5 3/4"
Within the triangle, inside strap: 6 1/4"
Length in front, underbust to bottom hem: 17"
Length in back, top of skirt to bottom hem: 8 1/4"
Width at widest point of skirt: 18 1/2"
Halter ties length: 18"
Back ties length: 21"
All of these measurements are for the piece as is, unstretched. Because of the Spandex material, there is a lot of stretch though. I would say that the body of the chemise could stretch another five inches, and that's a minimum.
Packaging, Care, and Storage
Xena comes packaged in a nice cardboard box that shows front and rear views of the product being worn by the same model as shown on the product page, only uncensored. The box has the word "Lust" emblazoned on the bottom of front, as that is the name of the collection of which Xena is one part. On the back, it mentions that the product line is "specifically designed for supreme fit, comfort, & ultimate pleasure," and suggests that you (the consumer) "Unleash your fantasies." In addition to the sizing information given above, the packaging also has washing instructions: machine wash separately in cold water on a gentle cycle, do not bleach, and tumble dry on low heat (although the care tag says to hang this to dry). As for storage, you could keep this in the box, fold it and put it in a drawer, or hang it in your closet. Personally, I hang this alongside all of my other nighties.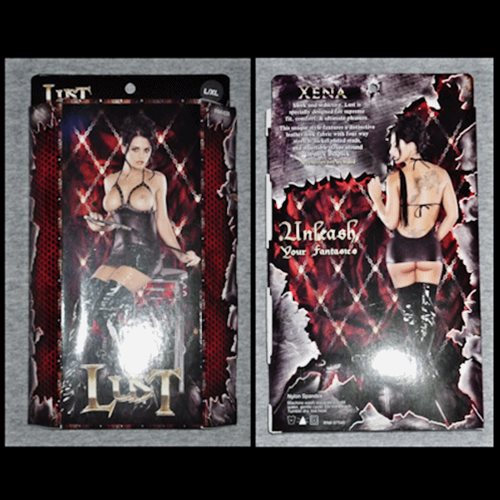 Experience
I love this piece. Wearing it makes me feel super sexy. It is really comfortable, and the straps don't cut into me (unless they are pulled on). It is rather short though. It barely reaches the top of my legs, and I am 5', so taller people will probably find this to be more of a shirt than a chemise. In the back, it is a bit of a cheek chiller, so to speak, as it definitely does not extend far enough to cover my bottom. It really isn't intended to, as you can tell from this photo from the product page...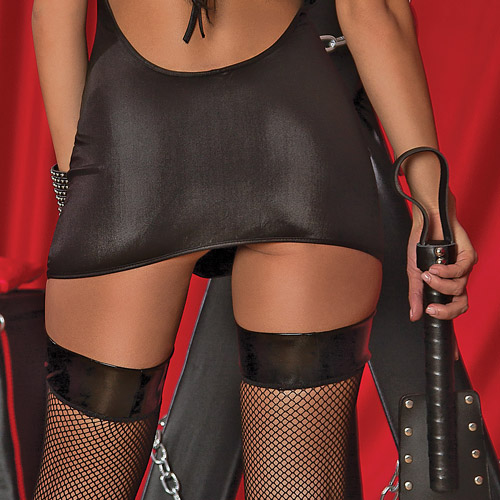 I also like that while it puts "the girls" on display, it hides my tummy bulge, which is the area I am most sensitive about displaying. I really wanted to include pictures wearing this one, but as is, it would definitely go against company policy. I added a bra underneath, so you will be able to get the general idea of what this chemise looks like when worn.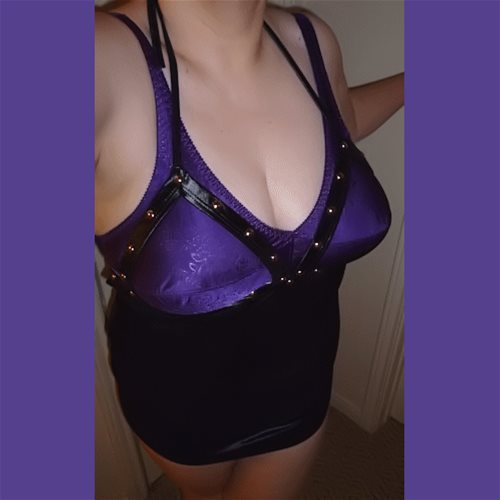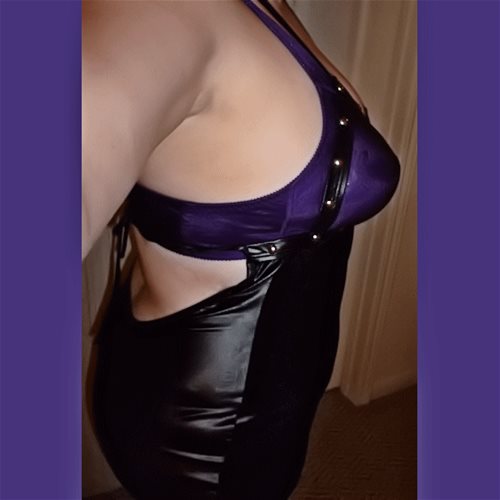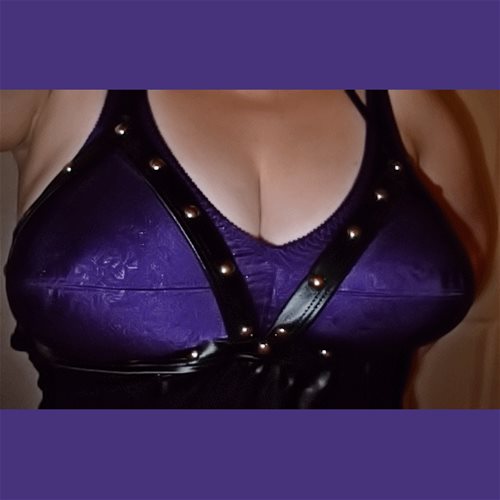 What did my SO think of Xena? I sent him an uncensored picture of me wearing this piece, and his response was quite positive. He said it looked like it's "designed for one thing and one thing only" - which it had succeeded in doing. He likes this "kinky little number" as much as I do.
I give this one a most enthusiastic five stars.
This content is the opinion of the submitting contributor and is not endorsed by EdenFantasys.com

Thank you for viewing
Xena
– chemise review page!