(Size ML) I Believe...I Can Fly?
Here's a little black dress that will be appropriate to wear to more staid events (as long as you don't lean forward and flash someone). Excess material underneath the arms makes the top hang in an odd manner, but otherwise, the dress is okay...just okay.
Published:
Pros:
Nicely made, comfortable
Cons:
Wings, unfinished neckline
For my fourth review in my
Little Black Dress™
series, I have chosen Leg Avenue's
Dress with Rhinestone Straps
. For reference, the previous reviews in this series were ForPlay's
Mullholland Tank Dress
, Espiral's
Black Dress
, and DreamGirl's
Stepping Out LBD
. Writing this series has definitely given me an opportunity to try out different brands - this fourth dress is the fourth one with a different maker. What inspired this series? I have been on a quest for just the right dress to wear to my upcoming reunion. The question is...have I found it?
The Basics
Here we have another basic black dress. Like
DreamGirl's LBD
, this dress by Espiral features a neckline that can be draped in a manner that attractively but modestly covers the bust (the product page calls it a "cowl neck"). It also has a ruched skirt, like that of
ForPlay's LBD
. In a way, it is like a merge of these two dresses, plus a little bit of the bling of ForPlay's
Black Novak Mini Dress
. Once difference here though is an odd bit of fabric that hangs underneath each arm...like wings.
The fabric used to make the Dress with Rhinestone Straps is a polyester/spandex blend. Polyester makes up the majority of the material, at 92%, while the remaining 8% spandex allows the material of the dress to stretch and caress your curves...all of them.
Sizing and Measurements
EdenFantasys
offers this dress in two sizes - SM and ML. According to the Leg Avenue size chart, these are the expectations as to who should be able to wear each size...
Small/Medium
Size - 5-8
Cup - A/B
Bust (in) - 32"-36"
Waist (in) - 23"-27"
Hip (in) - 34"-38"
Medium/Large
Size - 10-14
Cup - B/C
Bust (in) - 34"-38"
Waist (in) - 25"-29"
Hip (in) - 36"-40"
Personally, I am a size 12/14 for dresses, with a 42" bust, a 34" waist, and 40" hips, and I wear a D cup in a bra. So according to the size chart, there should be no way on God's Green Earth™ that I should be able to wear even the ML in this dress. So why did I get it? Because it had spandex, of course! I knew that this would stretch, so I felt alright about being four or five inches over in the bust and waist measurements.
This dress measures 35" from the shoulder to the bottom of the skirt. If you are shorter, like I am, this means that the skirt will fall somewhere a little above the knee. I could actually stretch the skirt down to below the knee, but with the ruching, you don't want to do that. You will want to use the ruching to your benefit - arrange it in such a manner that it will disguise figure flaws as much as possible. Each side of the skirt has a 14" elastic band running down the length of it - this is where the material is gathered and attached to create the ruched look.
Measured on a flat surface, the waistline is 15" across, meaning that unstretched, this dress has a 30" waistline. The cowl neckline drops about 7" from the shoulders, exposing just a hint of cleavage...unless you lean forward. Don't. You may expose much more than you intend, especially if you choose to go braless, which you may, as the 1 1/2" long by 1 1/8" wide rhinestone straps do not give you much space under which to hide a bra strap. A strapless bra might be a better option.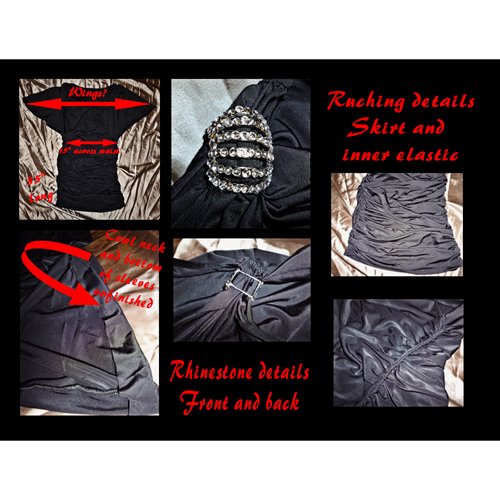 Packaging, Care Instructions, and Storage
The dress arrived folded up in a plastic bag. A tag attached to the dress featured the same picture as is shown on the product page.
According to the care instructions, the dress should be hand washed in cold water below 30ºC (86ºF). It can be bleached when needed, as long as only non-chlorine bleach is used. The dress should be allowed to drip dry, and it should not be ironed. With the rhinestones on the straps, I would be sure to follow these instructions.
This dress can easily be stored by hanging it in the closet with your other clothing.
Experience
The first thing I noticed when I picked up the package for this dress is that it was really heavy. When I put the dress on for the first time, I thought the same thing. It is a heavy dress. I am not exactly sure if it is just the rhinestones on the straps, or if the large amount of fabric that makes up the dress adds to the weight.
When I took the dress out of the package, I realized something interesting. While this is a sleeveless dress, there is a massive amount of material hanging at the sides underneath the arms. If you spread this material out, it looks like the dress has wings (hence the review title above). I found this most peculiar, given that the product page photos do not show this material. If you look at the stance of the model though, it seems obvious that she is tightly holding her arms against her body to hide this excess material.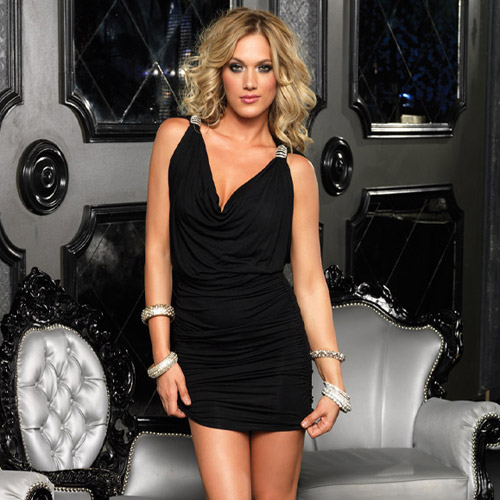 The next thing I noticed when trying this dress on for the first time was that it is really, really difficult to get into. The sizing is a bit quirky, as the top is easy to get into, despite my ample bosom, while pulling the skirt down over my hips - which should have been right at the edge of size chart approved measurements - was an aerobic routine reminiscent of the 80s, Olivia Newton John, "Let's Get Physical" era. Seriously, I am glad no one was around to video tape me while I tried to get into it! The second time I tried on this dress - in order to take the following pictures - I stepped into it, rather than putting it on over my head. This was a much easier way to get into the dress, and I do recommend that you use this method, should you purchase this piece.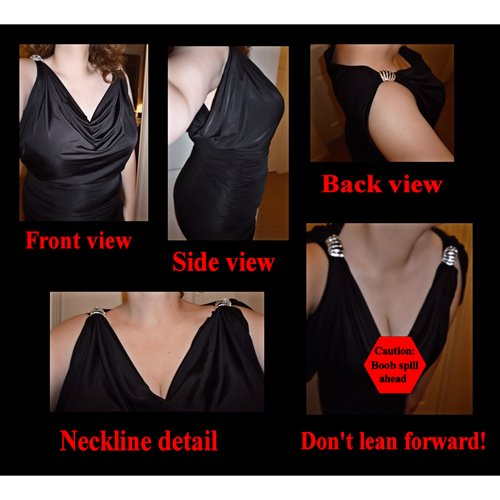 Another thing to note is that the fabric is thin, like the fabric of all the other dresses I have bought from Eden. You will probably want to wear a slip underneath if you are going to be in a well-lit area.
I have mixed feelings about this dress. It is
okay
, but nothing spectacular. I think that the excess fabric under the arms throws the look off a bit. Cowl necklines tend to be difficult to arrange and keep arranged, and in the case of this dress, you have an added degree of difficulty in that the edges of both the neckline and the "wings" are unfinished, so you have to work to keep those edges hidden away. Overall, I am just not content with the way the top hangs. This is definitely not going to be the dress I choose to wear to my upcoming event. If I were planning to
fly
to my reunion, a winged dress might be helpful, but since I am not, this is heading to the dark recesses of my closet...and receiving a rating of three stars.
Follow-up commentary
18 days after original review
Given the situation with the excess underarm material, I really can't see myself ever getting any wear out of this one. Perhaps I should list it on
EdenClassifieds
. Anybody want a dress?
This product was provided at a discounted price in exchange for an unbiased review. This review is in compliance with the FTC guidelines.

Thank you for viewing
Dress with rhinestone straps
– mini dress review page!