Skimpy and Comfy
This dress could be great if you have the goods to fill it out. Smaller ladies may not find to be the most flattering and may want to look elsewhere for a more flattering dress. No matter what your body type, if you are comfortable with the natural shape of your body and need nothing more than a nicely textured black lacey dress to feel sexy, this dress may be right up your alley! If you're looking for something that works magic...maybe not so much.
Published:
Pros:
Comfortable, simple
Cons:
Does not flatter small figures, chest area not flattering
The lace halter mini dress from Baci is a sheer black halter style lingerie dress. It features a soft sheer fabric along the body with a lace trim that lays across the top of the dress and tapers around the neck to create a halter style.
The dress is very short and skimpy; the length just barely reaches 1/3 of the way down the thigh. If you want, you can add or subtract length from this dress by bunching up or pulling down the fabric around your hips. The material and "layered" kind of style of this dress allow for easy length adjustment if you find it too long or too short. By pulling the fabric up a bit on your hips, you can make a super mini dress that gives quite the "bend over view," if you know what I mean. Also, the bunched up fabric lays nicely on the hips and can create a more "full" look for your figure. If super short is not what you're looking for, a simple tug down on the dress will allow the dress to reach about half way down the thigh. I think the dress looks better and is likely meant to be mean bunched up slightly to accentuate the hips/butt area a little bit.
As with most lingerie, there is definitely a certain body type that this dress would look best on. I am B cup and tell you this dress is not going to do any favors for small chested girls; if you are looking for something flattering on the boobs, this is not it! The back of the dress lays very low on the back and is slightly loose on me which I have to attribute to not having the boobs to fill out the top part completely. I found the part of the dress that covers your breasts to be the least flattering part of the dress. If you do not have enough boob to fill out the dress in that area, the material kind sags and creates a pointy pocket of material. I'd say this dress is best suited from someone with a C cup, anything smaller and a pointy effect may take place, and anything larger will likely not fit comfortably in this dress. I will admit though, I love the way this dress makes my ass look so much that I am willing to look over the boob area. The way the fabric layers and bunches on the back makes for a fine looking back side.
I really like the material/texture/overall feel of this dress. It's not something I really see myself wearing to be sexy for a partner, but more of something I want to lay around in bed wearing. Sounds silly, but it is true. The dress is very lightweight and non restricting, making it great for lounging around in comfortably and being sexy at the same time.
And a few pictures for good measure:
Front view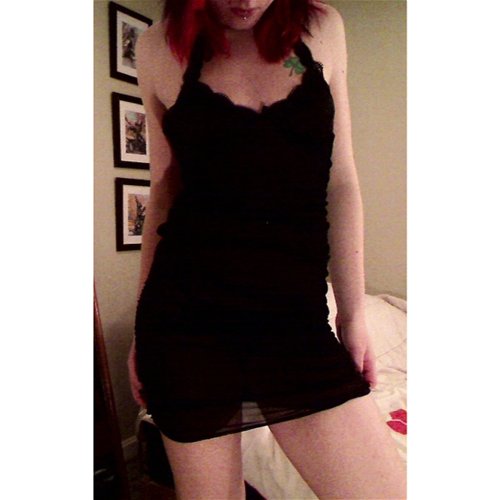 Front/side view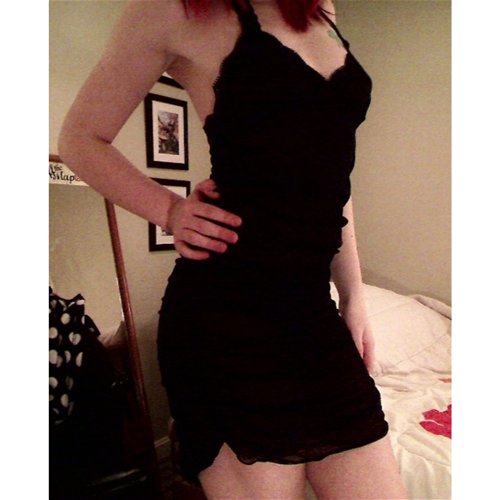 Back/side view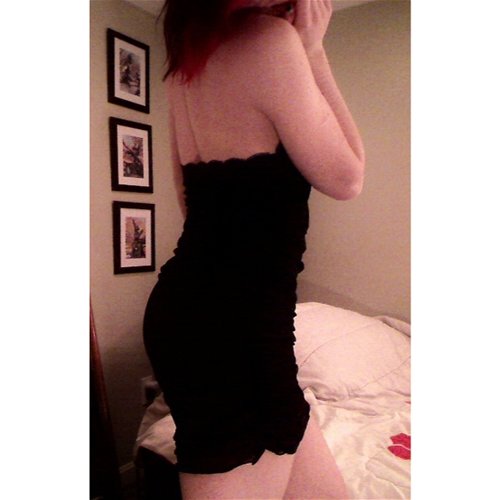 Experience
I just had to have this dress after one glance towards the model that is modeling the black dress. She is smaller chested and I think her body looks fantastic all over in this dress. I knew I was likely not going to have achieve the same look as a model (I mean come now, let's be serious here), but it was worth a shot! I still feel super comfy sexy in this dress so I am pleased. (Also this was my first review assignment! Yay!)
This product was provided free of charge to the reviewer. This review is in compliance with the FTC guidelines.

Thank you for viewing
Lace halter dress
– mini dress review page!