Smashing in the Slashing!
There is something about cut outs (or in this case slashes) that are so sexy! This dress in lime is a huge hit for me and my husband. He couldn't get enough of me in it. I couldn't get enough of wearing it – it is comfortable, stretchy and takes away from my flaws. I love that it can be worn a number of ways, inside the bedroom and outside too! It is a winner!!!
Published:
Pros:
Soft Material
Cute Thong Surprise
Fun Colors
Incredibly Sexy
Wear it Multiple Ways
Cons:
NOTHING
ABSOLUTELY NOTHING
Wow, what can I say about this! I love this sexy dress to pieces, or slashes have you. I love the material, the design, the way I feel in it! Honestly, I cannot even begin! I will do my best to share with you below just how much I love this slash dress. Here goes...
Packaging:
Basic Dreamgirl
The packaging for the Slash Detail Two Way Dress by Dreamgirl is typical to Dreamgirl. It is an indented boxy package that is super flashy. It has the multiple model photos on it, showing each of the ways the dress can be worn, product information and care information.
Contents: Dress and Thong
Made in Taiwan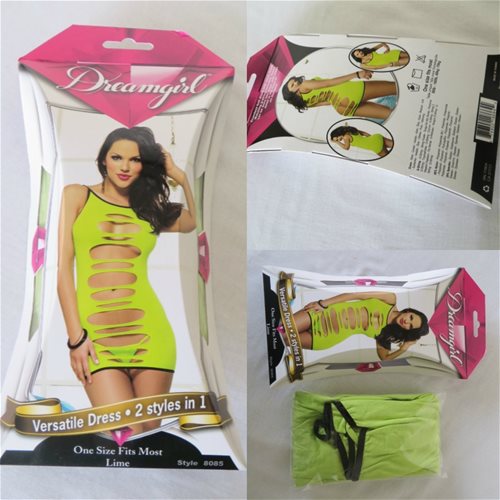 Care/ Maintenance:
Handwash carefully
The care instructions for this dress are pretty basic to most lingerie. Hand wash in cold water, do not iron, do not bleach and line dry. The instructions are listed on the packaging and not on the physical item, so if you choose to throw out the box, it is good to note the care instructions prior to doing so!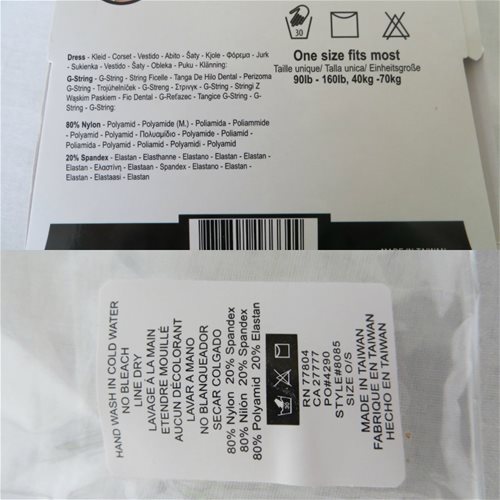 Size:
one size fits most
This item only comes in one size fits most.
Dreamgirl lists their one size fits most as:
General Sizing 90lbs-160lb or dress sizes 2-14.
Bust B-C 28"-32"
Waist 24"-32"
Hips 34"- 40"
I am in the middle on some of these and off the charts on others. I found that this item did work for me though. If you pay more attention to the weight and dress size suggestion, I think that is more important. As for my sizes, I am typically a size small-medium. I wear size 4-6 in dresses and jeans. I have a 34D bust. The rest of my measurements can be found on my
profile page.
The measurements I took of the dress:
Laying flat length - 23″
Laying flat across bust - 11″
Laying flat across the waist - 12″
Laying flat across the hem bottom - 12″
Overall, I agree with the sizing information on their general sizing 90lbs-160lbs. This dress is incredibly stretchy and accommodating. It can fit a range of sizes and body shapes. In my opinion, the thong is a size medium, which is a nice change from the super duper tiny and small thongs that normally are with dress lingerie.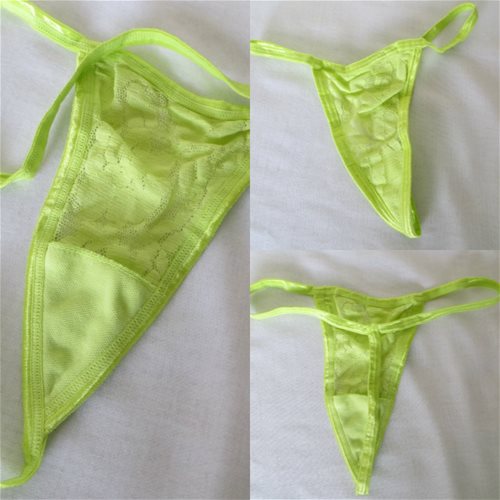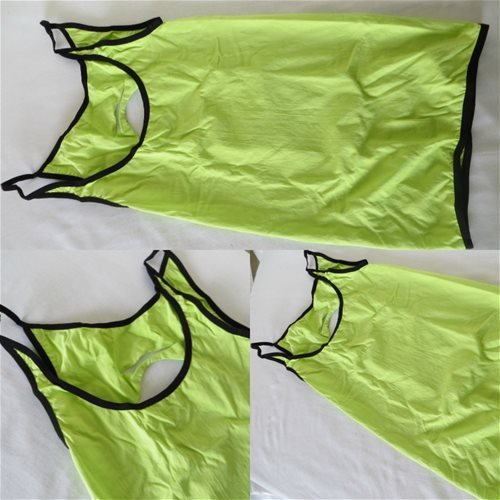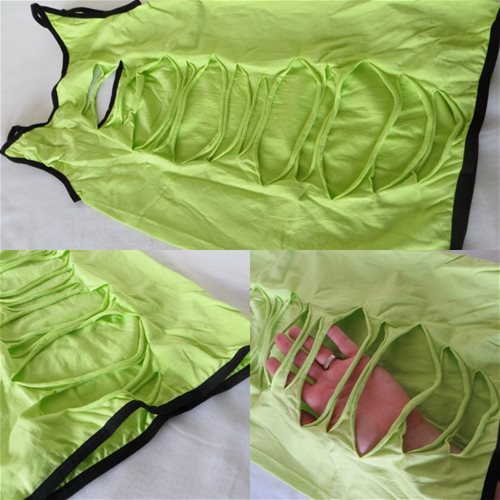 Design/Shape:
Let's face it, slashes are sexy
This dress comes in three color options: hot pink, lime and black.
I love this dress so much I want to get it in all three colors. Currently I have it in the lime color. The lime is very 80's neon. It is very loud, but neon is a fun color to wear in the summer, so it works well. It is lime on the inside and the edging is black. The edging is around the neck and back, under the armpits and on the bottom hem. The thong is a matching lime color. The material of the thong is a lace. It is flowery lace in the front and g-string in the back.
This dress can be worn a few ways. While the product page says it can be worn two ways, I think that is can be worn four! Here are the ways you can wear it:
1. Slashes in front pulled down to a dress
2. Slashes in back pulled down to a dress
3. Slashes in front tee shirt length
4. Slashes in back tee shirt length
I would highly suggest wearing legging and a tank top underneath when wearing this out. It could be really cute with the slashes in back, tank top and tight pants. It could totally pass as a normal shirt you purchased at the mall! You can wear it like this pulled down, or cropped into a shirt. It is nice because the bottom elastic band keeps it in place.
Experience
continued...
Material/Texture:
Stretchy, Comfortable, Smooth
The material makeup is 80% nylon and 20% spandex. That is a lot of spandex! No wonder it is so comfortable and stretchy! It moves with your body and is not restricting. It is very flexible and accommodates for big boobs and big hips.
The quality of this piece is good-great. The hem and edging details feel strong and sturdy. There are not eye-catching mistakes by the seamstress. The material feels high quality and long lasting.
Personal Experience :
I'm in love with a slasher...
This dress is skin tight, almost like wearing a leotard, yet for some reason I feel so hot and sexy. I have my issues with my body – chunky tummy and big hips – but the dress distracts from those. The slashes are the only thing that is eye catching, not the flaws. The cut outs are what make this dress so unique and totally awesome!
Having sex in this dress is a lot of fun. My husband loves when I wear it slashes in the front when I am on top of him or in a position that faces him. My boobs show through and sometimes my nipples pop out. He enjoys that – of course! For doggie style, he couldn't get enough of how my butt looked in this. The dress fits barely under my bottom – it is a short one! When I told him I was reviewing it, he said, "give that dress an A+ for me!" I guess that sums it up, I think it is an A+ and so does he!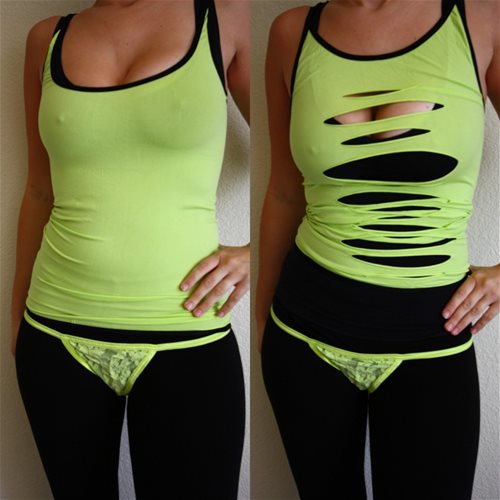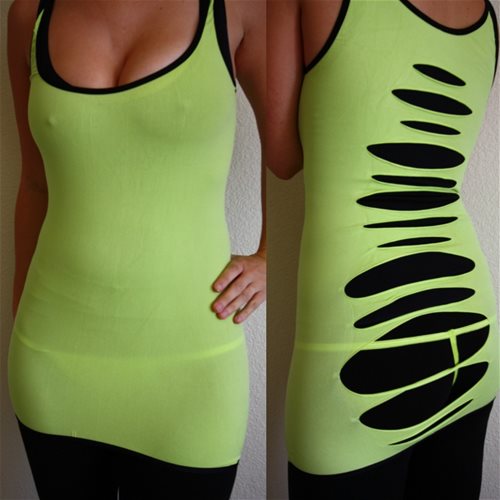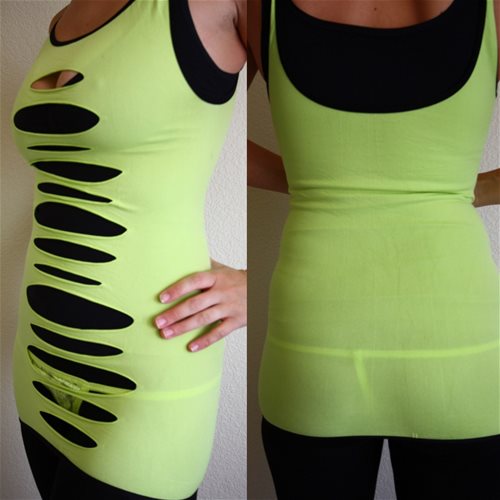 This content is the opinion of the submitting contributor and is not endorsed by EdenFantasys.com

Thank you for viewing
Slash detail two way dress
– mini dress review page!