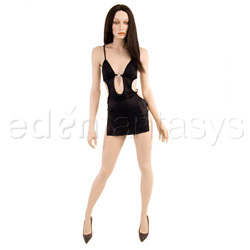 Black dress and panty set
Dress
by DreamGirl
So close to being perfect
While the well-constructed piece does look hot and sexy, it ultimately feels like an apron. It falls somewhere between club-ready get-up and slinky bedroom attire, narrowly missing both.
Published:
Pros
Well constructed, cute neckline, revealing, and moves well
Cons
Skirt is awkward and might be better just as a top.
Speckled with great small touches, this outfit has the potential to be an absolute favorite. Even the thong that accompanies the dress is high quality and can be worn on its own as a comfortable, sexy piece.

There's the plunging neckline to show off your cleavage, which even works if you don't have much in the way of boobies, as long as you have a lean torso to show off instead. It's accentuated by a glittery, rhinestone-covered ring with dangling sparkles dripping down your mid-line. The fabric covering the breasts is comfortable, attractively cut and moves well.

The back is basically open with a criss-cross pattern of strings that meet in the center. It's structurally sound, baring as much skin as possible without becoming one of those tenuously held-together dresses that fall apart with too much movement.

One potentially unfortunate side effect of the criss-cross pattern placement is that the two lower strings lay right across the spots on which back fat creases might be visible if one were to have such creases. I thought nothing of it at the time of wearing this set, but I got a chance to see myself on video later. From afar, it looked like I had two mildly unattractive skin folds from my center back down to my hips. If you feel overly conscious of such things, it might be wise to buy a size up.

These lower strings are also accented on the side of the torso by two sexy little metal rings. It's a nice touch: adding a little more polish to the look and bringing it closer to club gear than lingerie that can be balled-up and tossed into a corner.

We now come to the short skirt. I see the reasoning for its existence: adding a little more fabric makes the top versatile as either a) a top to throw on over some leggings or short shorts or b) as a full lingerie piece with the matching thong. The booty is safely covered, the front is modestly draped, and the sides are scandalously slit to show off even more leg.

But really, the skirt sucks. After throwing on the outfit, I wished the top stopped at mid-waist. I felt like I was wearing an apron, ready to throw some burgers on the grill. The back of the skirt is easily tangled up, meaning it might be inside out or the tag may be visible if you're not paying close attention. I tried tucking the skirt front and back into a pair of booty shorts and while it was obvious I had something stuffed in my drawers, the overall silhouette was actually better. If you've got some sewing skills, consider lopping the skirt off and hemming the edges.

Getting dressed in this is relatively easy if you don't try to rush and removal is simple as well. Just pay attention to all the strings and the correct direction of the skirts and all will be well.
This product was provided free of charge to the reviewer. This review is in compliance with the FTC guidelines.
Thank you for viewing
Black dress and panty set
review page!