So comfortable! So flattering! So awesome!!!
I absolutely love this body stocking! It fits like a dream. It is durable, doesn't feel cheap and flimsy, and it held up well during our first use. It's a cold winter where I live, and I adore the way this feels against my skin. It keeps me warm under clothing and without clothing. It is so sexy!
Published:
Pros:
Comfortable, durable, soft, attractive
Cons:
Might have to tug to get everything in the right place, toes aren't reinforced
Okay, I thoroughly read everyone's reviews on this stocking before getting it. I ordered it with another stocking, because I couldn't make up my mind. This one wins hands down. The
other stocking
I ordered is just not as high quality of a product.
I was a little worried that it might not fit, might not stretch to look right, or that the pattern might be funky in the portion of the stocking that contained the cardboard insert from the packaging. My fears were unfounded. I removed the insert and put the stocking on like a normal pair of tights. It was easiest for me to get my feet in first, pull it up to somewhere in the knees/thighs area, then start straightening out and perfecting it from there. It didn't take long to put on. I had no problem with it snagging on my usually dry skin or scraggly nails. The first issue I did run into was when I didn't pull the legs up equal amounts, so the crotch cut-out was off-center and funny looking. That was a quick fix, with me just adjusting one of my legs so the crotchless portion was actually at my crotch (and in the mirror, it was centered on my ass). This is definitely easy access.
When I pulled it up the whole way and got the straps over my shoulders, I decided to cut the tag out. It's a little bit noticeable. It is under your armpit. It was very easy to remove. It is not a big deal. You can leave it in if you want. The top did a nice job accentuating my breasts. The body stocking fit me comfortably. I'll give you my stats further down, but there was no bagging or bunching. There wasn't any sagging either. With the other stocking I bought, there was sagging when I put it on. It didn't fit like a glove, but this one does. With this stocking, I felt like I was putting it on for the first time. I felt like it was hugging my body perfectly. The other stocking I bought felt like it was too big for me. It didn't cling to my skin in such a pleasant manner, and it didn't look as neat and sexy. This is a big deal to me, so I love that this stocking fits like a stocking should.
I'm 5'6" and about 130lbs. I wear a size 4 dress and size 8 or 9 slacks. I have a small 36A chest. I'm not incredibly fit, but I'm fairly slender. My "problem" areas are always my hips and thighs. I was concerned that the gap at the crotch might cause a muffin top effect on my thighs, but it didn't. I have THICK thighs, and this stocking made them look amazing. The pattern smooths out any imperfections you might think you have. It makes me feel less like a hobo if I skip a day shaving. I can put this on after fudging on my "diet" and not feel like I wasn't looking my best. The look on my boyfriend's face when I came around the corner wearing this stocking told me I was definitely looking my best, if not better. My breasts didn't drown in it. I made sure my nipples poked out of the pattern, and they looked cute. As I mentioned before, the minor V top definitely helps your breasts stand out and not get lost in the stocking.
I paired my stocking with a plain black thong. I just put it on top of the stocking, so I could easily remove it when we got serious. Anything simple will look great, or you can always choose to wear no undies at all!
One thing that I totally LOVED about this stocking was how comfortably warm it kept me. We don't use the central heat in our home due to allergies, so our bedroom is usually frigid. I liked wearing this as it kept me warm. If you're naturally warm-natured, you might find this to be too warm, sticky, or uncomfortable. However, if you're on the colder side, this stocking will rock your world.
This stocking will look great on a variety of body types. I hope to have it for a long time. I think I'll be ordering another pretty soon just in case something happens to this one.
The only thing I can't yet comment on is how it washes. It's sitting in the pile of stockings and tights that need to be hand-washed, but I haven't made it there yet. Fluids will dry on this bad boy and turn it crispy, crunchy and icky. I'll be hand-washing and draping over the shower rod to dry. I'll report back with how it holds up!
Experience
My two complaints aren't big ones. One was probably my fault. I put the stocking on too fast and didn't do the PERFECT amount of adjusting to get everything precisely where I wanted. The other, I saw someone else had a solution in their review so it can be worked around.
1.) The stocking doesn't have a reinforced toe, so your tootsies can poke out of the pattern. This wasn't
too
uncomfortable. It could become very uncomfortable if you have an experience like another reviewer. An experience where your toe becomes wrapped up in the pattern unknowingly, and you cut off circulation for a while. One reviewer suggested buying a pair of nude anklet stockings to keep your feet protected without ruining the overall look of the stocking. It is too bad Eden doesn't sell any.
2.) The crotchless cut out is a little on the small side. If you don't have it adjusted and centered just right, you might be hurting your partner if the stocking is rubbing on his penis while you're going at it. When I first put it on, I should have adjusted the cut out so there was more of an opening behind me. When I was on top, my boyfriend complained that the edge of the cut out was rubbing against him. I suggested he rip it to make it more comfortable, but I'm glad we instead just tugged it around. I'd like to keep this stocking for a while.
Here are a few pictures. The smaller thong definitely looked better with the stocking, but the thicker one still looked good too.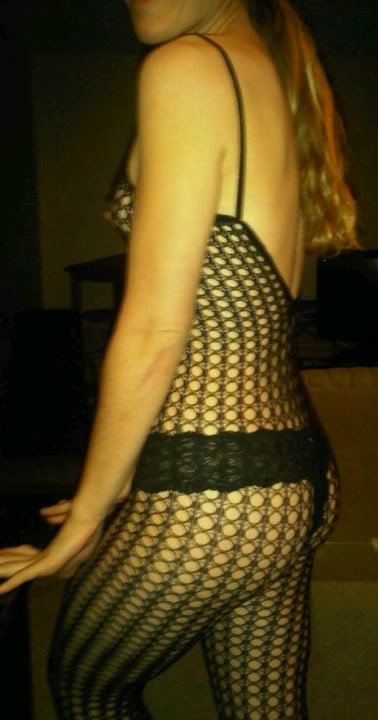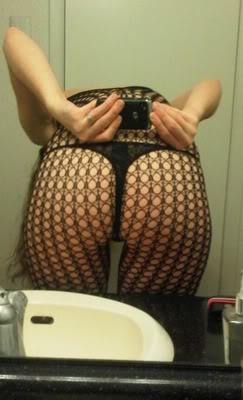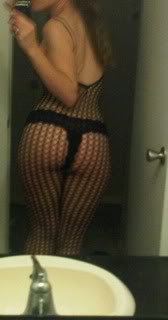 Follow-up commentary
33 months after original review
This is still one of my favorite body stockings! It is soft and comfortable, incredibly flattering and easy to take care of. When your man sees it on you for the first time - VA VA VOOM!!! Definitely something I'm glad I tried!
This content is the opinion of the submitting contributor and is not endorsed by EdenFantasys.com

Thank you for viewing
Seamless crochet bodystocking
– crotchless bodystocking review page!