So Cute I Can't Contain Myself!
This teddy looks a little more like a whole piece swimsuit, but it's so adorable with the neon & inky blue-blotted coloring that I can't help but adore it! It's an exciting, fun piece of lingerie. The fit is nice, comfortable and flattering & it I feel very cute wearing it.
Published:
Pros:
Neon, beautifully colored!
Funky, unique.
Comfortable, sexy fit.
Cons:
Folds look like the beginnings of runs in fabric.
I'm going to
try
to contain my excitement long enough to write this review, but bear with me because this teddy is spectacular!
I'll start with this: look at my photos of the teddy to understand what the color really looks like. The product page shows a more dull color, but the teddy is actual so super bright neon pink, as my photos show!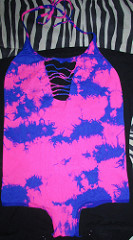 This teddy is much like a whole piece swimsuit. The entire teddy is neon pink with a lovely, inky blue color splattered all over. It looks like a mix between tie-dye and ink splatters.
To put it on, you slide into it just like you would a leotard or a whole piece swimsuit, only it has halter ties, each 18" long. The feel & fit reminded me of my old gymnastic leotards. There's no underwire or support or adjusting of any kind except the halter ties, which are made of the same material as the teddy.
When the teddy arrives, the shape is funny. It looks like a square with a crotch (see my photos) and after you take it off, it goes back to this shape.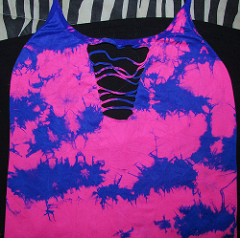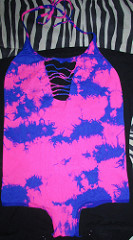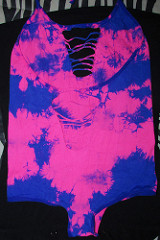 Above is a photo of front & back.
As for the rest of the design, it's pretty basic -- a one-piece swimsuit style -- but it has cuts up to 3" wide in the middle of the chest & on the lower back giving a shredded look. While this does add something sexier to what would otherwise be very swimsuit looking, the shredded portions don't actual reveal a whole lot, which is lovely. I worried about my breasts peeking out where the shreds are, but this doesn't happen.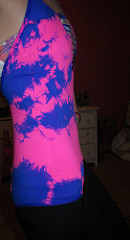 The lower back has the same shredded design and measures 4 1/2" long, showing some skin on the lower back. The majority of the back is exposed since the upper back isn't covered by the teddy. You can see the fit better in my photos. You can see my bandeau bra poking out the back, (wore it to give me extra coverage in the front for the review pictures) so you can expect any bra to show in the back as well. I really don't find a bra necessary with this, though. Basically, the back portion of the teddy does not begin until about the middle of the back, and then you have the shreds right on the lower back, and then there's a full-coverage butt, which I'm so happy about! I hate when teddies have thongs. While the butt does cut into my cheeks, I am much happier than I'd have been with a thong.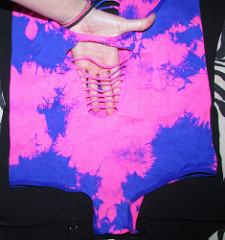 Above is the back, my hand showing the shreds on lower back.
While we're discussing bum coverage, now would be a good time to discuss crotch coverage too. I like that this teddy is more up-to-date than a lot out there. It's not high cut on the hips, but rests low on my hips, and if I have it pulled down, the front actually resembles a boy short cut! That's why it has a square shape to the hips when not on. This is good news because it means I don't have a camel toe in this lovely teddy! The butt is pictured below. Note: the shape of the front & back of the teddy (even the butt & crotch portion) are identical.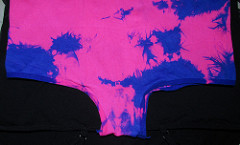 Forgive my funny outfit, but I added leggings & a bandeau bra to give myself some coverage in the photos while still showing you guy the fit.
Material & Care
Nylon/Spandex
The material is the best part of this teddy, besides the gorgeous color. I have a bunch of boyshort panties made of this material and there's nothing better!
While the teddy isn't truly 100% seamless, it is tagless, and since I tossed the trashy packaging instantly, I don't know what the exact percentage of this Nylon/Spandex blend is. However, it is a handwash only & line dry garment. Back to the seamless part -- the title says "seamless Neon Teddy," but there's still a seam right in the crotch. The only other stitching there is though is where the stretchy elastic trim was stitched around the legs & top/back portion.
This material is really unique. It feels so neat! If you've felt of other garments like this, you'll understand what I mean. It's very comfortable and breathable.
One huge, happy surprise was that this is not see-through! When I bought it, I figured it'd be see through once on my body. I expected something much like a body stocking where it's tiny until you put it on, and then it's see-through. This actually isn't at all. It is super-stretchy, but it won't stretch to fit every single body.
Experience
...Continued...


This stretches to fit your body and conforms to your shape much like swimwear does, but it's flattering. It doesn't constrict or feel as if it's glued to my body, but it's very conforming.

While it does cut into my butt cheeks a little, it's still extremely flattering for the back end! It shows off lovely legs, shoulders and back and covers, and highlights all your more private areas.

Teddie's Measurements

From top of back to bottom of butt: 11" long.
Entire teddy measures 11" across, this includes bust, butt, hip & waist. Remember, it stretches.
Length from very top to crotch: 16 1/2" long.
Length from top to hip: 14".


The size is one size fits most, and it'll fit many, but not most. It'll likely fit up to a medium, someone even several inches thicker than my measurements. I doubt this will comfortably fit a plus size, but a size large could possibly manage. A butt larger than mine will be uncomfortable in this. My butt is tiny & the teddy cuts in slightly, but not so much that it's uncomfortable or too unflattering. Any larger than mine will cut in badly.

Let's talk about the crotch. It measures 2" wide and provides plenty of coverage, but no crotch liner. No cooter lip hanging out the side. The teddy stays perfectly in place on my body throughout movement & rough housing.


Keep in mind, if you're tall, this is going to fit a little differently. Instead of having the boy-short option that I mentioned, taller people will have more of a higher cut on the hips because the fabric will be stretched over a longer body.

My Measurements
Bust: Right: between a B and C cup. Left: 34B
Jean/shorts/size: Zero
Weight: 93lbs
Height: 5 2"
Waist: 26" Lower waist. Where I'm a bit wider, the love handle area: 29"



Made in China.


Packaging
This comes in your typical, trashy Leg Avenue paper box just like what stockings come in. It has photos of someone wearing it on front & back. Not worthy of gifting, but you can remove it from the box & leave it in its sealed plastic to gift.

When I first got this, I noticed some tiny wrinkle like folds in the front of the fabric, and when I put the teddy on, these folds stretched and up-close, they looked a little like runs. This makes me slightly wary about it being stretched too much, but as long as you fall close within my measurements, it isn't going to rip or run on you.
Follow-up commentary
1 day after original review
Experience

I love this! I adore it. It's very flattering. It is not the sexiest style of lingerie, but the colors & unique look is perfect. It's such a fun, bold piece of lingerie. Besides being a teddy for the bedroom, it makes an excellent piece to wear while working out on my fitness pole since it's form fitting and exposes enough leg for me to have skin contact with the pole, but doesn't look like a trashy get-up. I can add shorts for butt coverage and pole my heart out. Ya'll know me! Yes, I couldn't help but consider this as a real swimsuit, but even I am not going there! It will likely be a little see-through, probably not chlorine safe & just seems too showy for swimwear, strangely enough.

Wonderin' what my lovie thought? He loved it! He was all handsy and feely.
This content is the opinion of the submitting contributor and is not endorsed by EdenFantasys.com

Thank you for viewing
Seamless neon tie dye teddy
review page!