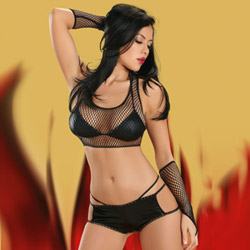 4pc hot pants with gloves set
Bra and panty set
by Escante
So Hot, Fits XS-M Bodies, Inexpensive 4pc Set!
The 4 pieces are stunning together and apart. They are worth the price due to their compatibility with other outfits and costumes, high quality make, fabric and sex appeal! I am so happy with this purchase!
Published:
Pros:
Sexy
Inexpensive
4 piece Outfit
Cons:
Hand Wash
OS Only
The 4pc Hot Pants with Gloves Set by Escante has been on my wishlist for a long time, and now it is in my hands! I am so glad that I got this 4pc set before it became discontinued! This is one of the better lingerie purchases I've made at EdenFantasys and here is why...
Packaging: Great for re-use
The 4pc Hot Pants with Gloves Set by Escante came in hard flexible plastic case. This is the type with the snap closure. It is more quality than just a plastic bag sealed with tape. It is a package you would find hanging on a self in a store. Once inside the package, you will find the 4pc set wrapped and folded in a plastic bag for extra protection. The items smell new and clean.
The package insert has photos of a model wearing the pieces as well as product information, fit and care instructions. Style #752 in black.
I decided to re-use this sturdy plastic bag for storing the 4pc set. I folded everything back into place, and all the items are neatly inside. I love that it is easy to see what is inside and the bag is so sturdy. It is now stored with the rest of my lingerie inside my closet.
Made in Mexico
Contents: Hot Pants, Gloves (2), Triangle Bra, and Mesh Racerback Top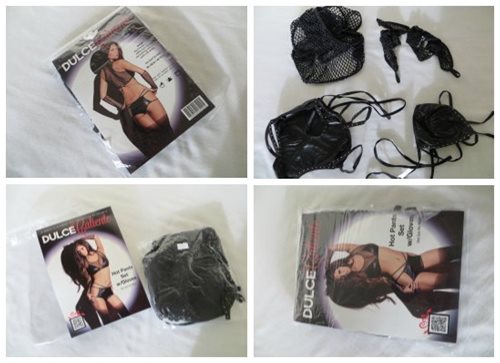 Care/ Maintenance: Hand wash, sensitive materials!
The care instructions for this item: hand wash only and drip dry. You can iron this apparently, but I won't be taking the chance. I feel no point in ironing this if it is stored neatly, and I don't think the material would hold up well! While I do end up washing some lingerie carefully in the washing machine, I won't be doing so to this item. The vinyl material doesn't seem fit for it.
To maintain its shape, I recommend hanging or folding nicely and placing inside original packaging or in a drawer or other similar sealed container.
Design/Shape: So fun and sexy
This 4 pc set is awesome! I love all the pieces and think it is freakin' hot! The pieces can be used together, but also can substitute out and be used in other lingerie outfits or even going out it! The mesh gloves and razor back top are perfect for 80's night!
Gloves – There are two identical gloves in the set. They are mesh and stretchy. They have an elastic finger hole which keeps them in place on your hand, and stops them from slipping. They have elastic on the edging, which looks nice but is also functional so they don't move around. They look so cool on!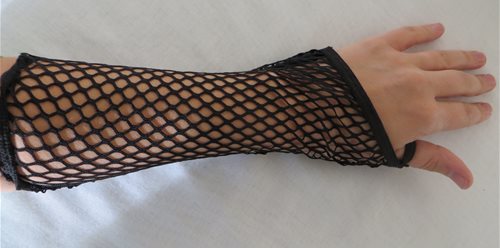 Racerback Shirt – The racerback mesh half shirt is a sexy touch to this outfit. It makes it look more put together than if it was just the bikini top. The mesh is the same size and stretch as the gloves. It is scoop necked in the front and higher in the back. There is elastic on all the edges which give it a decent amount of stretch!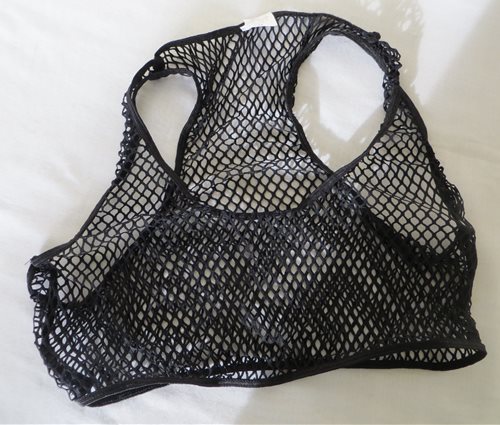 Bra Top – This vinyl bra top is a bit small for my 34D chest, but since I am wearing it in the bedroom only – it really doesn't make a difference! I would say it is best for an A-B chest. The bra has ties on the neck and back. It is similar to a string bikini, and has about as much support. It is fully adjustable and accommodating. The ties are stretchy and thin. The triangle top has a single layer of cute mini rhinestones that surround the top of the triangle. This is a sexy touch that makes the piece not just all black.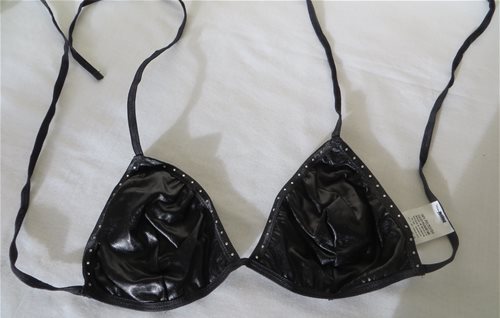 Hot Pants – The hot pants are a bit funky, but go with the theme of the outfit. There are a few straps you need to be aware of when you are slipping it through your legs. There are the 4 mini rhinestone straps and the plain elastic straps that all need to slide through your legs. You kind of have to put these on carefully. There is no cloth liner in the hot pants, which is a bit annoying for cleaning, just make sure to stay on top of it.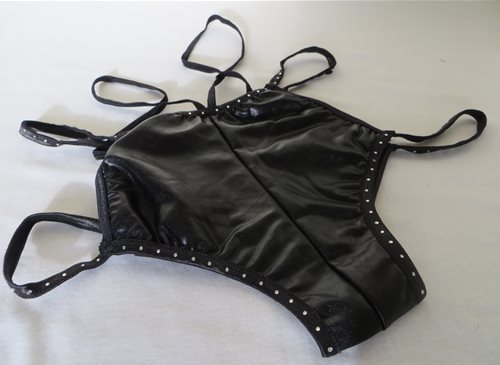 Each piece does complement each other well. The set is stunning together. It really is one of the sexier outfits I own. There is a white care tag attached to all the pieces, which is obnoxiously in the way, so I cut them all off. They were just sewn on lightly, meant to be easily removed. The outfit only takes a minute to put on, and even quicker to take off!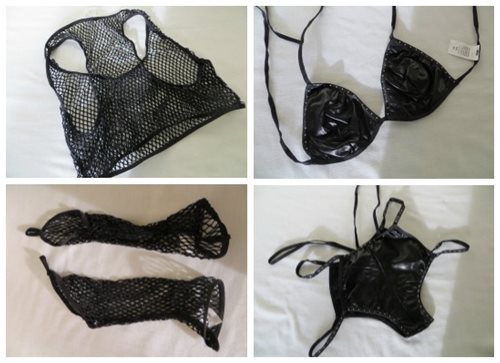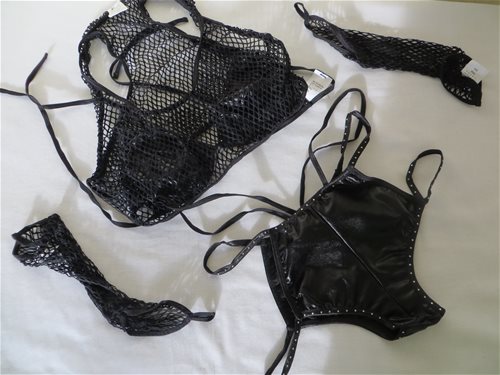 Experience
Size: IMHO this OS will fit XS, S, and M sizes
It is available in one size fits most.
I am typically a size small-medium. I wear size 4-6 in dresses and jeans. I have a 34D bust. The rest of my measurement can be found on my
profile page.
Since the item is one-size only, it is a bit tricky. It fit me well, with minimal stretch in the hot pants. The triangle portion of the bra was a bit small, but I have a large chest. I feel it might not accommodate over a size 8 in the bottoms. However I think that it could fit the sizes 0-8 – which is quite the range due to the stretch! If you are a XS, S or even M - I think this set would work for you! That being said, I don't think this is made for anyone bigger in the top than me (unless you don't mind the look of popping boobs).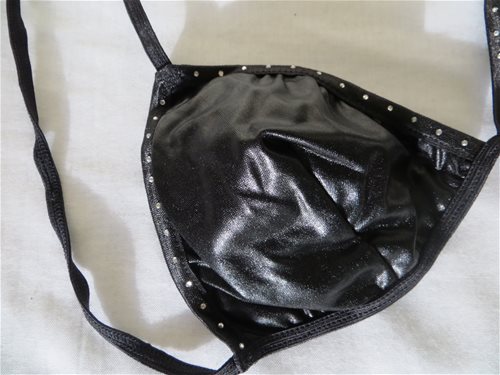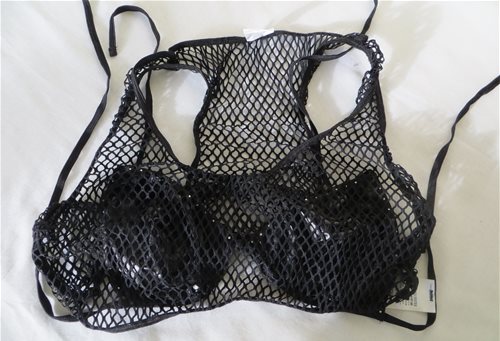 Material/Texture: comfortable & stretchy
The gloves and the razor back are both mesh material. The mesh is stretchy and soft. The mesh is made up of medium sized holes and looks sturdy.
The bra top and hot pants are both vinyl material. This material is a bit more difficult to clean, it must be hand washed. It has minimal stretch, and if stretched too far will leave a crease mark. The elastic bands on the pieces are stretchy and accommodating, where the vinyl is not.
The outfit as a whole is made well, sturdy and feels long lasting. The construction is good and worth the price. There isn't any flaws or extra fabric or string!
Personal Experience : Feeling so hot, hot hot!
OMG I love this outfit – especially for the steal of a price! The individual pieces mean that I can swap them out and use them with other outfits. I plan on wearing the glove especially for costumes for parties and Halloween! The mesh top and gloves are both going to be used in the future to add to outfits. The bra top and the hot pants will stick to the bedroom though!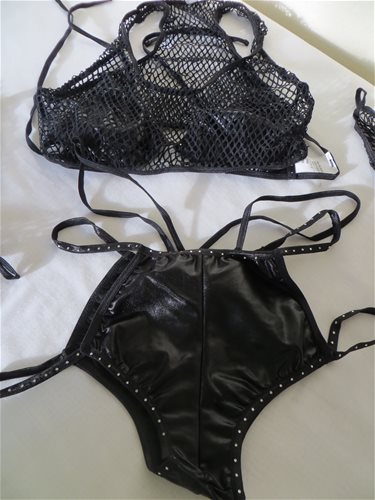 This product was provided at a discounted price in exchange for an unbiased review. This review is in compliance with the FTC guidelines.
Thank you for viewing
4pc hot pants with gloves set
– bra and panty set review page!