So many fish in the sea? Catch 'em with this net.
DreamGirl did it once and managed to do it again. This body stocking is sexy, form-fitting, and works for a wide range of body sizes and shapes. Wear it under dresses or costumes, or get a little flirty in the bedroom with it. Diamond net is hella sexy, so you can't go wrong in there, either. Wearing this will make you feel sassy, seductive, and comfy at the same time!
Published:
Pros:
Great for all body types, quality material, can be worn as outer or underwear
Cons:
Little rough around where the fishnets and solid pieces meet.
Summary
Admittedly, I've never been the type of girl who felt the desire to own body stockings. I mean, I don't really understand the appeal for most of them. They're a whole body suit of fishnet or lace type material. Overkill? To each her own, though. One day while digging through the clearance lingerie at work I ran across
this body stocking
. I'd always been a little skeptical of sizing charts. That one said it would fit, and by golly it did and was quite impressive. Love at first try on.
Design/Material
When I saw this one I had to snag it because the other one worked so well for me. Plus, pieces like this with coverage are incredibly useful and versatile because you can wear them alone or under dresses without showing everyone your business. (Personally, I like to keep mine under wraps.) I thought of how great this would look with one of those oversized T-shirt dresses or those with long cowl and V-necks. Unlike the other style body stocking I got which is just a little body suit thing with normal stockings attached, this one is footless and has shoulderless sleeves which make it great for when you get fancy to go clubbing. It's a bit more wild than the other one. What you have here is a "bra" with straps, shoulderless diamond net sleeves, a diamond net midriff area, a bikini style bottom, and more footless diamond net attached to the bottom. There's quite a lot going on here!
The "bra" isn't as much of a bra as it is a method of hiding your boobs. Think of it as the bust portion of a tanktop. There's no support offered in it and no real elastic band at the bottom. If you have bigger breasts you may have to do a little adjusting to get it to sit right. Thankfully, the straps are adjustable, so you should be able to get everything working right. Another note about these straps: they're the only way you can differentiate from the front and the back of this thing. The bottom is a plain ol' bikini panty that offers a decent amount of coverage without being the skimpiest thing out there. It's a little high cut on the cheeks, but it shouldn't be too much of an issue. These two pieces here are pretty thick, so they're not sheer in any way.
Next up we have our diamond netting! (It's much bigger than fishnet in case you weren't aware.) The sleeves are attached to the armpits of the bra thingy. Each end of the sleeve has an elastic band attached to keep everything in place. The band is a little awkward at the top of the arm when you wear the sleeve lower, but it can be pulled up and over the shoulder if you wish. The midriff is self-explanatory, really. The bottom of the stockings also comes equipped with those elastic bands. These have a lot of room for adjustment when it comes to height. The only real problem with the netting itself is that it does have a little but of a ragged on the connection to the solid pieces. There were little stubs of netting poking out but they can easily be trimmed off. The midriff netting is a bit thicker than the rest, but I kinda like this. It makes it stand out and be more . . . midriffy. The netting of the arms and legs is simple. Nothing out of the ordinary. It's pretty smooth and soft. Not itchy at all. Everything here is comfortable.
Overall, very nice.
The whole entire ensemble here is made of 90% polyester and 10% spandex. This means it's super super stretchy, but still comfortable and breathable at the same time. The quality of the material is quite impressive. Smooth, medium weight, durable, awesome! Even if you stretch the thing all to hell it shrinks right back up for the next time you put it to use. The material and the shape seem as they would hold up well to use and last for quite a while.
Experience
Sizing
Oh dear! Not the lovely "One Size Fits Most" again! That doesn't work well for anyone, you know? DreamGirl's O/S is supposed to work for those in the range of 90-160lbs. Logically, that doesn't even seem possible considering that weight ranges don't take height or boobage into consideration.
Modestly chested ladies: Avoid pancake boobs by wearing a padded strapless bra.
Generously chested ladies: Adding a bra will give you the support you need and keep you covered.
Boyish figures: Curves ahoy! Yours will be enhanced.
Voluptuous vixens: You'll get a little bit of shaping with the material.
Tall ladies: You'll appreciate the footless feature because there's nothing to drag it all down.
Petite ladies: The footless feature also works for you, as well. You can pull these down to ankle level if needed.
And here's how it looks on a moderately chested, petite boyish-like figure: (My phone was too captivated by all of the awesome going on here to take pictures properly. Silly blurry stuff.)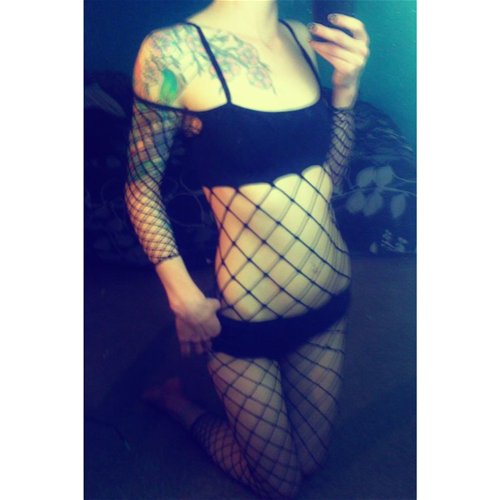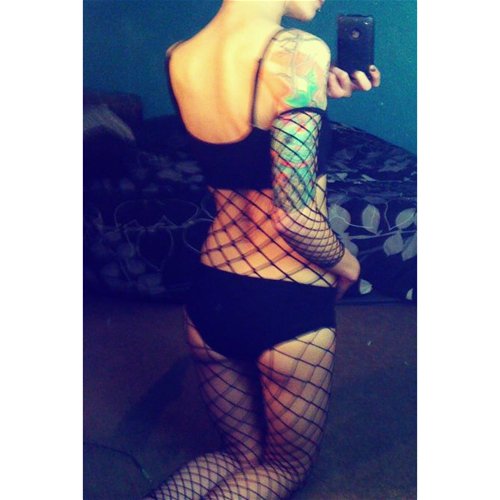 This content is the opinion of the submitting contributor and is not endorsed by EdenFantasys.com

Thank you for viewing
Fence net bodystocking with bra and panty
– bodystockings review page!