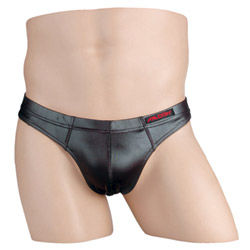 Wet look brief
Briefs by Icon Brands
So Spankable!
My boyfriend and I really love these briefs. They make him feel sexy and really turn me on. I totally want to spank him even more in them. They aren't the most comfortable thing to wear in bed but he'll be taking them off soon anyway.
Published:
Pros:
Full coverage butt, sexy wet look, accurate sizing.
Cons:
Can be uncomfortable on the testicles, something is off about the packaging.
Note: I apologize for the flash spots on my photos. My bedroom was very sunny when I took these photos even though the blinds were closed.
Deciding to Review This
I was both excited and apprehensive about this review. I wear a lot of sexy lingerie for my man. However he usually just wears funny boxers. I thought that these would be super sexy on him but I didn't know if he would like them. I asked and he agreed to try out any underwear that I got him. So I got him these and a pair of
animal print pouch shorts
in the same order.
Packaging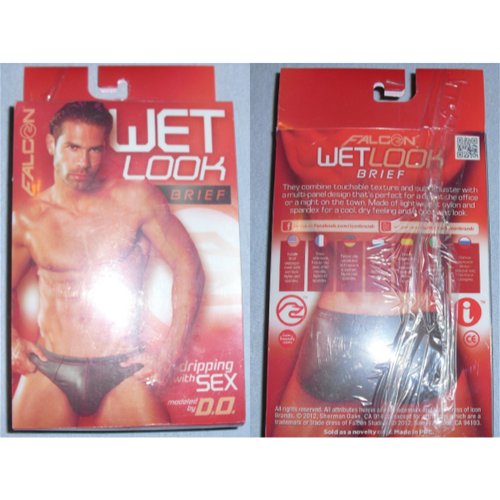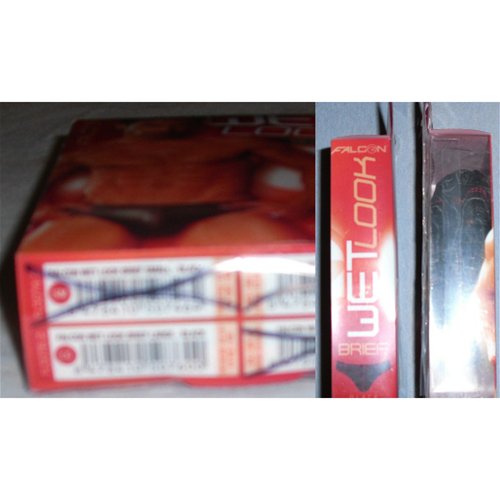 These Falcon briefs by Icon Brands come in a a red plastic box with a man named D.O. modeling them. The box mentions that these briefs are "dripping with sex". So this isn't discreet packaging by any means. However I dig the overall look of it. The back of the package shows the backside of the model. It also includes the type of fabric translated into 7 different languages. Plus the links for the Icon Brands Facebook and twitter accounts are listed. One side of the box is clear so if you were buying these in a store you could get a peek at the actual underwear inside.
For some reason there was a clear film attached to the back of my box. At first I thought that it had been opened and this was tape to reseal it but it didn't cover the top. The bottom of the box lists the available sizes, small-XL. Then someone has taken a magic marker to X out all of the other sizes, just leaving the one that I ordered. When I opened the box the underwear were not sealed in any sort of plastic, as I'm used to finding my own lingerie pieces in. The underwear also had little white flecks on them that made me wonder if they had been exposed to packing peanuts or something similar. I'm not sure why all of these oddities occurred but I feel the need to mention them. The underwear were in new, clean condition when I opened them which is really all I care about anyway.
Sizing
I ordered these briefs in a size large, which is what my man usually wears in boxers. According to the package they will fit a 32-34" waist which is also the size pants that my man wears. He said that the fit seemed accurate. The unstretched measurements are as follows: waist 28", length 9", crotch 7.5" long and 4" wide. These have a full coverage butt. They are not lined inside of the crotch.
Material & Care Information
These wet look briefs are made of 86% nylon and 14% spandex. My man said that he felt like he was wearing leather underwear. They are to be hand washed in cold water and hung on a line to dry. Do not bleach, iron or dry clean them. Care info was located on the inner tag of the briefs so you can chuck the box.
Experience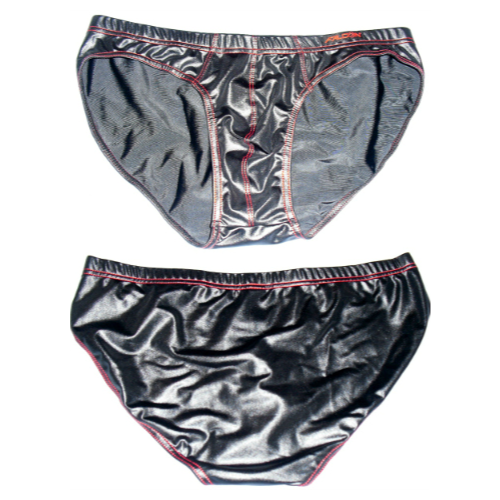 When I first opened these I was thrilled. They really just make me want to run my hands all over them.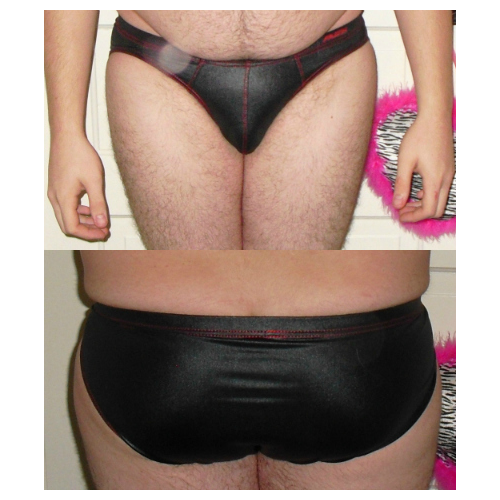 When my man tried them on I was stoked. I really love the look of them. They just make me want to touch him even more. The red lining that runs directly down the penis is like a bulls eye. Plus they really accentuate his cute butt.
As I expected they aren't the most comfortable underwear. He said that his balls were being smushed "but I'm doing this for you", aw.
They totally brought out his fun, sexy side. When I would leave the room while he was visiting he had fun putting these on to surprise me at various times, it was so cute/hot.
I asked his opinion on the rating because if I were wearing them and found them uncomfortable then I would probably give them a 3 but the horn dog in be wanted to give them a 5. So we agreed that a 4 was probably the best idea.
Follow-up commentary
19 days after original review
My man absolutely adores these. He still loves putting them on as a surprise and then he poses! He has asked that I buy him another pair so he can keep one at my place & one at his. I'm definitely doing so when these become available.

Recently a male dancer on Dancing with the Stars stripped down to almost identical underwear and I squealed because my man has these. So hot!

I hand wash these and lay them flat to dry. They are still in great condition.
This product was provided free of charge to the reviewer. This review is in compliance with the FTC guidelines.

Thank you for viewing
Wet look brief
– briefs review page!