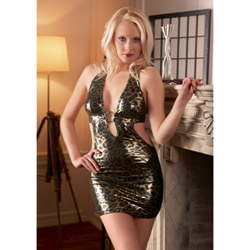 Animal print halter dress
Mini dress by Cottelli
Some animal print dresses are more equal than others. (XL)
This is a pretty nice dress if you feel like looking trashy (like I sometimes do) in a private setting and you don't plan on moving around all that much while you're wearing it. Also, the print is much more vibrant than it appears in the picture. I would've given this two and a half stars, but I figured I might as well round up since I ordered the wrong size and the impracticality might have been lessened had I had the right size. CHECK COTTELLI'S SIZE CHART BEFORE ORDERING FROM THEM.
Published:
Pros:
Stretchy, Comfortable, SHINY, Easy to put on and take off, Really swell print
Cons:
Not adjustable at all, Rides up with movement, Fabric that bridges bust to stomach bunches up
Right, so it's obvious that this dress doesn't exactly exude class, but sometimes one (being me) does not wish to exude class. Put bluntly, this dress is pretty trashy, and I like it. On another note, I find it interesting that this isn't called a "leopard print alter dress" but is instead called an "animal print halter dress." As if the guy in charge of naming the thing couldn't recall the word "leopard" to save his life. Just something that crossed my mind. Anywho....
This dress came packaged in a small, clear plastic box.
The dress is the only thing included, which basically means no ill-fitting matching thong to worry about.
The tag reads: 95% Polyester 5% Spandex (in a butt ton of languages).....and then there are the symbols that advise hand washing, not bleaching, not tumble drying, not ironing, and not dry cleaning.
The dress laid flat. It's pretty straight-forward. The inside of the dress makes it look like it's lined, but it's not. It's one layer of fabric, that fabric being stretchy, shiny, smooth, opaque (when worn, anyhow), and comfortable. Notice that nothing on this dress is adjustable. The halter strap and back strap are not adjustable. The dress fits me fine, but this isn't something that can be adjusted to fit very small or very large breasts.
The front of the dress boasts a large metal ring, 1.75" in diameter. I dig it.
Fabric detail. This print is really interesting. It's really difficult to photograph the silver edges that are around the left sides of many of the spots (you can't see them at all on the product page). These silver edges make the print have a slight 3-D effect that's really difficult to describe and also (IMO) pretty cool.
SIZING INFORMATION
Eden has a
Cotelli sizing chart
, but it's in centimeters, which are difficult for my American mind to comprehend. Some quick conversions, and we find that an XL in Cottelli should fit the following:
Bust: 42" - 46.5"
Waist: 36" - 40"
Hips: 44.5" - 48"
Me:
Bust: 42"
Waist: 32"
Hips: 42"
As one who fits XL virtually all of the time, I didn't bother looking at Cotelli's size chart. For all I know, this dress would be an unstoppable force if I had gotten it in a large.
Front view of the dress. If you have less than great posture, The fabric may bunch as shown in the first pic. ALSO, this bunching will happen with GOOD posture as well when walking because the skirt portion of the dress rides up.
Fit from top to bottom:
The halter strap doesn't cut into my neck at all and is very comfortable. But then, I don't have lots of boobage to support. My modest C-cups fill out the cups but don't pull down on the halter at all.
THIS DRESS HAS NO BREAST SUPPORT. You're on your own. Again, my C-cups fit comfortably in this, but I don't think that B-cups could fill this out. D's could easily fit in this and I think even DD's could, but that may cause the halter strap to strain the neck.
The underbust band is very comfortable on me, and it will comfortably fit larger and smaller.
The waist isn't really an issue, since there is no fabric encompassing it. Hypothetically, if I had a larger waist, it may not even do the bunching thing!
The skirt portion of the dress would easily accommodate larger hips than mine. I wouldn't recommend an XL if your hips (and thighs) are smaller than mine. I don't even fill out the lower portion of the skirt! This would definitely accentuate a full ass but it does no favors for me (see back view)
Even though this is a god-awful pic, I have posted it because I don't want to stray from the way I do my reviews.
Side view. Not the most flattering profile a dress can give, but there you have it.
Since the Cottelli size chart is in centimeters, here are the conversions for the other sizes:
Small:
Bust: 32 - 35
Waist: 25.5 - 28.75
Hips: 36.25 - 38.5
Medium:
Bust: 35.5 - 38
Waist: 29 - 32
Hips: 39 - 41
Large:
Bust: 38.5 - 41.25
Waist: 32.25 - 35.5
Hips: 41.25 - 44
This brand runs larger than other brands!
In retrospect, I definitely should've gone with a Large, but since I didn't bother to look at the size chart, I got an XL because that's what I always wear. Lesson learned.
Approximated redone size chart for XL:
Bust: 42" - 46"
Underbust: 34" - 41"
Waist: Up to 48"
Hips: 42" - 48"
Feel free to ask questions in the comments and thanks for reading!
Experience
I know this review is especially short as far as my reviews go, but there's really just not as much to say about this item (in comparison to others). Again, if you have any questions (I certainly feel as though there must be something missing), please ask.
This product was provided at a discounted price in exchange for an unbiased review. This review is in compliance with the FTC guidelines.

Thank you for viewing
Animal print halter dress
– mini dress review page!