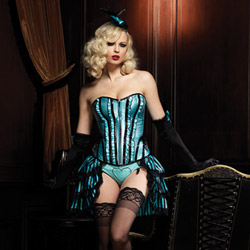 Betty corset
Corset
by Leg Avenue
Something Blue
While this corset looks absolutely beautiful, it didn't work for me at all. I'm also a little disappointed that I can't find the skirt featured in the image anywhere at all! Pay close attention to the size chart on this one, I really feel Leg Avenue was actually true to size for this piece.
Published:
Pros
Really beautiful, seems well made, lovely fabric
Cons
I can't find that skirt anywhere, doesn't fit quite right
I was so excited about this corset only to be completely disappointed.

I got the Betty corset in black/blue. The only size available is a 1x/2x and according to Leg Avenue's size chart, it should have fit me perfectly. Leg Avenue says a 1x/2x fits a size 16-18. Normally, I'm a 12-14 but in my experience with Leg Avenue's products they tend to run a bit small. Also, the Large on the size chart suggests they fit a C cup and I'm definitely a D, so again, I thought the 1x/2x should be perfect.

I received my box from Eden and nestled in among the other items I purchased was my corset, in a plain plastic bag with an attached tag showing the model in the corset of the same color and the size information. I really found this corset to be stunning in appearance. Eden suggests the material is satin, but it feels more like a taffeta. It's shiny in appearance and feels like a very sturdy material. The whole piece is lined in what feels like black corduroy; it's very soft and feels nice against the skin. The front busk is zip-up and the fabric on either side of the zipper attempt to conceal it, but honestly you can tell that's a zipper line. The boning in the front has a black PVC material covering it and ruffles. The boning in the back is the blue material, and the closure feels like metal boning rather than the plastic boning around the rest of the corset. The modesty panel is really quite large, making this corset adjustable for larger sizes. IT's seriously about 8" which means you could lace this with a pretty wide gap. There's a cute little hip flair on either side that's detailed in the black PVC & has a ribbon. This little detail seems great because it should make the corset more flattering on a wider range of body types.

For reference: Leg Avenue says 1X / 2X 16 - 24 - bust 39 - 48 waist 31 - 40 hip 41 - 50
While my measurements are approximately: size 12-14 (depending, of course) cup D bust - 36 waist - 34 hip - 40
As you can see, I don't quite fit into all of the categories.
Experience
Now for the disappointment:

The size chart seems to be accurate, rather than running a bit smaller as my experience with Leg Avenue has been. I was able to put this on and zip it without ever touching the lacing, which comes to you fully tightened. Unfortunately, it was still too large by about two inches.

The upside to this is that I'm *pretty sure* I can do a bit of sewing and adjust it to fit better. The downside is, of course, I won't be taking pictures because it doesn't fit. This really upset me because I was hoping to provide pictures/better information for the curvier girls of the world. Turns out I'm just not curvy for this corset.

If I manage to sew it up and make it fit better, I will absolutely add pictures.
This product was provided free of charge to the reviewer. This review is in compliance with the FTC guidelines.
Thank you for viewing
Betty corset
review page!