Something white and something blue...
This is a beautiful lingerie piece that could work for a wedding night outfit or it could also be used for a spring/summer piece. If your partner loves white, like mine does; you can wear it anytime!
I really like the cups on this. They run a bit smaller than what I need but should fit perfectly for the cup sizes that I mentioned above because of the padded cups. When worn, the tummy area isn't as sheer as one might think. It's very flattering, it covers any problem areas. I really like it!
Published:
Pros:
* Padded cups that are comfortable and provide good support
* Bright white
* Beautiful fabric
Cons:
* Tends to stay wrinkled
* Runs a bit small
Today I am reviewing the Anette bridal babydoll and g-string by Oh La La Cheri in size Plus size.
I will discuss the babydoll and g-string and then I will give the sizes below.
Material
The babydoll is elastic and a nylon mesh material. It also has accents of satin trim and sheer bows.
The material used for the majority of the piece is a sheer white mesh material. You can see my hand through both layers. I have taken photos under one layer and then under two layers to show the difference between the two.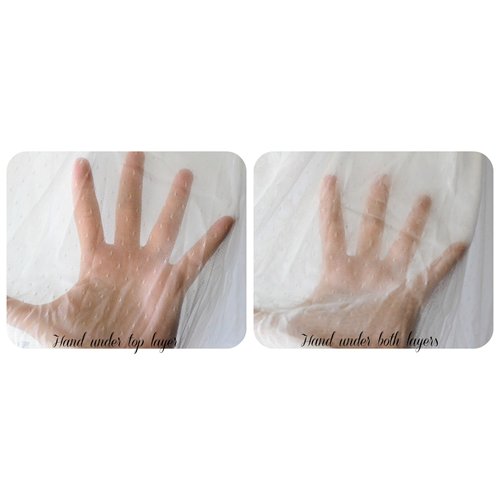 The mesh has tiny white polka dots all over. This is a pattern made in the mesh, not sewn onto it. The babydoll has two layers to it. The top layer is a little shorter than the bottom layer. On the bottom of each layer is an 1/8 trim that is baby blue or what some may call a powder blue color. This fits with the wedding theme well if you were in fact buying this babydoll for that particular reason. Both of these layers are the same exact material and trim. The trim is extremely soft on the bottom of the layers. The blue on the bottom trim is not shiny.
On the back of the babydoll there is a closure that is a hook and eye system. There are 3 eyes on one side and one set of hooks on the other side. The hooks/eyes are metal and are white. This closure can help fit more loosely or tighter depending on your cup or breast band size. These are very easy to unfasten. Under the closure is a U shaped key style cutout that shows the back. The cutout is trimmed in the same powder blue color that runs along the bottom trim.
The straps are elastic and on the side that is against the body, they used a soft material that didn't bug me or cut into my shoulders. The top side is a shiny white which adds to the appeal. It looks like it's satin from a distance. The shoulder straps are adjustable and they adjust to a variety of lengths for many sizes and shapes.
The cups to the bra are padded and the company refers to them as lightly padded but I would say they were a little more thicker than that.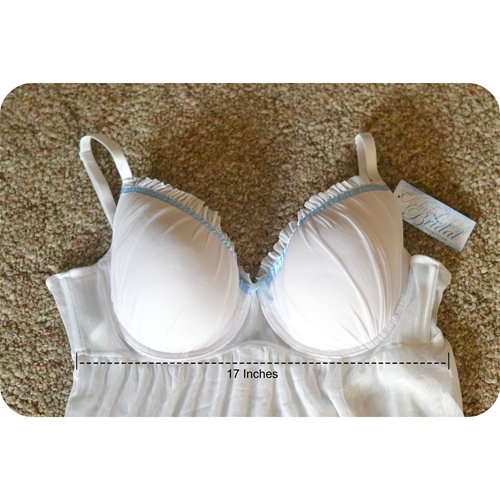 They provide awesome support to be a somewhat smaller cup. The inside of the cup is super soft and non itchy. The outer cups are covered by the mesh and they have underwires that do not bother me. The trim on the top of the cups is a shiny, satin material and they're a light blue color. The cups have a ruffle long the edge of the white material along the tops of each cup. In between the bra cups and underwires, there is a sheer, powder blue bow.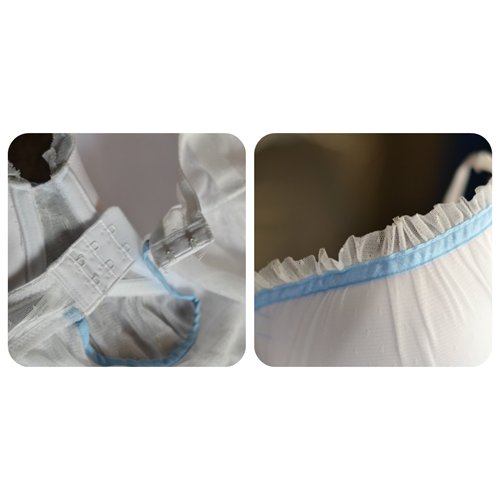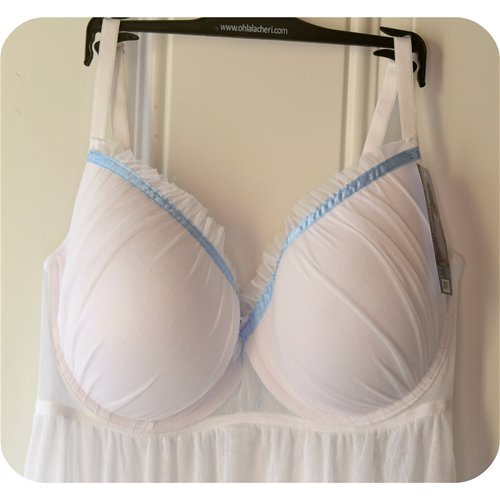 The G-string triangle area is made from the same material as the babydoll. There is a soft elastic band that runs along for the waist. The waist stretches easily and it can be stretched out pretty far. The back of the g-string is a T style. You can pull it high up on the hips or wear it lower. This g-string is made to fit you how you want. That's why I love this style best. There is a small blue bow directly in the center of the g-string. It's sewn on well in one small area but can be removed with small scissors or a seam ripper if you would like to remove it. This g-string does have a cotton crotch lining, but it's very small.
On the g-string, there are 2 tags. While they don't itch, they show through the g-string and they're an eye sore. I'm removing the tags tonight. The bottom white tag tells the material used, sizes in US, EU and FR. It also has symbols on how to care for the article on one side and then directly on the back, it states to hand wash in cold water. Do not bleach and hang to dry only. It also states that the product was made in China. The black tag simply reads Oh la la Cheri in a cursive white font.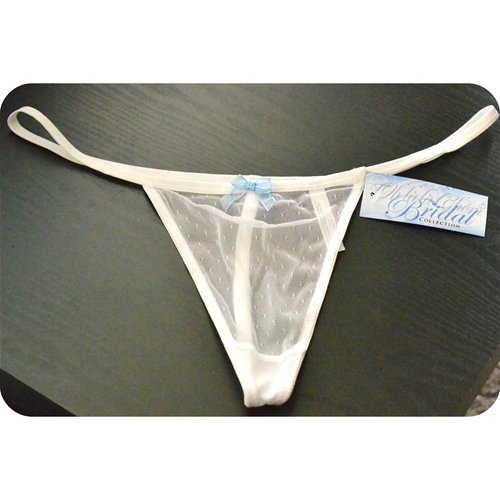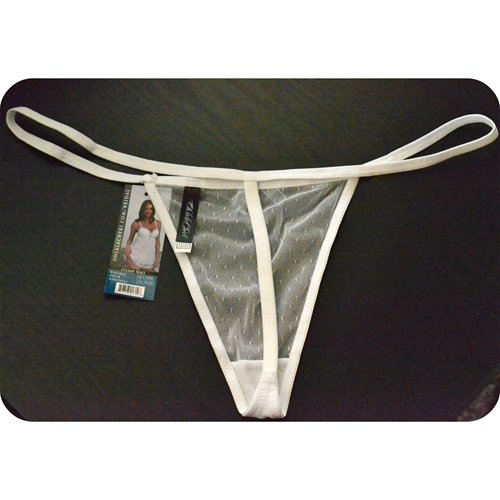 Experience
This babydoll arrived on a black, plastic hanger and the hanger has the company website printed on it. The babydoll and g-string were covered with a clear bag that has Oh La La Cheri printed on it. The babydoll had a tag attached to the bra cup that read Oh La La Cheri bridal Collection on the front.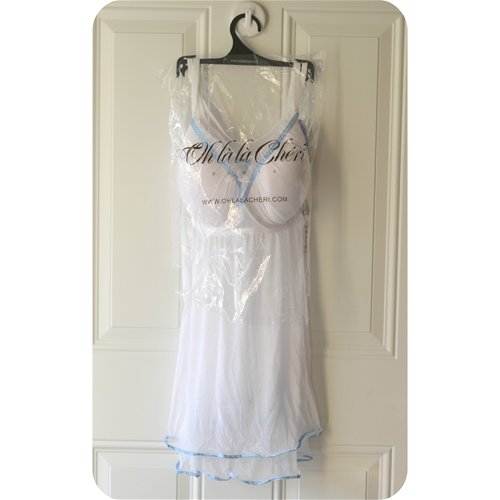 On the backside, it gave the company website, an item number, a description and size. This is the Plus size. It does seem to run a bit small from the measurements and the way that it fit me. It fit me more like an 1X or an XL. I posted below all the sizes. On the tag attached to the garment, the tags says XXL, so I will go with the 2X-3X on the chart as the sizing for this piece because I couldn't find the other size charts for Oh la la Cheri. This is the only one that I could find for them. That is mainly the reason that I purchased this size in the Oh La La Cheri line. I'm glad that I did, I knew that some lingerie from them can run small. The set arrived a bit wrinkled and it took a while for the wrinkles to come out. Make sure to keep this babydoll on a hanger to keep from wrinkling.
Sizing
Oh La La Cheri Size Bra Size Cup/Bust Size Waist Hip
Small 2-6 32 B-33",C-34",D-35" 24"- 26" 34" - 37"
Medium 6-10 34 B-34",C-35", D-36", DD-37" 26"- 28" 37"- 39"
Large 10-14 36 B-36", C-37", D-38", DD-49" 28"- 32" 39" - 42"
X Large 14-18 38 C-39", D-40", DD-41" 32"- 36" 42"- 45"
2X - 3X 16-20 40-42 C-41", D-43", DD-45", DDD-47" 36"- 42" 45"- 51"
My sizes
Breast/Bra Size- 38F
Waist- 37.5"
Hips- 42"
Height- 5'2"
Torso length from collar bone to top of pubic bone- 25"
BabyDoll Measurements
These measurements were taken with the babydoll laying flat.
Bra underwire length: 11"
Bra cup diameter: 9.5"
Elastic under breast band: 14"
Bra straps longest length: 15 3/4" - unstretched
Bra straps longest length: 17" - stretched
Bra straps shortest length: 8" - unstretched
Bra straps shortest length: 10 3/4" stretched
Area in between both bra cups: 2"
Total length of chemise unstretched from top of cup :26"
Total length of chemise stretched 29"
Waist measured across unstretched: 17"
Waist measured across stretched: 20 3/4"
Cup size will fit D, DD and maybe DDD, the best.
Ruffle trim on bra cup: 1/2"
Width of material between padded cups: 1 1/2"
Cutout on back, measurements: 2 3/4" x 1 3/4"
Elastic band under breast: 3/8"
Bows are made with 3/8" ribbon.
G-string Measurements
Elastic Waistband: 17"
From top front to top back: 17"
Full G-string triangle: 10" X 6.5" X 10"
Cotton crotch a widest point: 2"
Cotton crotch length: 2 1/2"
Sheer blue bow on g-string: 1 1/2" wide
The set comes in this color combination only and comes in sizes:
Small
Medium
Large
Extra Large
Plus Size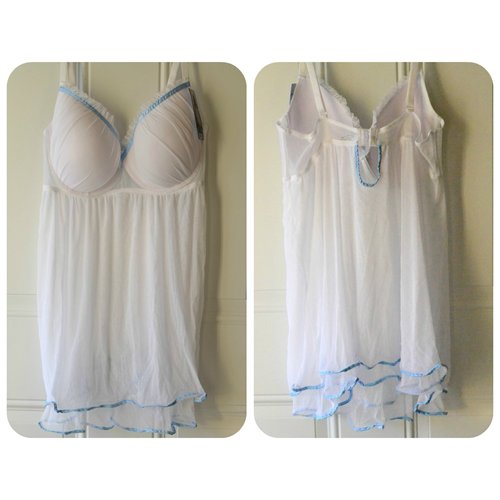 Follow-up commentary
1 month after original review
This is a beautiful babydoll that would be perfect for a wedding night. The materials used are soft and lovely. I would suggest this to anyone who loves comfort and beauty.
This product was provided at a discounted price in exchange for an unbiased review. This review is in compliance with the FTC guidelines.

Thank you for viewing
Anette Bridal babydoll and g-string
– babydoll and panty set review page!