Sometimes it's the simple, inexpensive things that make the biggest impact!
For being a simple inexpensive piece of lingerie it is actually quite cute and well made. I have seen more expensive things where the craftmanship didn't come close to this. I see myself wearing this alot this summer because it's cool and your body can breathe in it. Also it falls into the new "it" colors of summer, or so I read anyways. I'm giving this chemise 5 stars because besides for the lack of thong there is absolutely nothing wrong with it!
Published:
Pros:
comfortable, simple in style, adjustable straps, machine washable
Cons:
one size only
This fishnet chemise was another thing that kept catching my eye so I figured since I went out of character with getting one pink thing already I might as well get this too!

This chemise by Baci is delivered in a box with the product page model on the cover and back. In the inside is the chemise neatly folded against a pretty cardboard stating in many different launguages "Congratulations, you have purchased a truly authentic Baci Lingerie product." Very nice packaging for something that doesn't cost alot! If that could only be said about other companies where you pay more for a product and have it delivered in a garbage bag! On the back of the box it does state that you can machine wash in warm water and tumble dry on low. Wow, lingerie that they actually say you can wash in the washer..yayy!

The hot pink fishnet chemise looks exactly as it does on the product page. It is a basic cut that is snug against your body with more of a square cut on the neck line. There is adjustable spaghetti straps to adjust where you would like the neckline to sit on your body. Two thick seams run down each side and the bottom so you won't find any loose seams going on here! The fishnet is made out of 90% nylon and 10% spandex. Being durable you can stretch this baby right out and it goes back to its size without ruining the shape of the netting. Also the material is pretty thick unlike a fishnet stocking so I don't think you have to worry about it catching on anything and snagging it up bad. The color is well as it states in the title...hot pink, and a very bright hot pink at that!

On the product page it states that it comes with a thong as well. I'm not sure if that's a misprint or if I just got screwed out of mine, but there was no thong in the package.

This chemise comes in one size only and the measurements for that is as follows:
weight- 90-160lbs.(Thats a huge difference in weight!)
waist- 24"- 32"
hip- 34-40"
inseam- 35"
rise- 7 1/2- 8"

My measurements:
weight- 150-155lbs.

bust- 38 D-DD
waist-29"
clothing size- 10-12
Experience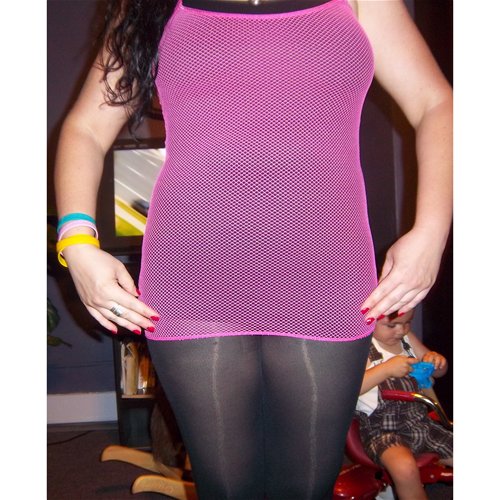 At the longest it can go on me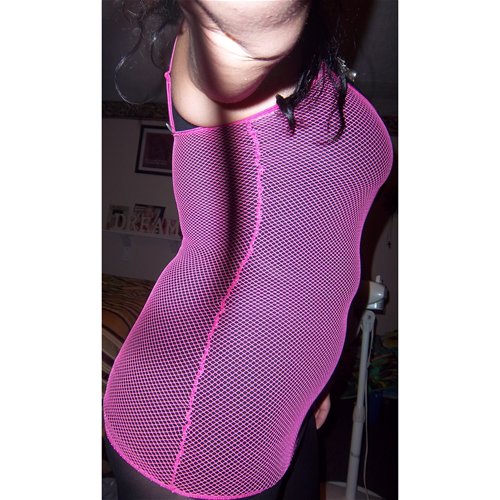 Side shot at the longest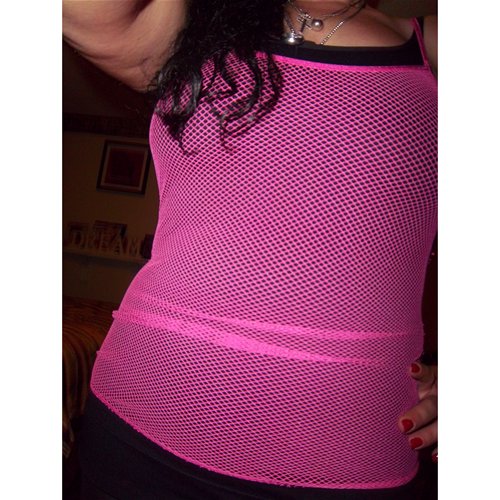 As a shirt
I got this chemise in mind of wearing it as a tank top or to wear over my bathing suit instead of as lingerie. For lingerie I prefer things that aren't so transparent like this so I can hide my stomach. I actually really like it as a tank top and when I wore it I recieved quite afew compliments. Everyone kept asking me where I got it! It is pretty snug on me so I can't see anyone a hair past the recommended size being able to wear it comfortably. Still being a slacker on purchasing another measuring tape I still can't give exact measurements, but it actually went on me to where it did on the model which I found to be kind of shocking.
Follow-up commentary
15 days after original review
I've worn this chemise acouple times since I purchased it as a tank top and got quite afew compliments on it! I truly love it and am so happy I got it. I see myself wearing this the most out of my lingerie just because it is verstile and can be worn as an everyday top..over something else of course! I also can't stress enough how I love that I can be lazy and through it in the washer with my other laundry and by doing so it does no harm to this piece!
This product was provided at a discounted price in exchange for an unbiased review. This review is in compliance with the FTC guidelines.

Thank you for viewing
Hot pink fishnet dress
– chemise review page!