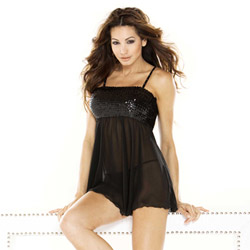 Sequin babydoll & g-string
Babydoll and panty set
by Fantasy Lingerie
Sparkle Boobs!
This cute babydoll by Fantasy Lingerie added a little sparkle to my lingerie collection. It's not something I'll want to wear all the time, but a nice addition as something different. If only the sequined part had been longer I may have loved it.
Published:
Pros:
Cute rhinestone straps, comfortable to wear, shiny!
Cons:
Not enough sequins to cover large bust
The Sequin Babydoll & G-String by Fantasy Lingerie caught my eye because I'm one of those women that has a hard time resisting shiny things, so onto my wishlist it went!
I don't have many items from Fantasy Lingerie, so I was a little worried about sizing. The size chart doesn't say anything about cup size, just bust measurement (39-41" for large, 44-47" for xl). I pulled up Fantasy Lingerie's site to check their size chart just in case, but no cup size there, either! D'oh! I ended up ordering the XL, since that's kind of my default lingerie size when I'm unsure. Since this is so flowy everywhere but the bust area (and since I never end up using most g-strings that come with lingerie sets), I figured the waist and hip measurements didn't really matter.
There was no packaging for this set, it just came wrapped in EdenFantasys' pink tissue paper with a tag on the babydoll.
I'll do a quick breakdown of the pros and cons, and then cover size info.
What I love:
*This comes in 6 different sizes, from small to 3x. Score!
*The adjustable straps are decorated with tiny rhinestone like jewels, but the designer was smart enough to not put the embellishments along the entire length of the straps, so you can still adjust them.
*The flowy black fabric that makes up the bottom 2/3 of the garment is nice and soft. Not the softest lingerie *ever*, but pretty nice.
*The sequins are pretty well attached and very dense. I noticed a random thread sticking out here and there, and a few clumps where the sequins were stitched on a bit messily, but for the most part they look really nice.
*If you don't mind people seeing your stomach through the mesh, you could totally wear this out to a club or a concert as a top.
What I don't love:
*It only comes in black!
*The jewels on the straps aren't in a straight line. Not something most people would notice looking at it, but I wish they'd taken a little extra care.
*I think whoever wrote the care instructions may be on crack, because they suggest machine washing this on warm and tumble drying on low. Did they not notice the eleventy billion sequins and the delicate fabric? I'd suggest ignoring Lingerie Factory Worker Charlie Sheen's advice and hand washing this and hanging it to dry, unless you really enjoy digging sequins out of the bottom of your washer.
*There is only a little bust support if you kind of tuck your boobs up into the sequin part, and doing so really smooshes them flat. (If I don't adjust them, mine naturally hang below the sequin line. How flattering.)
*This probably won't be a problem for smaller sizes, but on me if I wear a bra underneath this, the sequin area isn't long enough to cover the whole thing, leaving exposed bra cup hanging out the bottom.
Not the best photo, but this gives you an idea: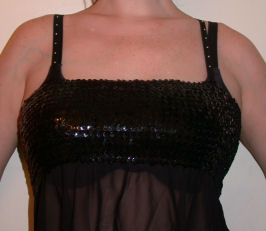 *I wouldn't be comfortable sleeping in this, since it would be really easy for the sequins to catch on the bed sheets and be torn off.
*The price seems a little bit high. I know some extra work went into attaching all the sequins, but $40 seems a little high for what you get, I'd value it more around $30-$35. Not a huge difference, but still.
Experience
The Technical Stuff:
I ordered the 1X, which according to the size chart fits sizes 18-20, 44-47" bust, and 46-48" hips. (The waist measurement doesn't matter for this piece, since the fabric over the torso is really voluminous and flowy.) I'm quite a bit smaller than the chart's recommendations (size 11/12, 38D, 39" hips) but I went with the 1X anyway since that was my best guess for fitting in the bust area. Other than the sequin area not being quite long enough, this fits my bust perfectly.
The sequined part of the top measures 5.5" tall, not quite enough to cover my D boobs. I was pretty bummed about that because I saw a lot of potention for this outside the bedroom, but I'm not going out with the bottom of my bra hanging out. An extra inch or so of sequins would have made a HUGE difference!
Laid flat, that part is 16.5" across, but will stretch to about 22" comfortably. I'd guess this size would probably work best on a C or D cup.
The accompanying g-string is black and made of the same mesh fabric as the lower part of the babydoll. Although the mesh is nice and I like that they made the effort to match the top, it's a little rough to have rubbing against your crotch for any length of time. There is an itty bitty triangular crotch liner that measures 2" long on each side of the triangle. I have no idea why they even included such a small liner!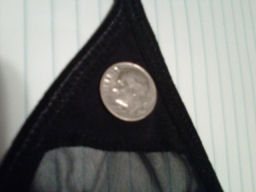 The fit of the g-string is really odd. It is huge on me length (or baggy crotch) wise, measuring almost 19" from the center front of the crotch to where the butt string connects to the waist band. I'm *tall* (5'11") and it comes up almost to my navel. However, the waistband isn't giant on me, even though my hips are 39" to the size chart's 46-48. It measures 16" across laid flat, and stretches to about 19", so this is really not going to fit hips much larger than 40".
I think this set would be really cute paired with the rhinestone backseam thigh highs to match the design on the straps!
I'd probably give this a 3.5/5 if that was possible, but since it will probably work much better on those with smaller (ie shorter) busts, I'll round up.
This product was provided at a discounted price in exchange for an unbiased review. This review is in compliance with the FTC guidelines.

Thank you for viewing
Sequin babydoll & g-string
– babydoll and panty set review page!