Sparklin' Sexy!
This dress is simple, but glamorous. Petite girls will probably find this easier to wear than taller ones. However, this easily adjusts to leggings so length won't be a problem for many of us. Instead of hugging every curve, it hugs at my love handles without making them the center of attention and from there, flows over my hips. It's comfortable and doesn't glue to my mid-section. The sequins are scratchy on my arms, but this lovely dress never fails to make me feel pretty!
Published:
Pros:
Fits lovely.
Flattering.
Bold royal blue.
Style of the dress looks classy.
Cons:
Sequins rub arm pits raw.
MEASUREMENTS (lying flat):
I'll start with the straps. The 1 1/2" width and nice fit make this a comfortable and easy wardrobe addition. The wide straps will hide your bra straps. For the girl who can't ever remember where she placed her strapless bra, this is your BFF!
The total length is 30" from the straps to the bottom of the dress.
The bust and middle both measure 13" wide.
The waist measures an inch more than the bust and mid-section-14" wide.
Hips: 16"
The very bottom (last 2 inches of the bottom of the dress) is 9 1/2" leaving a nice amount of room for movement.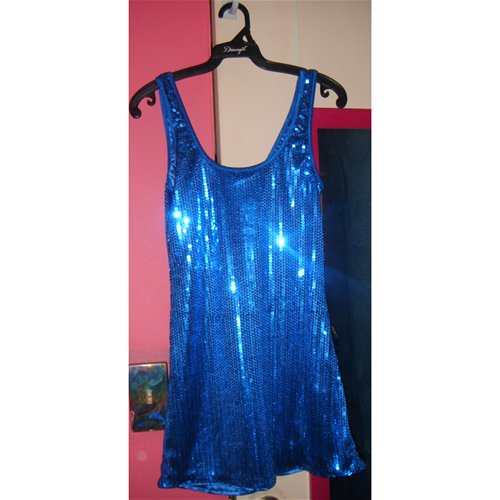 The hanger in the photo came with the dress. It's just a plastic hanger that says "Dream Girl." I kept it since I can always use another hanger.
The sizing is right on. The small fits me perfectly while leaving a nice amount of room. It isn't very form fitting, which I appreciate since the material is shiny. It hugs certain areas like the chest and hips, but flows really nice over them without drawing attention to just one particular area. I'm a small and wear zero in jeans, small in most clothing and a 34B chest. This doesn't glue to my breasts, but leaves room if I'm not wearin a bra.
MATERIAL:
100% Polyester exclusive of decoration. The decoration would be the sequins and they are, well, they're sequins! Incase you're curious, the sequins are sewed on the dress. Looking at them, there's a hole in the middle of each round sequin and a clear fishing-line looking material runs through the holes holding them on. Thankfully, they seem to be held in place well. I hate when I have a sequin fabric or garment with missing sequins. It's kind of like missing a tooth.
The sequins cover the entire garment front to back. I was afraid it would be sequined only on the front and the back would be a silky, un-sequined material. This is pretty common for a sequined garment, but I was super happy to see that the back consists of sequins as well rather than leaving it to look like an incomplete garment.
Around the neck and straps is elastic encased in pretty shiny blue material. This makes those areas stretchy and more durable.
The inside of the dress is silky and very comfortable. There is a seam running up the back of the dress which at first I scrunched my nose to, but it turned out to actually add a little class to the dress! OK, it made my booty look a little rounder rather than flat.
The neckline isn't plunging, but it dips a little. I have no problems with it being too revealing, but then again, I don't have much there to reveal! It shouldn't be too low for anybody else though. The back has somewhat of a "U" shape that slightly shows off your upper back and looks oh so lovely! I feel like that little bit of detail gave this some class where it could've looked like cheap, slutty clothing.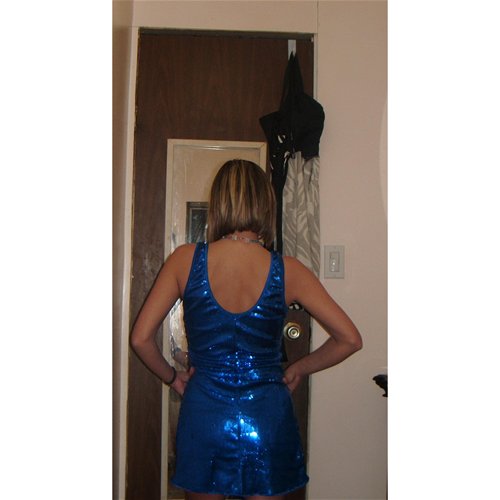 This is labeled a "mini" dress and it is mini, but on my petite body, it's the perfect fit! I'm 5'2 and it hits under my booty enough for it to actually be a dress on me. This works well paired with leggings too. I've worn it both ways and it looks and feels nice.
HOW TO CARE FOR BLUE SPARKLY
I love that this dress hasn't wrinkled! Unfortunately, it's "dry clean only." That worries me because I don't have time for dry cleaning. So the 5-6 times I've worn this, I haven't washed it! Oh how dirty of me. The reason for this is I'm afraid the sequins will fade after being wet. At the moment I'm not sure what I'll do, but since I paid $32 for it, I won't try the washing machine, but maybe hand washing. I was disappointed that it needs to be dry cleaned because I plan to wear this a lot, just like my other dresses.
Experience
What I expected was a thin, see-through, cheaply made sparkly garment. I love sparkles though and couldn't resist. My expectations were wrong. This is quite thick and well made. The material isn't see through and it's comfortable for the most part. In the product page this looks dull blue to me rather than bold, royal blue. I have such a love for royal blue and when this arrived and I seen that it is royal blue, I squeaked! My photos show the actual color. It's that flashy!
Another worry I had was the shine of the sequins drawing attention to every part of my waist (most shiny materials do.) It doesn't seem to highlight that area. I wouldn't consider this to be very form fitting, but that depends on size. I don't have much to work with. I have love handles, small booty and small breasts, but this showed that I do actually have a round, firm booty it's just small and gets lost in my clothing! In my photo I looked rough. It was taken after a long night out and I had already taken off my bra so it doesn't look gorgeous, but you can still see that the dress is flattering, well made and fits nicely.
EXPERIENCE
I love this dress and have only found 2 things I dislike. Dry cleaning is one. The other is the sequins hurt! They scratch under my arm pits and really hurt. Wearing a light jacket or something else long-sleeved prevents that though. During warm months, I'll just endure the scratching of my tender pits because this is just a fabulous dress!
I love that it's sparkly and I adore the color. Those things plus the comfort and ease of wearing it is why this made it to the front of my closet. It's one of those dresses I can just slip on and go. I don't have to do extra things to finish the "look." It's simple. I wear it with my fleece lined leggings when it's super cold and naked-legged when it isn't. I wear my black heels that have lace detail and a bow on them with this dress and it looks great. I haven't tried flip-flops yet, but I really think it would look fine with a pair of black flip-flops.
Some of my dresses are adorable, but I have to really be in the mood to wear them. I limit those dresses for my super confident days because they require some adjusting and they don't work for me when I'm feeling less than beautiful. This does. It has a simple cut and you don't always get simplicity with beauty! This dress has all of those things. I don't feel like I need to spend extra time on myself just to look pretty in this.
As for my partner's thoughts, he likes it. I don't think he's ever not liked something I've worn, but since I feel good in it, he's going to like it. He said it looked great.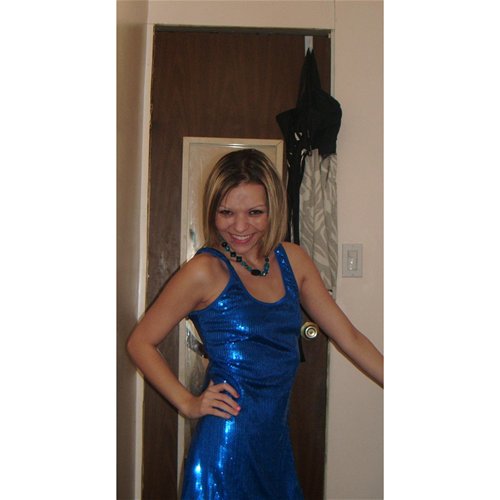 This content is the opinion of the submitting contributor and is not endorsed by EdenFantasys.com

Thank you for viewing
Sapphire sequin dress
– mini dress review page!