Squeeze yourself Hot!
This satin waist cincher will pull you together! It features true corset boning, 10 eyes for laces, cinches waist and meets in the middle back. Good quality sliders, stocking clasps. End below breasts, so your own bra or nothing at all may be worn with it. Worn under your favorite dress, jeans or with nothing other than a good pair of stockings this does what a good corset should.

Great for short waisted women or those who do not want a full coverage bustier. Sexy, bold and different.
Published:
Pros:
shapes figure, nice material, real corset with 10 eyes for laces, GOOD metal stocking clasps
Cons:
Must be tight to fit properly, training may be needed, Bow useless
This beautiful cincher made of polyester satin is a true corset. It laces up the back with what amounts to
two
sets of laces, one starts at the bottom, one at the top and they meet in the middle for perfect form! Actually, it has two very long laces, but they are laced properly when you receive the garment and can be cut to fit your body.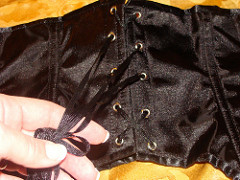 In a true corset, the laces are to be pulled as tightly as desired, but the garment is meant to be worn with a slight (or not so slight) gap between the two sides meeting in the back.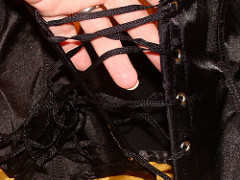 This not only allows for custom fit, but to accommodate many different sized figures. (This garment comes in three sizes.)
It has 10 metal bones running either vertically or on a slight diagonal to pull you in and shape you. The two bones which run along your sides, hips and waist are bent, to make your waist tuck in and the satin is also darted at the waist to help with this process.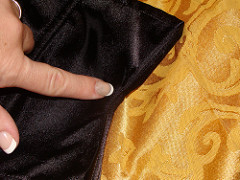 The boning is very flexible, which helps....especially if you enjoy breathing.
What that means is; this baby has to be worn
tightly
. In true waist training, no more than 1-2 inches should be cinched in each period. Whether that period is a few days or weeks, you choose to make the training as comfortable or quick as you like. This takes up to 4 inches off of my waist at full pull.
The permanently attached garters use a strong slide and clamp system for adjustment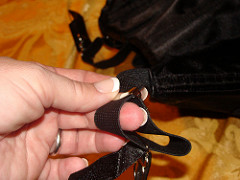 and a good metal and firm plastic clasp to attach your stockings.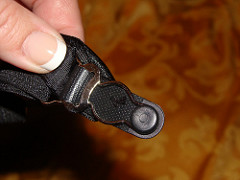 clasp with stocking attached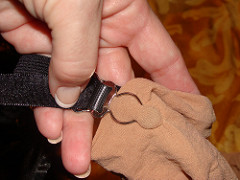 No more fallen "Stay Up" stockings!
Stockings are held tightly, and the garters are elastic to provide freedom of movement while wearing the garment. I have extremely short legs, and can adjust the sliders to fit my legs and my stockings to hold better than "bra strap" adjuster garters. There are small ribbons on each side of each garter, but you may want to remove the outer ribbon to save frustration when putting on stockings. Sometimes these ribbons protect the leg from the plastic part of the clasp from leaving a mark, but it is up to you what to do with them.
This cincher is meant to be worn just below the breasts, making it perfect for short waisted women who also may either want to wear a bra of her own with the cincher, or allow her partner to have access to her breast during lovemaking.
It also comes with a
huge
black satin bow attached to the hip.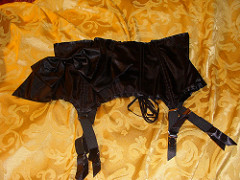 The bow is attached with a large safety pin, and I consider it unnecessary.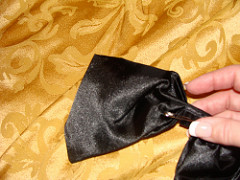 It is too bulky to be worn under clothes and too bulky to wear during sex. I imagine if you are doing modeling work or giving your partner a strip tease, it might come in handy, but I have removed mine when I received the cincher and not used it.
Experience
I purchased this to get into a waist training program. Also, I adore real stockings and garter belts and felt this would provide me with 1)waist training 2)hold up my stockings 3)allow My Man to get at all the goodies during sex and 4)fit me! It filled all four requirements.
My Man gets frustrated with regular bustiers, because whether they also hold up my stockings or not, it is a pain to take everything off when things get hot in the bedroom. Regular bustiers usually last about 10 minutes once we get into bed, but this one can be worn during sex without restricting access to breasts, or any orifice you and your partner may want to play with.
This cincher, at full pull (with about a one inch gap of skin in back, which My Man
loves
can reduce up to 4 inches off my waist.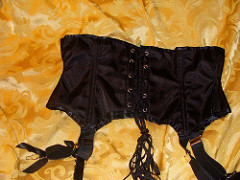 It took a little work to work up to a full 4 inches, and I don't wear it every day. But, I feel sexy and even curvier than usual when I do wear it.
This is perfect for that Little Black Dress you bought a few years ago, but can't fit into after the kids were born, and the laces can be loosened (easier with a little help from someone behind you) to make sex a little more comfortable. It can be worn under your dress or even jeans while out, then stripped down to nothing but the cincher and the stockings (not included) once you get home. However, as it is darted at the waist and the bones are curved to fit right above the hip (and they don't dig in either) wearing it tightly gives a better silhouette. Although it is most comfortable to loosen it when you decide to have sex while wearing this garment. (And your partner will probably want you to keep it on. I know I feel unbelievably sexy while wearing this.)
It fits my rather Zaftig figure, although I did have to train for a few weeks to wear it comfortably. It is short enough so that you can wear your own bra with it, and even short women will find it doesn't interfere with an added bra, unlike some cinchers which come up right under the breasts or simply don't provide any support while covering the breasts.
This cincher has some of the nicest stocking garters I own. I move around a lot and the elastic garters really prevent "popped" garters (when the stocking suddenly is let go and snaps off and down your leg.)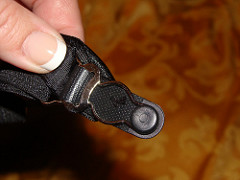 The metal teeth on the slider also prevents the garter adjustment from moving unless you change it yourself. The satin is soft and the inside has a mild "Suede" feel to it. That leaves the garment comfortable inside and protects you from the metal boning.
This garment is meant to be hand washed and lain flat to dry. Real nylon or even silk stockings with good doubled welts (tops) fit this cincher perfectly. No need for "stay up" stockings anymore.
Sexy, chic and absolutely hot!
Follow-up commentary
8 months after original review
This waist cincher has held up very well. I still use it often. It is great for waist training or to hold up stockings and is sexier than Spanks. (Yeah, it IS!)
Here is a picture of my wearing it, cinched
very
loosely at the Renn Faire. It worked great with my Cosplay outfit of a Renn Wench.
I usually wear it the other way around, with the laces in back, and with the garters down. I tucked them up for the Renn Faire and wore it loosely, because I knew I would be wearing it all day long. I still couldn't eat (the things we do for beauty) but it looked good, still cinched me and pulled in my waist some. This was at a point where my weight was the highest it's been in many years. I've lost some weight since, but I still look pretty OK here.
The fabric and the laces and the metal boning are in perfect condition and I would recommend it to anyone who wants a good waist cincher at a good price.
This content is the opinion of the submitting contributor and is not endorsed by EdenFantasys.com

Forum
| Discussion | Posts | Last Update |
| --- | --- | --- |
| boning? | 8 | |
Thank you for viewing
Black garter waist cincher
review page!