Stiff is the new sexy
This dress seemed like an ideal mix of sexy and classy but the overall quality was a lackluster and not worth the price.
Published:
Pros:
Color
Cons:
Stiff material, unforgiving sizes
I was excited to try the modernista dress from
DreamGirl
. I have the
bandeau dress
which has a similar style of the bandage panels.
This dress comes in 4 sizes from small to extra large and I got the dress in small. It arrived on a black plastic hanger and covered in a plastic bag. The modernista is a bandage-style dress with mesh panels that wrap around the dress. There is a zipper closure in the back that runs all the way down the dress. It also has removable straps.
♡ Front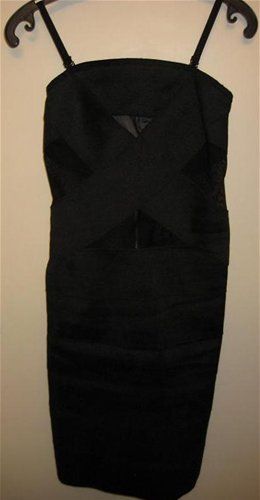 ♡ Back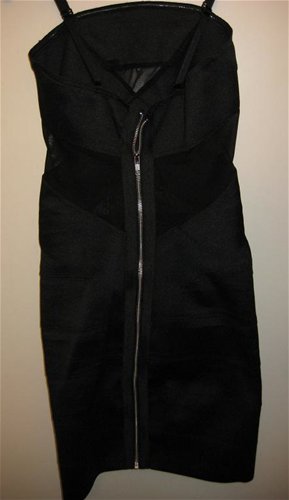 Based on the model wearing this dress and my experience with the bandeau dress, I didn't expect this dress to be so stiff. The entire shell of this dress is hard and feels uncomfortable. It was not as stretchy as I expected it to be. Even the zip is hard to manage. I had to take the dress off several times to get the zip up far enough so that I could pull it up by myself. If you have someone to zip it up, you might not have this problem. I would suggest putting petroleum jelly on the zipper if you it gets stuck frequently.
It is hard to wear a bra with this dress as it will show through in the front and back because that is right where the mesh is. Wearing this without a bra gives my chest a flattening effect because the bandage part pulls downward. Inside the top of the dress is a rubber strip that goes around the dress. It is supposed to help the dress stay up especially when you take the straps off. But instead, I find that it pulls it down awkwardly. Because the material of this dress is unforgiving, choosing an appropriate size is really important.
♡ Chest area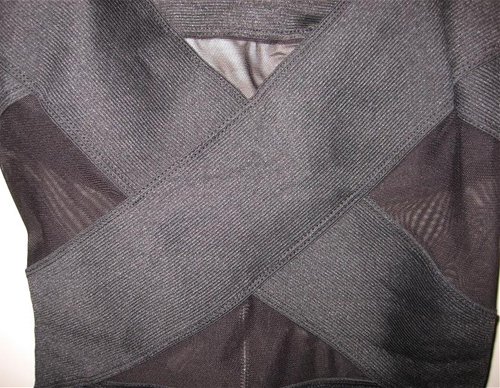 ♡ Close-up of mesh and bandage panel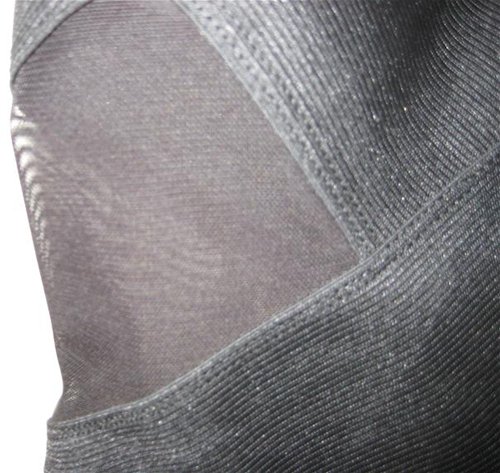 ♡ Rubber strip inside the dress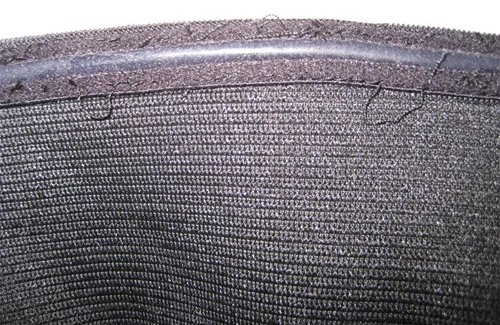 Once I finally managed to get the dress on, I found that it was extremely hard to breathe and move. I am 110 pounds, 5'4" with a 32 inch bust. I thought the dress in small would fit well but it felt really constrictive on me.
Dreamgirl measurements
S ♡ 2 - 6 size, A - B cup, 32 - 34 inch bust, 24 - 26 inch waist, 34 - 36 inch hip, 34.5 inch inseam, 7 - 7.5 inch inch rise, 90 - 120 pounds
M ♡ 6 - 10 size, B - C cup, 34 - 36 inch bust, 26 - 28 inch waist, 36 - 38 inch hip, 35 inch inseam, 7.5 - 8 inch inch rise, 120 - 140 pounds
L ♡ 10 - 14 size, C - D cup, 36 - 38 inch bust, 28 - 32 inch waist, 38 - 40 inch hip, 35.5 inch inseam, 8 - 8.5 inch inch rise, 140 - 150 pounds
XL ♡ 16 - 18 size, D - DD cup, 40 - 48 inch bust, 36 -40 inch waist, 42 - 48 inch hip, 36.5 inch inseam, 9 - 9.5 inch inch rise, 165 - 225 pounds
This dress is made from polyester and spandex which gives the dress the structured look. Washing instructions state to wash this in warm water and soap and avoid high heat.
Overall, this dress was quite disappointing. I thought I'd be able to wear this for a night out or even get away with wearing this to the office with a blazer. Neither one of those situations will happen as this is not at all flattering or comfortable for my body.
Experience
I thought the construction and quality of this dress would be just as impressive as the Bandeau dress from DreamGirl. The Bandeau dress was soft and hugged my body really nicely. It even had support in the bust area which helped since wearing a bra would show through the cut-out panels in that dress. The modernista in comparison is extremely stiff and holds the shape it comes in. Wearing this dress does not make me feel sexy at all and I'm probably going to give this away.
This product was provided free of charge to the reviewer. This review is in compliance with the FTC guidelines.

Thank you for viewing
The modernista
– mini dress review page!