Still have I borne it with a cami-garter shrug. (OS)
This is a great piece that will fit anyone in Leg Avenue's OS size range, over and under even..... The only thing that would affect the fit in any meaningful way would be height. Just be aware that the garters are neither adjustable nor detachable, even though they TOTALLY are adjustable on the product page. Also, the set comes with a different thong than on the product page.
Published:
Pros:
Very durable net, Will fit all measurements in OS, Sexy as hell, Comfortable
Cons:
Defect in mine, Garters not adjustable or detachable, No reinforced toe, Can get tangled
I had been wanting the set forever, but I refrained from getting it until now because it's a One-Size item, and I am definitely not a One-Size person. I'm a solid XL. This being industrial net, however, prompted me to chance it, as my (OS) industrial net stockings fit me with plenty of room to spare. It was just too sexy for me to not risk it.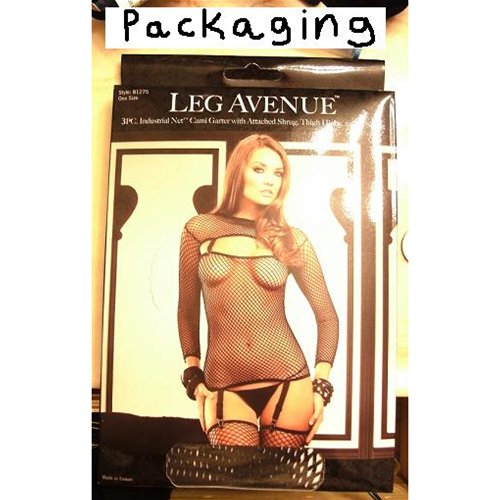 The set came in this box with the items wrapped around a piece of cardboard. Such extravagant packaging, I know, but it works.
Included in this set: The cami-garter top, A pair of stockings, A thong that is not the one in the pictures
The enormous care tag on this set states: 88% Nylon 12% Spandex exclusive of decoration. Hand wash warm, Only non-chlorine bleach, Drip dry, Do not iron
There's also a picture of a hand reaching into 40°C water, which is 104°F....which I wasn't aware was considered "warm".... so I learned something today, that being that a hypothetical "hand wash hot" would require people to melt their hands off.
A picture of the cami-garter laid flat and a close up of the (bottom) garters. I really like the netting of this. For those who have the
Industrial Net Stockings
, this is the same netting (well, it's the same netting whether you have those stocking or not, but you know what I mean). It's very durable, retains shape well, holds up well with washing, and is non-irritating.
I know some won't like that the garters aren't detachable, but, on me at least, I need the garters to keep the bottom of the shirt from rolling up.
I know some won't like that the garters aren't adjustable, but the length is fine on me.
I was dismayed at first by the elastic border at the bottom of the shirt, since elastic has a history of doing terrible, terrible things to me, but this elastic is very thin and forgiving. It only cuts into me ever so slightly, and someone in the OS range (below) shouldn't have any trouble with it at all.
A close-up of the upper chest cut-out that makes this top look like it is a cami and a shrug from front view for those that are smaller than me. Yes, that sentence has lots of prepositional phrases, but for good reason. Due to my being over the size range, the cut-out does not extend as horizontally as it does on the model, so it just looks like a cut-out instead of creating the illusion of two separate pieces of clothing. I don't mind this. I still dig it.
This is the only thing I don't like about my set. One sleeve is finished and the other isn't. I can do it myself pretty easily, but I left it as is for reviewing's sake.
This is the thin, forgiving elastic of which I spake earlier. It serves as the stocking bands and lines the neck, cut-out, and bottom of the shirt.
A simple pair of industrial net stockings. My only issue with these is that the toes of the stockings have no reinforcement, so my toes easily jab right through them. They are a very good length, though, and I'll get on their fit later.
Though I am not modeling it,
this is the thong that came with the set
. My first reaction was to think that there was no way in hell this thing could fit me. I can completely crumple it into my fist, extend my index finger, and it is still completely hidden. It's crazy tiny. Being the adventurer I am, I tried it on anyway. To my amazement, it actually fit, and it dug into my hips less than some of the thongs I've gotten in plus size sets. It's low-rise, but it covers everything (in the sense that a window covers something-you can still see through it). Wonders never cease.
I should note, also, that the construction of this thong isn't the most stellar. The junction at the bottom of the triangle is sloppily sewn, and the triangle itself is a little crooked. The crookedness thing seemed to sort itself out, though, when I put it on.
I know there are probably people who think that I have no sense of decency or modesty, but I draw the line at modeling this thong, hot as it may be. Instead, I'm wearing the thong from the
Caged Heat cami set
.
Sizing Information
:
Eden Fantasy's
Leg Avenue Size Chart
says that a OS item fits the following:
Size 6-11 (though the chart on Leg Avenue's website says 6-12)
Cup A-C
Bust 32-38
Waist 23-29
Hips 34-40
Me:
Size 16
Cup C
Bust 42
Waist 32
Hips 42
HEIGHT: 5'8"
Experience
Obviously, OS is not something I can usually pull off (much less put on), but I think it turned out pretty well.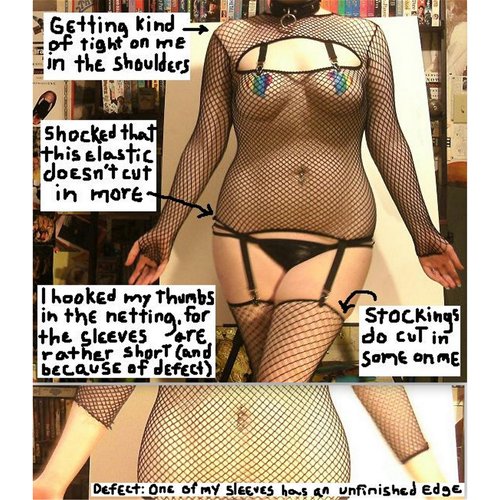 Fit: from the top downward.
The seams in the shoulder area draw attention to the shoulders and make them look broader. I'm approaching the limits of this shirt with my already very broad shoulders.
My upper arms (about 12" around at the fattiest circumference, thank you very much) are, surprisingly, not maxing out the net.
At first I thought the sleeves were abnormally short on me, but then I realized they are short
on the model, too
. I wouldn't mind this so much if my sleeves came down to the same length, but they don't because one side is unfinished, so I just hooked the netting over my thumbs to compensate.
The cutout garters seem like they should be a teensy bit shorter. It seems like someone smaller would have to fasten the garters lower than I did to keep them flat.
Obviously, there is no breast support in this piece. I'm going to go ahead and say that this may not be ideal for anyone larger than a D, since the net will mash the breasts down slightly. I'm happy to note, though, that this will fit a bust larger than mine for those who want it.
The waist is fine. There's plenty of room to spare.
Due to the elastic band at the hips, I wouldn't recommend this to someone with larger hips than me (unless you don't mind the elastic cutting into them).
I'd say that the thong that came with the set wouldn't fit hips larger than mine, either.
The stockings do not cut into my thighs nearly as much as I had anticipated. I mean, they cut some into the model (who probably weighs about 65-70 pounds less than me) for crying out loud, and my thighs are 25" around where they are positioned in the photo. It's possible that the stockings may be too long for shorter legs, but I could be wrong. This net is very forgiving, and, if they are too long, you could probably roll them down a bit and they would look no less sexier.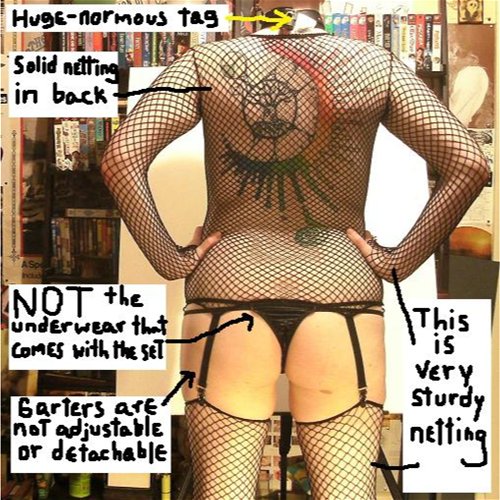 Back view. I haven't much to say about it.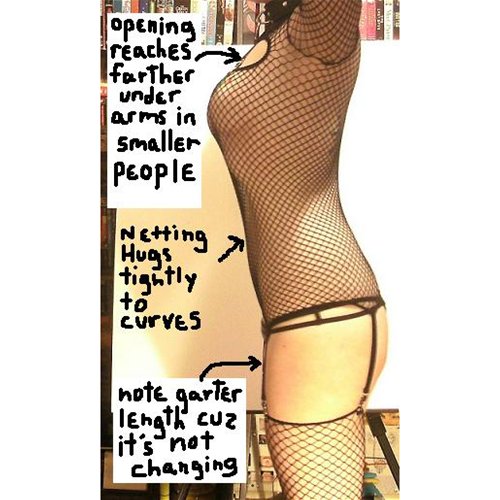 Side view. I will note again that the cut-out will extend more towards the armpits for those smaller than myself.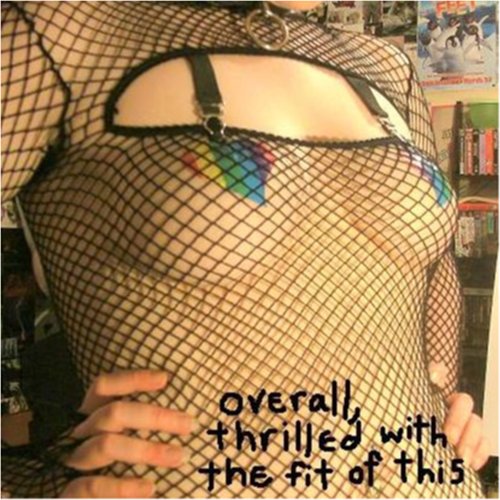 This really is a delightful set that is sure to fit anyone in the size range, and then some.
My best estimate for a size chart for this piece would be something like this:
Upper arms: - 7" - 14"
Cup: Nothing - D (or more if you're spunky like that)
Bust: 16" - 44"
Waist: 14" - 38"
Hips: 16" - 42"
Thighs: 15" - 25"
Yes, those are ridiculous measurements, but whatever. If some poor soul is unfortunate enough to have 16" hips somehow and thighs that are each 25" around, then this set could handle that (very freakish) body.
____________________________________________________________________
As always, feel free to ask any questions in the comments.
Also, I have it on good authority that "this set works"- whatever that means.
This content is the opinion of the submitting contributor and is not endorsed by EdenFantasys.com

Thank you for viewing
Industrial net cami garter with shrug and thigh highs set
– sexy camisole review page!