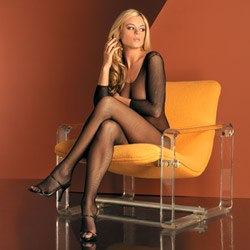 Fishnet seamless body stocking open crotch
Bodystockings
by Fantasy Lingerie
Stockings For Your Body
When you want the look of fishnet stocking but don't want to wear the stockings, themselves, there is the body stocking. Now it is just as sexy to wear the stocking as a piece of sexy lingerie but pairing it up with an outfit is simply smashing. For shorter persons the fishnets will be dark and lovely, for taller persons there will be a subtle shimmer. I highly recommend giving this piece a try!
Published:
Pros:
Sturdy, well fitting, comfortable
Cons:
None
Like all women of shorter stature I have problems getting stockings that fit my legs properly. Either they are too short and too tight or they are too long and fall down. I hate feeling like my thighs are being strangled and I also hate the horrible look of baggy, saggy stockings. Tights are a good compromise but they are, most often, not crotchless which means they have to be removed before sex. I think there is nothing more unattractive than stretched out nylons!
I have been intrigued by the body stockings sold here at EdenFantasys and decided to give it a go! I chose to try the queen size because I am just outside the measurements of the one size and I was not disappointed by the fit. The queen size stockings are supposed to fit a person who stands 5'0"- 5'10" and weighs between 170-245 pounds.
I am a solid 5 foot nothing and I weigh close to 200 pounds. I expected that the stocking would gap and sag but I was pleasantly surprised that the stockings were smooth on my legs, the stocking stretched and moved with my body and the sleeves sat on my shoulders comfortably and securely. The crotch opening is large enough to allow just about any activity that one might wish to participate in, sexually. The opening allows easy access to my clitoris, my vagina, and even my ass if I am so inclined. There is absolutely no need for me to remove the stocking until the night is over.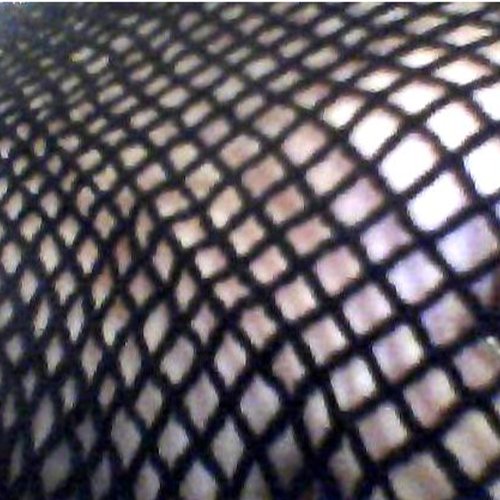 I am on the shorter end of the spectrum so the fishnet is rather dense on my legs and body. The fishnet is small, even and very sexy. I had thought that it would be overpowering but I find that I quite like the way they look almost opaque. It's sort of a peek-a-boo effect that hides quite a lot of the lumps and bumps I am working on eradicating.
I love wearing the stocking under a bustier, some other lingerie, or even under an ordinary pair of jeans if I want to wear a pair of heels with them. I do recommend wearing your panties on the outside of the stocking if you are wearing it with lingerie just so that you can be sure to be able to make use of the crotchless stocking. I know it sounds a bit odd but, trust me, your partner will enjoy "undressing" you.
So I've discussed how the stocking fits but is it sturdy? This stocking is 100% nylon which means some care is needed to prevent tears and runs but the nylon is sturdy enough to last through many wearings if such care is taken. I have worn mine to several parties, several dates, and at least 5 or 6 times in the bedroom and I have yet to see any wear or stretching. Now keep in mind that I am only 5 foot tall so your mileage may vary.
The seams on this stocking are rolled and stitched evenly so that they will not rub on the skin uncomfortably and resist raveling very well. The seams around the opening of the neck roll easily and need to be placed and adjusted at times. This is more than likely because I am short and there is more material there than would be on a taller person. There are spots where the finishing of raw edges is lacking a bit but as I haven't seen any evidence of tearing or raveling I overlook this slight flaw. On me the sleeves ride up just a bit over my wrists so I would assume on a person who is at the upper end of the height ratio the sleeves would be elbow length. You could pull on the sleeves to make them longer but it gives the upper arm a slightly unattractive seam.
There is a seam at the end of the toe that prevents the toes from slipping through the fishnet but I would caution the wearer to have smooth toe nails lest they snag or tear the fishnet. The seam isn't harsh like some stockings it's soft and easily dismissed even in a tight shoe.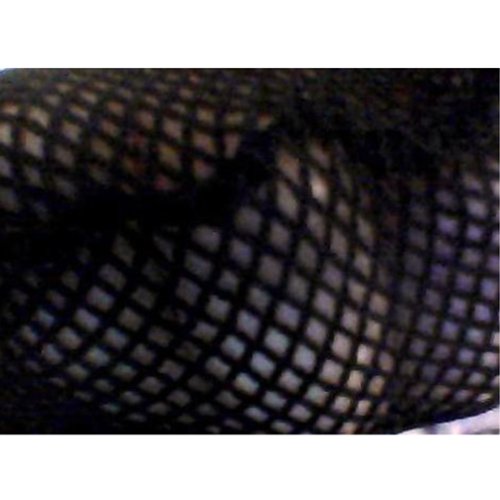 I recommend hand washing the body stocking by hand and allowing it to drip dry. You could use a lingerie bag and the gentle cycle in the washer but hand washing seems to offer the best results. Twisting and rubbing could cause the nylon to look worn or even to ravel.
You could store the stocking slipped into the cardboard sleeve it comes in and then in an underwear drawer or in a separate lingerie drawer.
Follow-up commentary
9 months after original review
It took me a while to actually put a run in this body stocking. I wore and washed it upwards of 10 times before it finally snagged on a car door and ripped. Definitely more bang for your buck!
This product was provided at a discounted price in exchange for an unbiased review. This review is in compliance with the FTC guidelines.
Thank you for viewing
Fishnet seamless body stocking open crotch
– bodystockings review page!