Stripey crochet net dress for under size 14 ladies
This dress has a nice stripey look for those who like to stay away regular fishnets dresses or full on floral patterns. The dress can be easily used as a top as well.
Published:
Pros:
Crochet net material quality seems okay
Can be worn as a top
Nipples can poke through the net
Cons:
Will fit up to size 14
Somewhat constricted feel around thighs from lace
Nipples can poke through
Even though my last experience with netted materials
wasn't the best one
, I decided to choose this dress for my monthly review. I have previously purchased
one netted dress from Leg Avenue
and I was very happy with that piece.
Design:
The dress looks (and fits) exactly like on the product pictures. The lace on the hem has a basic floral pattern.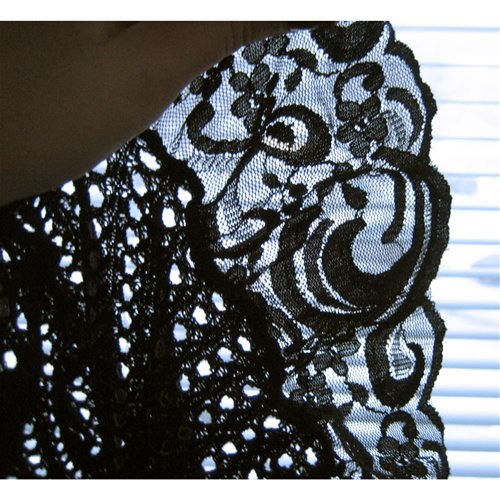 The pattern on the dress itself makes it look like vertical lines run on the body. To line these lines up as straight as possible requires some adjusting in front of the mirror after you have put the dress on. You'll want to do this on the mid-section of the body especially so the dress will be as flattering as possible.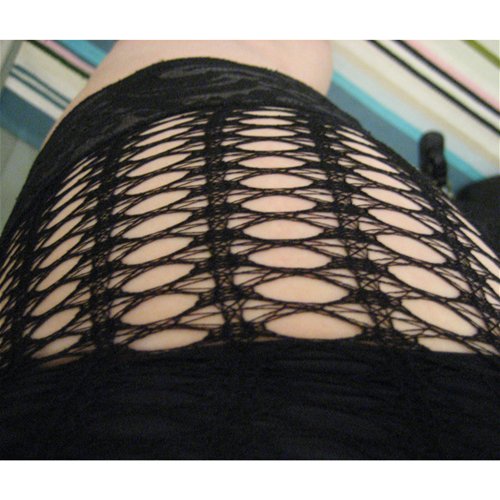 I've found the easiest way to put the dress on is to step into it. When the dress arrived I tried to pull it over my shoulders but I felt like there just weren't enough stretch to do it safely. I was worried I would rip holes in the crochet pattern.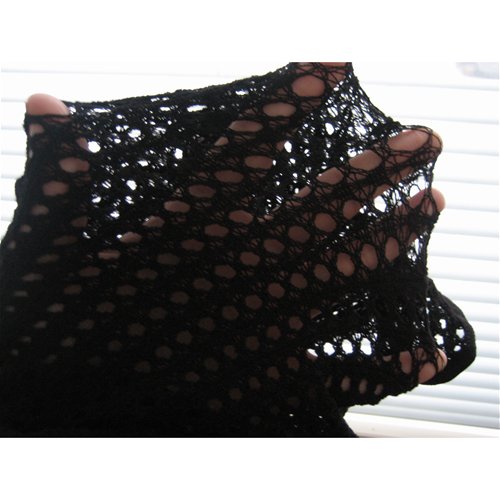 The dress ties behind the neck with two narrow and very stretchy straps. They are each 16 inches long. If you are sensitive for halter neck tops, the straps could be easily sewed on the back side with just a few stitches. This would take pressure off from the neck – something a lady with a larger chest might appreciate.
The holes it the crochet are just big enough so that my smallish nipples poke through the fabric. This might be a good thing or negative. I've found this great for nipple play as I can attach my nipple clamps over the dress and the chain hanging between them makes for a lovely visual image.
Size & Fit:
This piece only comes in One Size. Out of the box the dress looks very shrunken so it will definitely fit snugly everywhere and hug every curve on your body.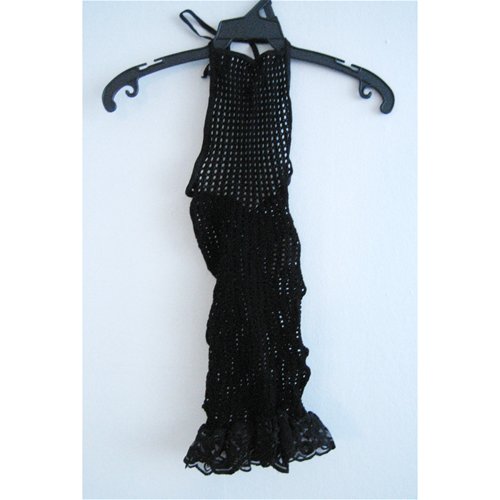 I usually wear size 12 in clothes and my bra size is 34DDD. The dress is advertised as a mini dress. I'm 5´4" tall and I can pull the dress to mid-thigh but it is more comfortable sitting slightly higher like on the model. However, I would say the dress could fit a taller woman as well since it can be adjusted with the straps at the top.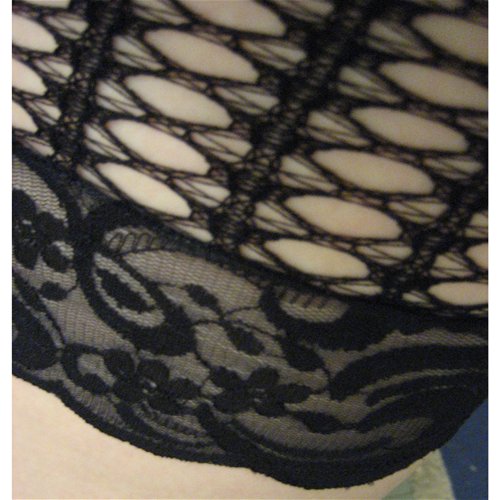 On my body the dress gets stretched quite the bit around my crotch and upper thighs. On my chest and waist it fits just fine. If your measurements go above 45 inches around your bottom I would recommend staying away from this dress so the crochet doesn't get ripped. The three inches wide lace is stretchy but it does give a constricted feel. Because of this feel the dress isn't ideal to be worn during intercourse since you can't really spread the legs apart too much.
This piece doesn't feel as comfortable or stretchy as my other dress from Leg Avenue. I would say this dress might fit someone to up to size 14 and 5'7" if you have the halter top tied looser.
The dress can also be worn as a top. Just gather it around your hips and the lace will make a nice hem there as well.
Material and care:
The dress is shipped in cardboard packaging with basic care instructions.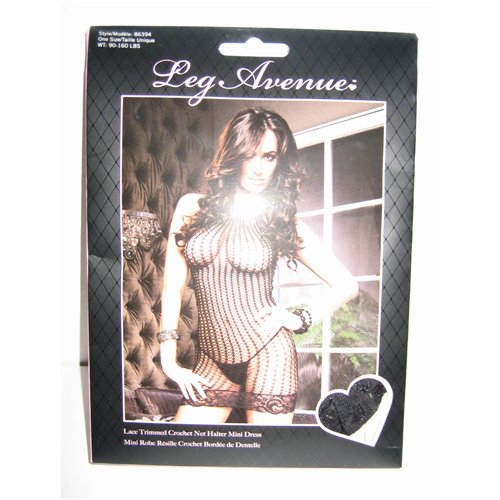 The crochet net material has a cotton-like feel to it. According to the package and label on the dress, the materials used are:
Lace: 86% Nylon, 14% Spandex
Mesh: 94% Nylon, 6% Spandex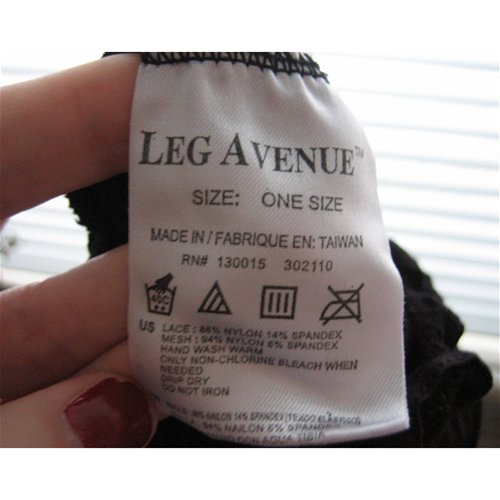 This dress should be hand washed in warm water and drip dried. Ironing is not recommended. I store the dress in the cardboard box it came in. It is safe there from snagging on to other items I have in my drawer like corset hooks and such. The picture will also help in identifying the dress from other similar looking pieces I own.
Experience
Overall, I would give this dress 3 1/2 stars. The quality feels okay and so far the crochet hasn't ripped anywhere. It is not my favorite net dress but it's still a quite nice addition to my lingerie collection.
This product was provided free of charge to the reviewer. This review is in compliance with the FTC guidelines.

Thank you for viewing
Lace trimmed crochet halter mini dress
review page!