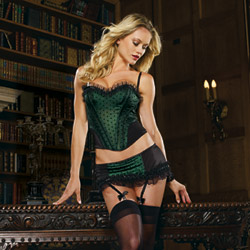 Shimmering corset skirt and thong
Corset
by DreamGirl
Stunning, shimmering, sexy set!
This 3-piece set is a sexy, fun and well-made addition to your wardrobe! With a trendy pattern and a sexy shape, this corset and skirt will drive your partner wild, while still allowing comfort for you!
Published:
Pros
Sexy
Fits well
Comfortable for long-term wear
Well made!
Cons
Only comes in 3 sizes
The
shimmering corset-skirt-and-thong
set by DreamGirl was the first corset I've purchased from EdenFantasys. Green is my favorite color, and I've been keeping an eye on the corsets on the site, so I couldn't wait to order!
The set came wrapped in pink paper, much like the kind you would wrap clothes in before placing them in their boxes for Christmas. There wasn't anything else in the way of packaging. This set is made out of polyester and spandex. As for care instructions, you will want to hand-wash this set. I don't put mine in the dryer, simply because spandex should not be placed in high-temperature settings. I simply wash mine by hand with some fabric softener, drip dry, and then hang the entire set up in my closet.
As for discretion, the top itself is not going to scream "I bought this at an adult toy site!", and the skirt and thong, if you have concerns about them being seen, can easily be hung
inside
of the corset.
Because this set will stretch when worn, it can fit a variety of sizes, but unfortunately it only comes in S, M, and L. I chose to get the large size. According to the
size chart
, this means I should have a C-D cup, 36-38 bust, 28-32 waist, 38-40 hip and weight 140-150lbs. My actual measurements are: I am a larger C cup with a 37" bust, 30" waist and 38" hip size. At the moment I am about 132 pounds and am 5'2" tall.
Corset
The corset is a combination of black and green. The lining above the breast area is lace, and the green portion has sequin-like black shiny polka-dots on it. The sides, just above the hip-bone are the black portion, and the back hooks up with a hook-and-eye closure. The bottom of the corset has 4 straps for garters.
Skirt
The skirt portion of the set is black all around aside from right in front of the crotch area. This portion is green and has the same polka-dots as the corset. This is definitely a "mini skirt", and is not really appropriate to wear out of the bedroom, in most settings.
Thong
The thong itself is solid black. I am not the type to wear underwear typically, because for me it is just confining and uncomfortable. The thong is not loose and it is not too tight, and to be honest I forgot I was wearing it a few times! It does not itch and it does not ride up my butt, and I actually like wearing it with a pair of pants on a regular day!
This particular corset is boned with plastic.
Boning
, and not the type you do to your partner when you're feeling a bit turned on, is what allows the shape of the corset to stay in place, and also helps with the form of the wearer. Typically I prefer metal boning, but plastic is great when the corset already fits the way you want it to, and you don't need to "fix your shape".
The corset measures from under the armpit area to the bottom is 10" while un-stretched. 10.5" inches from top of the cleavage area to the bottom of the front. Measuring the straps from one side to the other, at it's tightest the strap is 8 1/4". At the loosest it was 15". I did not measure the skirt's length because depending on the width of your pelvis, and waist, the length is going to vary too much on your body.
I took some pictures:
Here, I wore the corset with a pair of pants.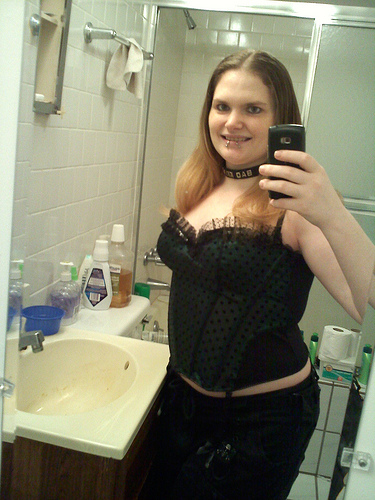 As you can see, you can't always see down the front, if you wear it high enough: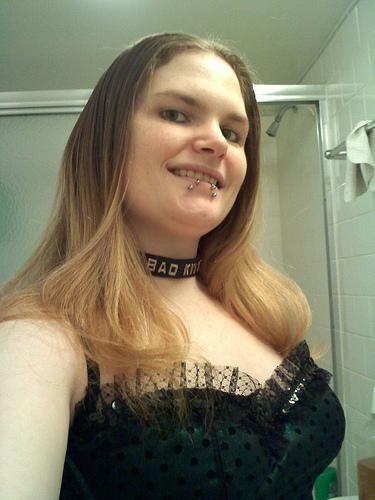 With the thong: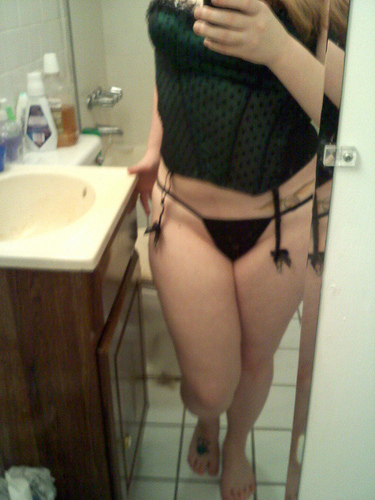 And of course the corset and skirt!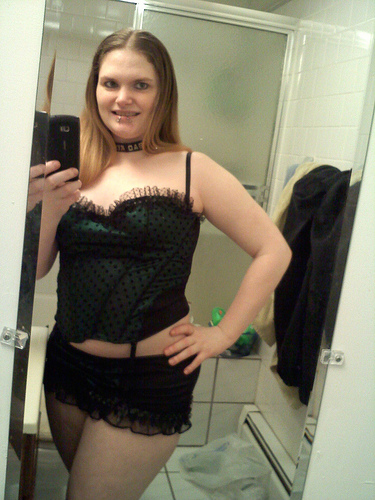 Experience
After trying the entire set on for hubby, who was very excited to see me in it, I noticed a couple of things about it. It did fit me very well, but unless you loosen the straps to the point of them possibly falling off of your shoulders, it pulls the part that goes under your armpit all the way up, and the edges dig into you. This gives a bit of a pinching feeling, so you'll want to loosen them all the way, and tighten as needed. If you put it on first and then try to loosen them, it will be painful! Another thing I did not like is that if someone is looking down the corset where my boobs are, it is very loose at times. For the most part this was not really a problem, because you would have to look straight down the top to see anything, but I am 5'2, and my guy is 6'7, and he had a clear view! I guess, then, I'll just avoid walking around tall men who aren't my guy, huh? Other than that, no arguments from this girl! The rest of the corset fit like a glove, it was tight, but not overly so. The skirt slid right on, and fit the same, tight enough to not slide around but loose enough to not feel uncomfortable. Also, again about that thong, I actually wear these! And coming from me, that's a real statement!

I love the way I look, he loves the way I look, and I'm a happy girl!

I decided to give the corset 5 out of 5 stars despite the issue with the cleavage area.
Follow-up commentary
4 months after original review
This corset is still one of my very favorite purchases from EdenFantasys. I still love the way it fits and looks on me, and it is still as comfortable as the day I got it! I wear the set every once in a while but plan to wear it a whole lot more now that the weather is starting to become nice! Once summer comes around, this will be something I wear out of the house often, because it is so sexy and fun!
This product was provided free of charge to the reviewer. This review is in compliance with the FTC guidelines.
Thank you for viewing
Shimmering corset skirt and thong
review page!