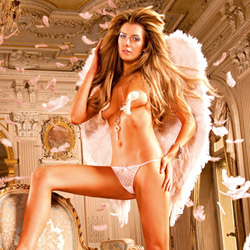 Pink heart mesh g-string
Sexy panty
by Baci
Such A Sweet Pair Of Panties
I truly love this g-string. It's comfortable for all day wear, yet it actually makes me feel sexy! This is one g-string that I will be stocking up on; thankfully it comes in more than one color!
Published:
Pros:
Simple, Sexy, Adorable, Stretchy, Comfortable for all day wear, Has a pantyliner
Cons:
Not quite as pictured, Pantyliner is small,
I have dreadful luck when it comes to buying panties. Usually I get a pair of panties that offers too little coverage, but fits my hips just fine -- or I get panties that offer great coverage, but feel and look baggy. As you can imagine, none of that makes for a very sexy look.

I bought these on a bit of a whim. I needed something inexpensive to boost the cost of my order, in order to ensure that I qualified for free next day delivery (I needed one of the items in that order ASAP). On a whim, I added these panties to my cart. My expectations were low, but I was pleasantly surprised. This sweet pair of panties is more than I hoped for, and I would definitely be buying more.

Now.. let me tell you a little about the item.

Basics:
This pair of panties is made by Baci. Unlike many other styles of panties by Baci, this particular pair actually has sizes (small, medium, and large).

These adorable panties are g-string style. It's available in for color combinations: white/pink, black/pink, pink/blue, and black/red. I purchased this in the pink and white combination, simply as the black/pink was sold out in the size that I needed (large).

Material & Care:
This is made out of 90% Nylon and 10% Spandex. There also appears to be a cotton pantyliner, though the tag does not state what the liner is made out of.

Now, before I get into how the material feels, I want to comment on the color. In the stock photo, it appears as though the entire g-string is a light pink. In reality, it's only the straps, border, and bow that are pink. The rest of the thong is a pure white.

The panties are very sheer in nature. This means that if coverage is a high priority for you, you're going to want to look elsewhere. There is a chance, however, that the darker colors may be less sheer than the color that I purchased.

The fabric is incredibly stretchy. Unlike some stretchy items, this pair of panties won't stay stretched out once you remove them. It'll snap right back down to it's original size, which is nice as who wants to wear panties that stay stretched out?

Comfort wise, this g-string is very comfortable. The fabric does not itch at all. That being said, the front of the panty is not the softest material that I've felt. It feels fine while on, but it does feel slightly rough to my fingertips.

As for cleaning, it's recommended that you machine wash these panties in warm water, and then tumble dry them on low.

Sizing:
This g-string is available in 3 different sizes: small, medium, and large. I purchased these in large due to my wide hips.

According to the size chart, a large should fit someone with 38-40" hips. My hips are 40", and this g-string fits me just fine. I do believe that it would stretch to fit someone an inch or two larger than me, but it should also fit the lower end of the size chart as well.

I was pleasantly surprised to find that this g-string offered me all the coverage that I wanted. It's not a full coverage panty of course, but it covers what I need it to cover.

To give you some idea of the size of this g-string, I took the following measurements with the g-string laying flat.

Across the waistband: 14" (unstretched), 24" (stretched)
Triangle: 4.5" across the top, 6.5" up the sides
Experience
Design:
What can I say about the design of this g-string? It's basic, but it's good. It's a triangle, with straps attached, and a string that's supposed to go up your bum.

The pattern on the g-string is the main attraction. It features an adorable diamond and hearts pattern. The hearts are found at each diamond point, and the pattern covers the entire front of the g-string. The front triangle is surrounded with a light pink border, which makes this g-string look very innocent and sweet.

There is also a small bow at the top center of the front of the g-string. The bow isn't large, but it might bother those of you that dislike bows. Unfortunately the bow is not removable, but it would be easy to snip it off with a pair of nail scissors. I like the bow, so I haven't attempted to remove it.

Next up, we have the tag. The tag is on attached to the inside of the triangle portion. The tag is fairly large, and it is visible through the material. For this reason, you're probably going to want to cut it off.

Finally, we have the pantyliner. It's nice that this g-string offers a liner, but really, it's so small that it makes me think ..why bother? The pantyliner measures 2" long, and 1.5" at the widest point.

For those curious, the pantyliner is only sewn shut on one end.

Quality:
Considering the price, the quality is excellent! I highly recommend this g-string.
Follow-up commentary
2 months after original review
I'm not big on g-strings, but I actually love this one. I've worn it several times, and it's very comfortable. It's also held up well to being washed on the delicate cycle. I definitely need to get a few more of these!
This product was provided at a discounted price in exchange for an unbiased review. This review is in compliance with the FTC guidelines.
Thank you for viewing
Pink heart mesh g-string
– sexy panties review page!