SUPER Cheeky! (OS)
My first experience with company has not wowed me. This panty made me feel like I had a very generous booty! That's because it doesn't seem to want to stay in the small butt of the panty. It rides VERY low, even for me and I've come to the conclusion that while this will fit a ton of hip sizes, it's best for people who wear S or S/M size panties.
Published:
Pros:
Long pretty ties, packaging, Stretchy material
Cons:
Butt area is too small for most in OS range, Crotch hole is rarely where it needs to be
*Intro:
This is my first experience with
Seven 'til Midnight
. The company is based in Los Angeles. I can't say I'm a fan yet. This piece is one size fits most and I have found that it's incredibly small even though it fits because of the ties. The crotchless area feels a little misplaced and the small butt doesn't like to stay put. On the right petite frame, these are no doubt cute, but on women with curves and shapely asses, it'll have a hard time looking good for more than a few seconds. On me, it looks like ti does on the model when I first put it on and place the panty over my butt in the correct area, then it either pulls to one side or creeps down. Attractive? No, more like annoying!
*Contents/overview:
One piece panty
These panties are from Seven 'til Midnight. They are a hip-hugger cheeky panty with tie ribbon sides, mesh fabric, see through back heart, and are crotchless. They come in one size fits most and the black and pink color combination.
*Material:
Mixed, durable
These panties are made of 90% nylon and 10% spandex exclusive of the trim which are the satin ribbons. The body of the panty is a stretchy and light, breathable mesh. The heart in the back is thicker, more coarse, and doesn't stretch as much, although it does stretch a little. It has a small pansy flower pattern. The ribbons are silky and durable.
*Design/craftsmanship:
Pretty good
I pulled these out and saw a few little frays here and there, but nothing obviously hanging off or looking like it was going to fall apart. I tugged on the ribbons and lace and both areas seem secure.
The panties come tied together. You'll need to untie them and retie them to your personal size and preference. From top to bottom when laid open and flat it is 14 1/2" long. On me, a size 8, this is a very low rise panty in the front AND back. The front is 10" across and there is a small pink bow in the center of the top. The sides where the ribbons attach is 1" wide. This is the same thickness as the ribbon. The ribbons are about 14" long which is plenty to fit a variety of hip sizes.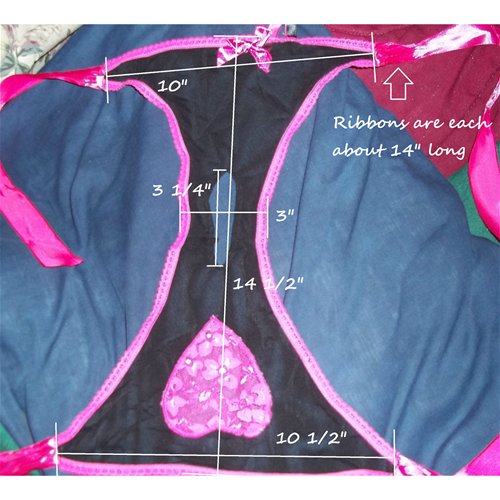 The thinnest part is 3" wide in between the legs. The slit for the crotchless part is about 3 1/4" long. It has a noticeable seam all the way around it, but I cannot feel it during use. With how low these panties ride, it is placed a bit too far back for me. The back is 10 1/2" across. The lace heart in he center is 3 1/2" across and about 3 1/2" tall. The ribbons attached the back are the same thickness and length as the front.
There is a tiny thin tag in the front off center. It looks exactly like the tags that VS puts in their Very Sexy collection panties.
*Cleaning/packaging:
Machine wash, reusable bag
I love the packaging for these panties. They come in a small and thick plastic bag. The bag has a ziplock top that's reusable for storage and a small hanger. On one side the companies logo is printed a bunch of time. A cardboard insert is included with a picture of a model wearing the item, care instructions, material composition, and a circular hologram showing the product's authenticity. The panties come pressed flat and tied as tight as they can be.
The package says to hand wash separately, drip dry, do not bleach, and it is made in China.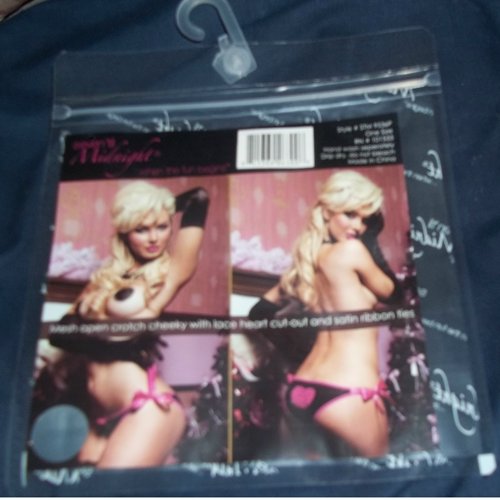 Experience
*Sizing: Run small, not good for OS

Having no other piece from this company to base their sizing off of, I still wasn't worried about an OS being too small because the sides of this panty tie. Their OS says it will fit size 2-14 dress and 34-40" hip. I'm a size 8 in jeans and my hips are about 38.5". I weighed ~144 pounds at the time of this review.

I had a hell of a time trying to position these correctly. There is plenty of tie space for them to wrap around my hips. I have a lot of ribbon left and am able to tie pretty bows. It's also comfortable on my hips, but that's not the issue. The shortness between the front and back is the problem. I don't mind low rise things at all, but if I put this where it fills most natural in the front, it shows crack in the back and slides down. This also causes the crotchless hole to be positioned correctly. If I pull it up in the back to where it covers everything, it doesn't stay that way long. In order to get it to stay put, I have to pull the back up into my cheeks, but that bunches the cute heart. There's no good placement for this on me. I have an ass, but it's nothing that has a problem fitting itself into normal clothing, so I'm surprised by this issue. They look cute when they stay put! However, I don't think these would be good for sex. While the hips will fit a huge range of sizes, I don't feel like these are best suited for the higher end of the range, unless you have a pancake butt or are a size 4 or smaller.

*Re-done Sizing/BEST fit:

Dress size: 0-6 (6 maybe?)
Panty size: No larger than a 5 probably (S/M)
Shapely booty? This panty is probably going to make you look like a plumber.

*Conclusion: ★★★

I won't be wearing these panties. They are too much of a headache. They don't stay in place and want to shift so that something is anchored between the cheeks, which will bunch up the heart of make them lopsided. The hole is often not in the best position and they ride very low. I don't think I could ever have sex in these or wear them under jeans. The hip ties are gorgeous, but the butt is too short.
Follow-up commentary
2 months after original review
I'm still not a fan of these panties. I've put them back in their package and never wore them. This experience has prevented me from buying more underwear from this company.
This content is the opinion of the submitting contributor and is not endorsed by EdenFantasys.com

Thank you for viewing
Cheeky with lace heart
– sexy panty review page!