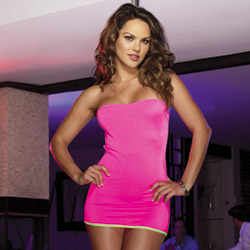 Dress and thong
Mini dress by DreamGirl
Super cute!
This is a very different and rave inspired dress that I think should be in the bedroom lingerie arsenal for any girl that wants to make things a little spicy in the bedroom. It shows a lot of skin in the back but is fairly modest in the front.. It's a great surprise for your partner!
Published:
Pros:
Bright, rave-colored, sexy!
Cons:
Thong is useless
I received the pink version of this dress, and it is a one size fits all. I have to say this is really, really cute! The only downside to it is that since the back is open, it's difficult to wear a bra without it looking odd. I wanted this for clubwear, but have ended up keeping it as only bedroom use.

Sizing: One size fits all?

This dress is a one size fits all, and comes in black or pink front with a rainbow striped open back. The Dream Girl's one size is listed to these specs:

Dress size: 2-14
Cup: B-C
Bust: 32-38"
Waist: 24-32"
Hip: 34-40"
Inseam: 35"
Rise: 7.5-8"
Weight: 60-160"

With this being said, I am bigger than all of these specs, and the dress looks pretty darn cute on me. I am a 36DD, with 44" bust, 38" waist, 46" hips, and I weigh 216lbs. Granted, I'm a tall girl at 5'11" so I carry my weight well.. but I'm still outside specs. The only thing I can say is that this fits like a glove. It will not hide any flaws though so if you're uncomfortable in tightfit items, this isn't for you. It grabs every fat roll. I have a fairly smooth stomach that I think is sexy and soft so I don't find it unattractive on me. This dress doesn't cover as much on me as it does on the model because I have a lengthier torso than her. The dress is 23" long, and my torso is longer than that so it doesn't fully cover my butt. The thong is very typical of the usual black thong you get with most lingerie, except it matches the product and is pink. I don't like it's fit and don't have a lot else to say about it. It snags into the straps on the dress with it's own straps, so I choose not to wear it with the dress. It also doesn't go with any other lingerie I have so it just got tossed aside pretty quickly.

Stitching quality and design/material

The stitching at the top and bottom of the dress is well done with no frays or thin spots. My only concern is that the middle strap on the back that the rainbow bands are sewn to is very thin stitching and may not hold up to much rough handling or overtime being worn. However, there are no visible frays or tears on it either, even after a few uses. The bands at the bottom are looser than the bands at the top, I believe this is to accommodate a nice flattering fit over the butt.

The dress is 90% Polyester and 10% Spandex. It is a little stretchy, as I mentioned since it fits outside of the listing for one size. I don't think it would fit much bigger than me though because the material would be stretched too far and probably start to thin and fray.

Care and Maintenance

This dress should be machine washed on cold (or hand washed if you prefer), but do not wash this with any other clothing articles that can get caught in all the straps and tangle, that could put a lot of stress on them and they will tear easier. Then it should line dried. Do not use a machine to dry it, it can burn the material.
Experience
So is this set worth it? Yes. The thong is useless, but I would still buy it for the dress. I think it makes a great bedroom item, and if you own your own stripper pole at home, you could do a really cute show with this for your partner. I think it's very rave-colored and I like that. It's every bit as bright as the pictures on Eden. I feel pretty sexy when I'm wearing it, and I think given the appropriate build, someone outside of the "one size" can fit it. It all depends on how you feel about spandex/polyester and the way it grabs your stomach. The only thing about it I'm not super excited about is the straps on the back space out more on me than they do on the model. I think that's probably because I'm outside of the fit. It doesn't create back fat inbetween the straps or anything.. it just has a larger spacing of skin showing between bands.
This product was provided free of charge to the reviewer. This review is in compliance with the FTC guidelines.

Thank you for viewing
Dress and thong
– mini dress review page!