Super Steal for the C Cups or Smaller!
This set is a great deal... and it even comes with stickers! It is high quality and I love the style. The pasties were a little too pointed for me, which made them difficult to keep on. The panties were very high waisted, but could be adjusted from 20" - 50"! I was impressed. This set fits a variety of bodies (with small boobs of course)!
Published:
Pros:
High Quality
Comes with Extra Stickers
Fun Tassels
Cons:
Pointed Shape
High Waisted Thong
I think pasties are super hot, and so does my partner. That is why, when I see them on sale for a good deal, I've got an itch to get them! Well, the Showgirl Pastie and Pantie Set went on sale awhile back, and I scooped them up, because they were $11.99 retail - and the sale price was even better! What a steal!

Packaging:
The Showgirl Pastie and Panty Set by Cal Exotics is a 3 piece set. They come packaged in a small box that could easily be used for re-storage, but probably wouldn't make the most discreet gift package due to the almost naked woman on the front. There are no instructions for the product, how to use or put on. There is no extra details inside either, I guess it is good they are relatively self-explanatory!

Contents: (2) Sequin pasties, (1) Thong, (8) Stickers
Made in China.

Design/Shape:
The set comes in a choice of colors: silver, black, pink, red. I got the black.

The shape of the pasties is a bit odd. It is halfway between a heart and a round circle. It kind of looks like it is undecided. The sequins are sewn on to each other and then glued on to the pastie. It appears that they are also sewn on the pastie in a few different spots. This makes me happy because it means the sequins are relatively secure! The sequins circle around the pastie in an organized design.

The pasties itself are very pointed, like a pyramid. It is not the most well thought out shape for staying on one's boob. It should be a little flatter on the skin. These stick out a little too far.

There is a tassel on the peak of each pastie. To stick the pastie on, there are 8 pieces of double sided stickers included with the pasties. These stickers are very sticky, and if taken good care of, should be able to stick a few different times.

The underwear ride very high on the hips. One way you could solve this issues is by sewing the thong string and shortening it. But that takes some extra effort. There is an adjustable bra-like strap on the waist to accommodate different sizes. The back side of the thong is satin material, very comfortable. The thong is a g-string style.

Sizing:
This product is a one size fits most.
I have a 36"-38" hip, a 30"-32" waist and the panties fit me just fine. In fact, they really would fit many. Since there is an adjustable strap, they can fit small or large alike. The measurements I took of the products are as follows:

Pastie Top Across: 3"
Pastie Side: 2"
Pastie Height: 1 1/3"
Tassel Length: 4"

Pantie Waist Smallest Adjustable: 20"
Pantie Waist Largest Adjustable: 36"
Pantie Waist Stretched: 50"
Pantie Length (top to middle crotch): 9"

Care/ Maintenance:
The pasties would be hard to clean. I just assume never washing them, they don't get that dirty! But if I had to, I would wipe them down quickly with a towel. The thong on the other hand, can be hand washed with mild soap. Do not dry, do not iron. If these were to end up in the washing machine, I would be afraid the sticking rhinestone sequin things would fall off or lose their color.

Material/Texture:
Material: Nylon
The thong straps are very stretchy and remind me of bra straps. The back of the thong is a satin-like material that is very soft to touch and to wear. There are iron on sequins on the front of the thong.

The pastie material is sort of like a mesh. There are hundreds of sequins on the front, as well as a tassel. They are not the most comfortable, but very pliable and flexible.
Experience
Personal Experience :
To get these on is a minimal challenge. I had to literally thrust my boob into the small crevice the pastie supplied. Due to the sharp peak of the pastie, they didn't really fit right. They were not flat on my breast and kept falling off. They left a gap in the top which made it hard to keep on. (I have round D boobs by the way). The stickers didn't work that well on me because of the pointed shape, but were VERY sticky! If you run out of the stickers, you can also use spirit gum or toupee tape to fix your sexy pasties in place as well. None-the-less, my husband enjoyed my little show I put on for him while wearing these as best as I could.
Although they didn't fit my breasts very well, I am sure they would fit better on smaller breasts or pointed breasts. Or maybe if you lined the entire pastie with stickers and glue.
Conclusion: ★★★★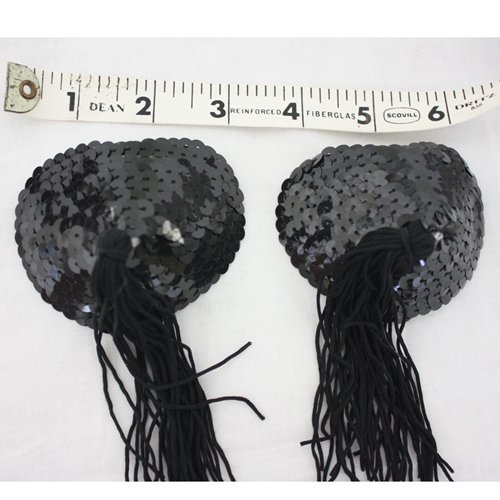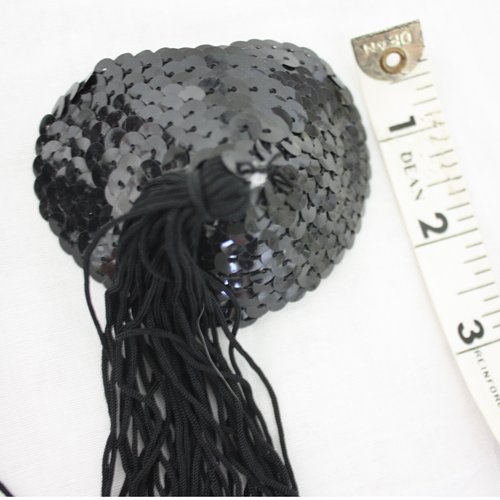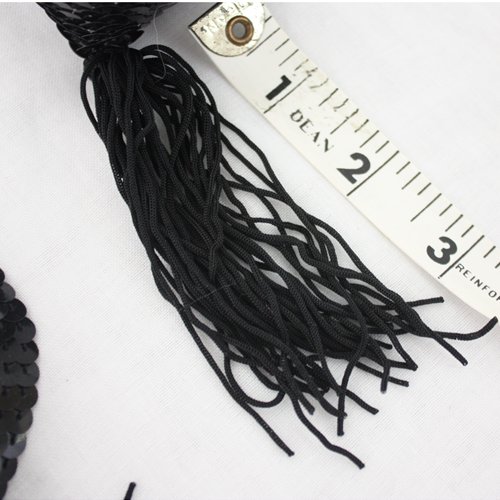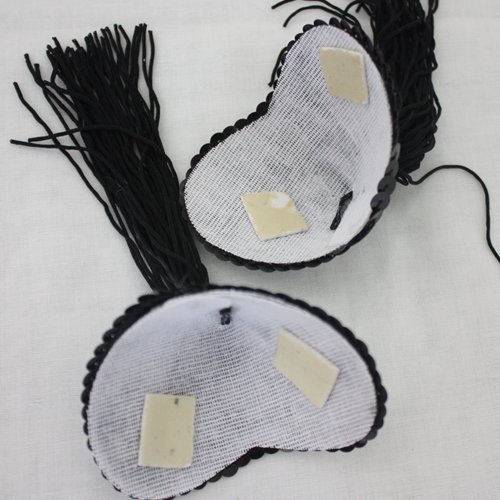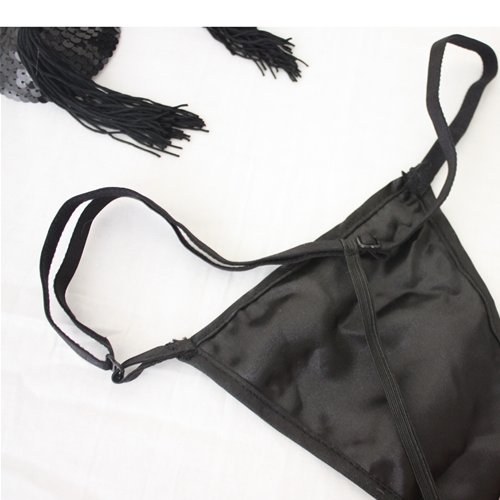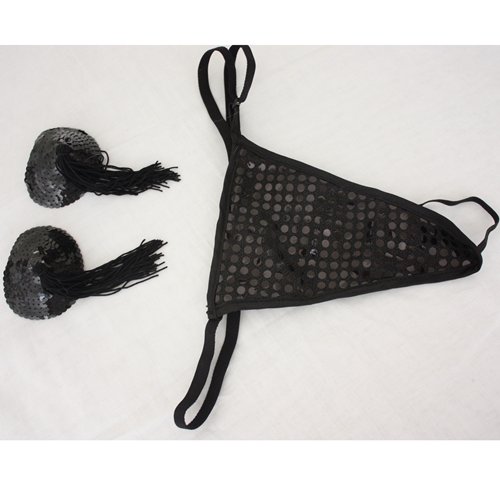 Follow-up commentary
10 months after original review
These didn't fit me ideally, but it is still a great set. Too bad it looks like it has been discontinued. I love the color selection and the fun sequins. The seqins are still in good shape too. This item is great to wear for a brief amount of time, and you'll need your own sticking tape, but for small boobs and a short time period - for that I still recommend it.
This content is the opinion of the submitting contributor and is not endorsed by EdenFantasys.com

Thank you for viewing
Showgirl
– panty and pasties set review page!