Futuristic fantasy chemise
Chemise
by DreamGirl
Surpassed My Every Expectation!
WOW! I am so glad I didn't pass this one over! While the model's photos didn't impress me, I thought I would give it a chance. This is by far one of the sexier pieces I own! It is form-fitted, so you must be comfortable in your skin. The mesh is dark, comfortable and accommodating. The design is unique and incredibly hot. I love this, my hubby loves this, this chemise is a WIN-WIN-WINNER!
Published:
Pros:
Soooooo Sexy
Comfortable
Shapewear-like
Cons:
Sizing May Be Small
Front Elastic Might Bow Out
Packaging:
includes hanger and plastic garment bag
The Futuristic Fantasy Chemise by Dreamgirl came in a basic plastic garment bag. The chemise was hanging on a black Dreamgirl hanger inside the bag, which was sealed with two masking tape strips at the bottom. The item was new and was presented well.
For those who like to hang their lingerie items, this is a great package to re-use. Just hang in on the original hanger and place in the bag. Then your lingerie will stay as good as new. The plastic bag will keep dust from gathering on it. Although I like the packaging, I think this chemise is tough enough not delicate, so it can handle being folded up in my lingerie drawer... oh right, partly because I have no room left in my closet!
The item had two tags attached to it. One tag had the model's picture and the style, size and color description, while the other had a breakdown of the materials by each item.
Contents: Garter Slip (Chemise) and Thong
Made in China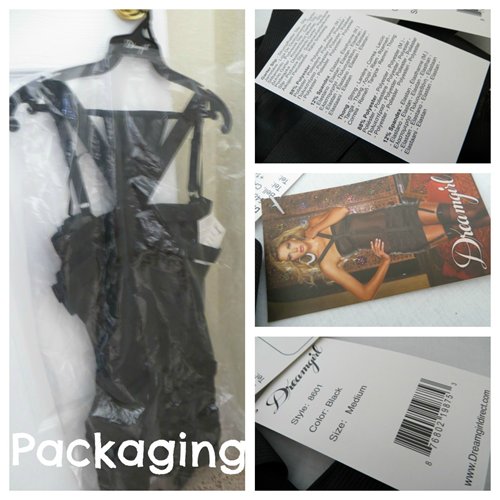 Care/ Maintenance:
CAUTION: Stay away from washer and dryer
The care instructions for this item are listed on the inside tag of the chemise. They state to hand wash in cold water and line dry. If you have a very delicate cycle on your washer, you could probably get away with that too, but for me, I hand washed and dried just like the instructions stated.
I washed the item prior to wearing because it had a faint plastic-y/chemical-y smell to it. I am not sure why, but I assume because of the elastic bands. After I washed the item with mild detergent in the sink, the smell went away almost entirely.
To maintain the shape of this chemise and keep the elastic in tip-top shape, I recommend hanging or folding nicely and placing inside original packaging or in a drawer or other similar sealed container.
Size:
Form-fitting, order your size or up one.
It is available in the sizes: S, M, L, and XL.
See the DreamGirl Size Chart
HERE
I am typically a size small-medium. In Dreamgirl I have worn both. My size information is as follows: Typical Store Size: 4-6 US. Height: 5'4". Weight: 125lbs. Chest: 34D-36D. Waist: 27". Hips: 36". Torso (shoulder to hip): 22". I don't normally give you all this size information, but since I opted to not take photos of me in it (to risqué for my comfort level) I wanted you to understand how it fit as much as you could without the photos.
That being said, I ordered the size
MEDIUM
and it fit incredibly. I could NOT have gone with the small on this. It would have been much too tight. This item hugs every curve and is very stretchy. The mesh is accommodating and while the chemise might look too small on the hanger, it somehow fits so well! The elastic bands are tightly stretched on my body, not loose, so the fit is ideal. If the bands were loose hanging, I would say the sizes are off, but in my opinion they are not – but a little small possibly.
My recommendation:
Depending on how you like to wear your lingerie is what size you should order. I ordered the higher end of my size (typically a small-medium, I ordered medium) and was very happy. If you want this to be tight-tight order your size. If you are in-between sizes, I would say order the higher size for a little more room and comfort. But by no means do you want this item to be loose (the elastic bands wouldn't look right) so don't go more than one size up from your typical size. If you are comfortable showing off your body and your curves, you will love this dress' tightness.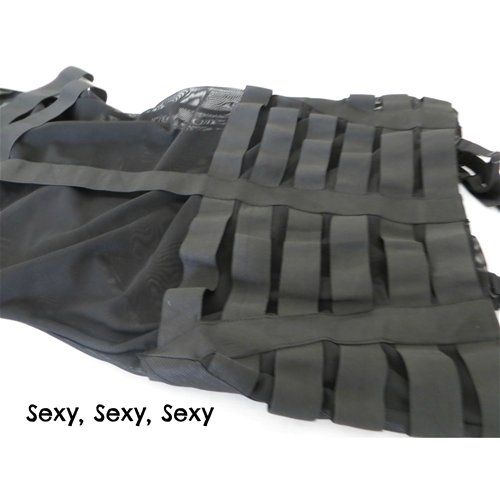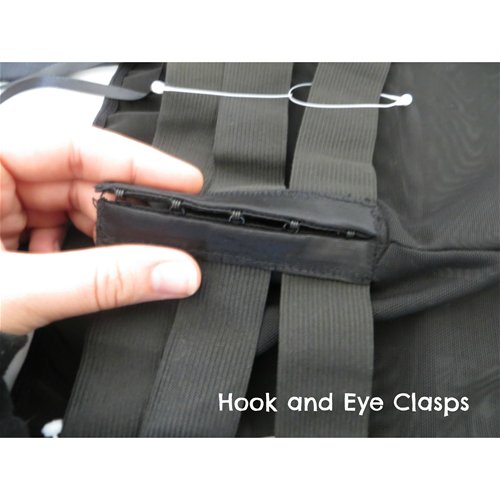 Design/Shape
Unique, Sexy, MUCH Better Than The Model!
This item comes in the colors: Black
What an incredible design! To my surprise, this is MUCH MUCH MUCH hotter in person than on the model. Seriously, stunning. The entire underneath portion of this chemise is mesh and very flattering. Mesh is flattering? YES. This mesh almost feels like it has supportive qualities and sucks in your gut. It is tight and not loose. It is similar to shapewear, but not as drastically tight. The mesh is comfortable and not itchy in the least! Then there are the elastic bands throughout. On the model, I didn't love the design, NOW I am head-over-heels for it!
Experience
Cont.
From the top: The "V" neck elastic straps are adjustable in the back. They adjust from 3 inches to 8 inches. I wear mine about 4 inches and this makes the boob elastic bands fit just right in place. The straps sit mid shoulder and don't slide around. They are comfortable and not bothersome. At the top of the chemise there are 3 elastic bands that can be adjusted to fit above, below and right directly across your nipple. The top band is sewn on to the mesh in a few places, while the others are only sewn down on the front and back. This is for the best fit to each body accordingly. The bands were tight on my boobs, even pushing them down some. In the back you find 5 hook and eye clasps, which add to the visual design. Down the center of the chemise there is one elastic strap that is sewn on to where it touches the other diagonal straps. It is loose in the stomach portion. If anything, this can be a bit annoying if you don't fill it out all the way. If the strap is loose, it can bow out. I like the look of it, but found is bowed out when I moved around. I simply altered this by cutting it at the top and the bottom. Now I don't have the center line in the stomach, but it is at the top and bottom. I recommend doing this if it doesn't fit you right. Lastly are the bottom elastic bands. There are 6 across in the front, 2 that go diagonally across to almost appear to look like a garter belt and then only 2 in the back, exposing your bottom. At first the bottom portion looks a bit out of place, but it is so sexy on! You have to take my word for it!
There are four removable and adjustable garters on the bottom of the chemise. They are sturdy and have plastic/rubber attachments. They attached fine with my (not included) thigh-highs. They adjust from total length of 4 inches attached to 7 inches attached.
The thong is your basic mesh thong with a cotton lining.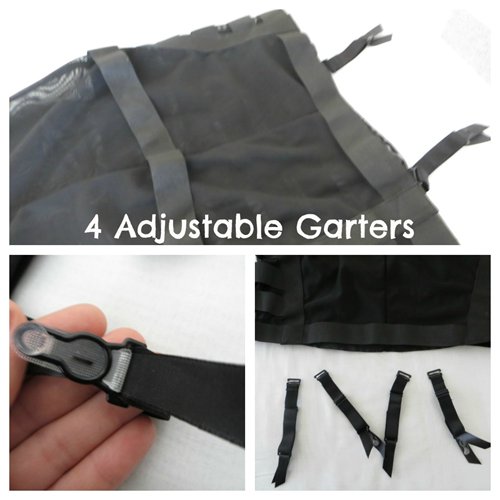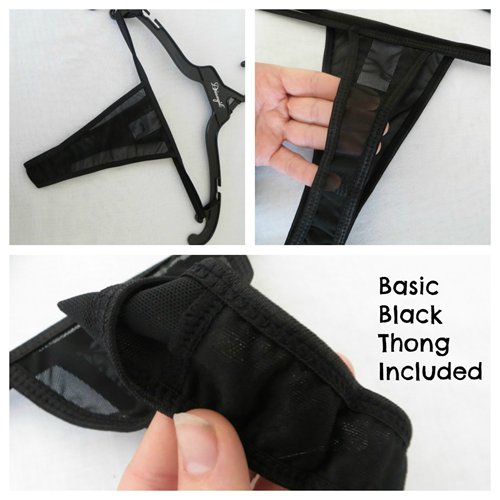 Material/Texture:
Very flattering stretch fabric and craftsmanship is well-made.
Like I mentioned before, the mesh if AMAZING! It is comfortable against my skin and stretchy to accommodate my every curve. The mesh is 88% polyester and 12% spandex. The elastic bands stretch a lot and should be worn tight, not loose.
The chemise is of the highest quality. The fabrics are great and sturdy. I found NO flaws at all in the stitching or seams. It is flawless. It feels durable and long lasting. It has already withstood the test of me hand washing it and wearing it.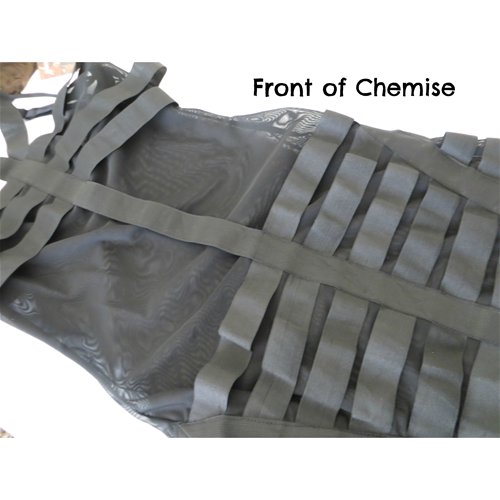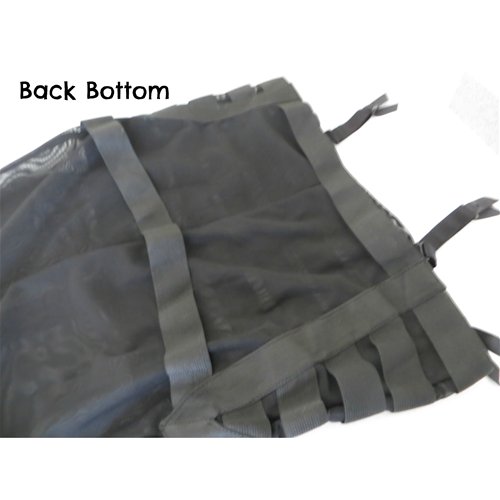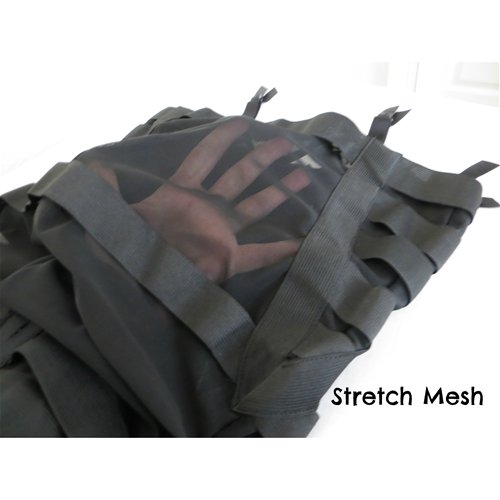 This product was provided free of charge to the reviewer. This review is in compliance with the FTC guidelines.
Thank you for viewing
Futuristic fantasy chemise
review page!