Surprisngly sexy...but the bust falls flat
This is not for those who are not comfortable showing skin. If you prefer lingerie that will keep you covered up for the most part, then this is not for you. But, if you are looking for something to tease your partner, while covering just a few places, this is for you.
Published:
Pros:
Straps are interesting look, stretchy, sexy
Cons:
No bust support, limited sizing, shows a lot of skin
The packaging is not discreet, and would be useless to keep around for storage or anything else. However, it is recyclable. It comes inside of a plastic sleeve in a paperboard box, like so: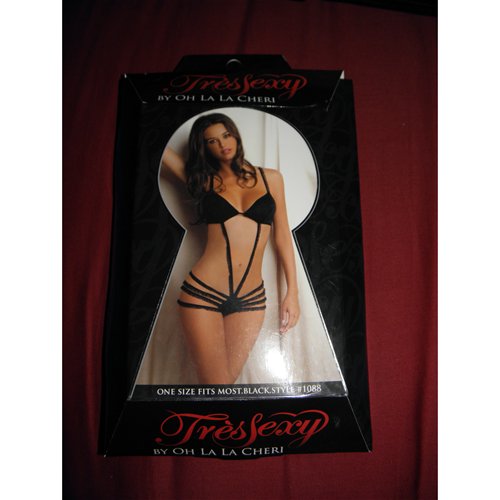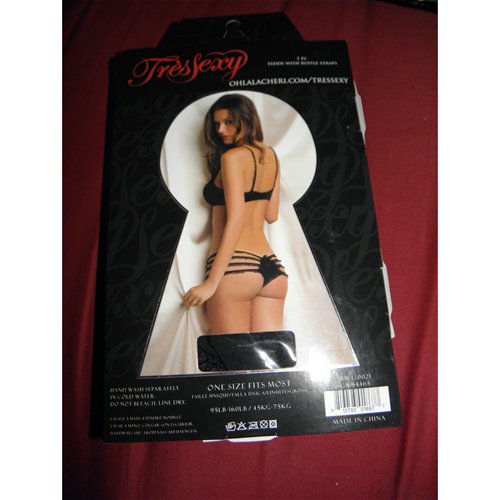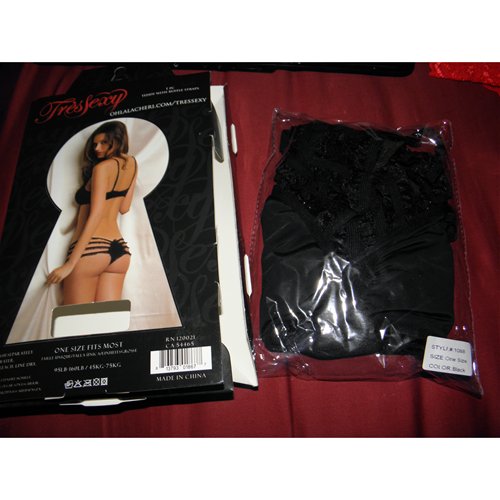 The box has the care instructions on it: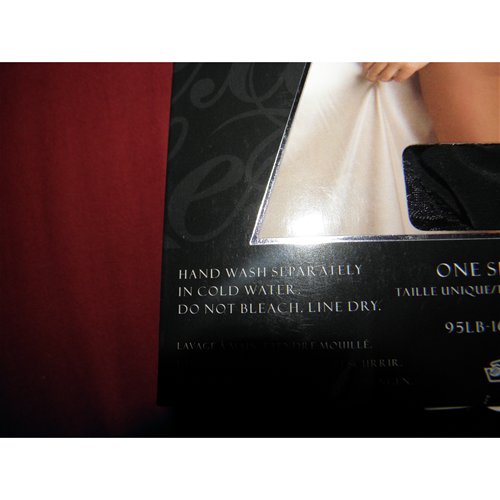 One thing that I thought I saw in another review for this item was hook and eye closures on the top part. I though that to be strange, as I gathered that it would limit the range of sizes that could wear this one size piece. This DOES have hook and eye closures, like most bras, on the back. There are 3 rows, 2 clasps to a row.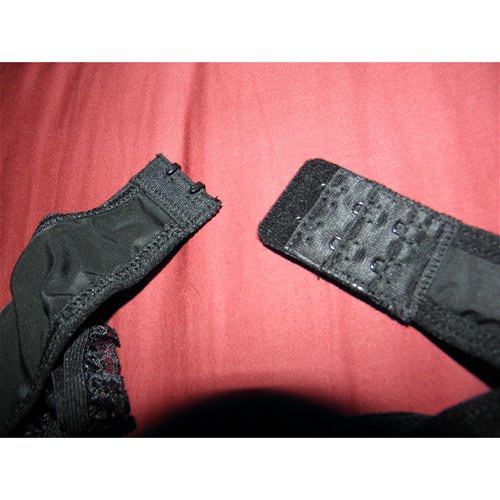 Although it does have hook and eye clasps, that area also has a fair bit of stretch to it. Althought, the stretchiness seems to be less in that area than others on the piece, there is still a bit of stretch. This might fit from about a 34-44 bust comfortably. This is one size only, and this is the only size it comes in, so the sizing is rather limited.
Something else that I noticed while examining it, before I put it on, was the straps. There are a lot of ruffle straps on this piece, but the ruffles on that are on the bra straps stood out to me. The ruffles are not totally symmetrical, as they are stitched at the right side of both straps.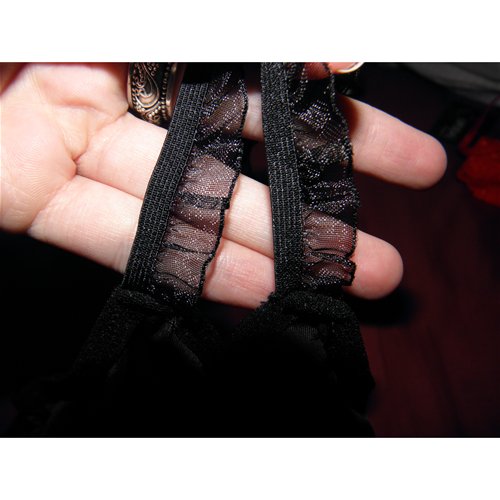 The cups have no real support of any kind, though they are adjustable. They have no padding, no underwire, nothing at all; just a thin layer of black fabric. The cut of the cups and the spacing between them makes this a lot less flattering in the bust area than it could be. It could make things look a bit saggy, or flat. I have a 38C or D (depends on the bra), and I feel like I look flat-chested in this. In terms of cups, the cups are pretty much free-sized. Also, the cups are a thin, sheer black fabric.
The panty portion of this piece does have what looks to be a cotton liner in it. This piece is polyamid/spandex. I would suggest hand-washing.
All of the ruffles on this are on elastic bands, so they have a lot of stretch to them, which can make it able to fit a wide range of lengths and widths. This whole thing it mostly straps. My measurements are 38-30-38, and I think this fits them pretty well. There is a lot of room to stretch with this piece.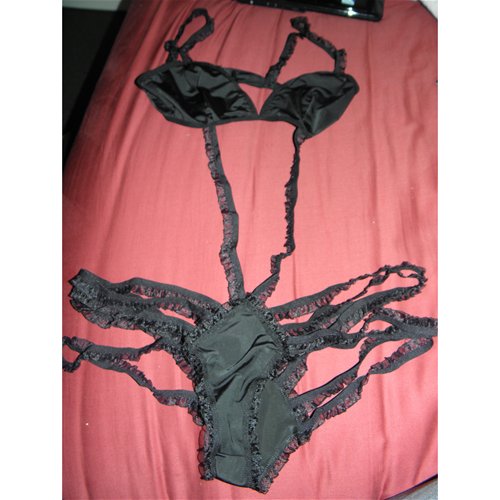 Experience
This is my first actual teddy, even though I really love lingerie. I just never want to get teddies, as they often look awkward to me, and I don't think they would look flattering on my body. I decided to go for this one, as I thought it might be something my partner would like to see me in.
This isn't perfect, but it makes me more interested in getting other teddies in the future. I think this actually looks pretty good on me, aside from the bust not being ideal. I am okay with showing skin, but if you are not, you will not feel comfortable with this piece at all.
Tall people, do not worry about the fit of this! There is a lot of room for stretch, you don't need to worry about this pulling or giving you a camel-toe.
The vertical straps that connect the cups to the bottom part are kind of flattering. They give a sense of length to the piece, which can give a slimming effect. However, when I lay down or lean, these bunch forward. That can make it look a little baggy and unflattering.
The cups are the biggest downfall of this piece, for me. If I wanted to invest some time and effort into this, I might want to replace the cups. Maybe use some old or cheap black bra that fits well, cut the cups from the straps that attach it to the rest of the piece, and add the ruffles onto the straps. That would probably make this look a lot more appealing, and make it a lot more true to my own personal fit. If I get the time, I may do that. This does not give any sort of cleavage AT ALL.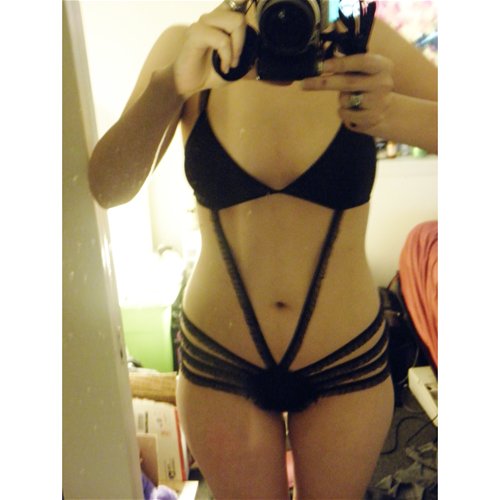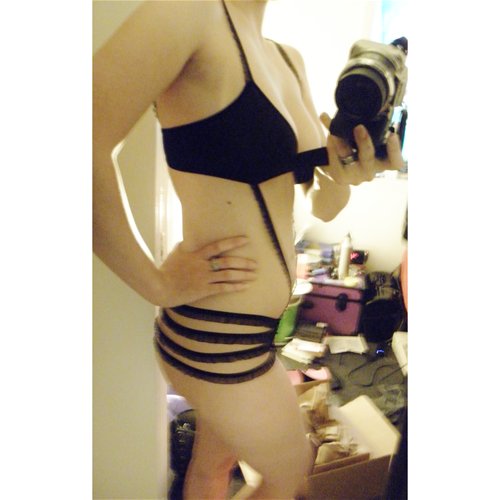 Follow-up commentary
2 months after original review
I still really like this piece. I'm surprised by how much I like the look of it, even though it's one size. The cups could still be improved upon, but overall, the shape and lines of this teddy really suit my body well. This changed my opinion of teddies; they're not all bad or unappealing. This one is pretty cute! My partner doesn't like lingerie, I recently found out, so I haven't been wearing it much. Though, I mostly like the look of this.
This content is the opinion of the submitting contributor and is not endorsed by EdenFantasys.com

Thank you for viewing
Tres Sexy teddy with ruffled straps
review page!