Sweet Romance
While searching for a romantic special something, this babydoll is an ideal choice. The color and sheerness of it really help to make it feel sweet and sexy at the same time, and the loose cut and flowy fabric make it comfortable and not too tight. If you have larger or wider set breasts this may press into them a bit, but other than that it fits well and will flatter a lot of different women.
Published:
Pros:
Comfortable, flattering, can be worn during sex, easy to remove, pretty colors, slightly transparent
Cons:
Plastic clip may break eventually, may press into breasts
This was the second babydoll I got from Eden in search of something that would be just perfect for our 3 year anniversary. We were planning to go on a big date and have a romantic night in a hotel, and I wanted something to wear that would match that atmosphere and be comfortable enough to lounge around in. I was not let down.

Packaging

This babydoll came on a hanger with a white, plastic sleeve over it. This is nice because it kept it clean during shipping and it is a great way to hang it in your closet if you don't want to spoil the surprise for your special someone. The hanger is fairly flimsy, but is fine to hand a light shirt on or to use to hangdry the babydoll itself.

There was a tag attached with the usual plastic barbell-like thing clothes companies use, but it was easy enough to snip off with a scissors. The panties were also attached to the babydoll the same way, but the plastic thing didn't damage the babydoll or the panties. There are several tags on the babydoll that are easy enough to snip off but list the brand, size, and care instructions. While you can hang your babydoll up, living in the dorms it's easiest for me to just crumple it into my lingerie drawer.

Fit

Looking at the Escante size chart, I chose a medium. I wear a 34 C, and am about 5' 2", so I figured that it should fit me right about perfectly. I feel like if you have even a very full C cup (or if you're right on the borderline between C and D) you should go ahead and order the large. Because of the design of this babydoll, the most important measurements to look at are the band and cup sizes.

This babydoll is only offered on this site in medium and large. Here are the size charts by Escante:

Medium:
Dress size: 6 - 10
Cups: B - C
Bust: 34 - 36
Waist: 28 - 30
Hips: 32 - 34

Large
Dress size: 10 - 14
Cups: C - D
Bust: 36 - 38
Waist: 32 - 34
Hips: 34 - 36

This is a great design if you tend to have troubles with your "top" sizing and your "bottom" sizing matching up. If the bust measurements look like they will fit you, the rest of this will, too. The material itself is very stretchy and even if you are a bit over the band measurements I think that it would be fine.

Something that drove my boyfriend crazy is that this was just long enough in the back to mostly cover my rear. It's slightly transparent, but it still really is up his alley. I personally liked the modest coverage this offers because it hides little flaws that other lingerie can otherwise highlight.

My one issue with the fit is that the underwire does press into the sides of my breasts a bit. It isn't a big enough deal to be a dealbreaker, and when I'm not critically looking at myself in the mirror I forget that it's even an issue. I'm not sure if it's because I'm a borderline C/D cup or if it's because I have slightly wider set breasts than their target audience, but I feel like it's still something worth mentioning.

Quality and Material

This babydoll was perfect when it came to the quality. For the price you expect something well made, and I feel like that's what I got. The ends of everything were very well hemmed and were very even, and no part of this babydoll has any threads loose or left unclipped. I can't see anywhere that would be a potential place for this to come apart.

My one quality complaint is that the clip in the front where the two cups come together is made of plastic. I feel like it would have added just a bit more of a quality feel if it was made of metal, but as it is it is very sturdy and I haven't had it accidentally pop open on me.

Everything but the cups on this babydoll has a lot of stretch and give to it. This makes it super breathable and comfortable, but it also doesn't offer a lot of support to those girls who need it. You can wash this in a delicates bag lightly in the washing machine, but I wouldn't recommend tossing it into the dyer because of the plastic fibers in the fabric and the plastic clip in the front.

Overall section below
Experience
Overall
Overall, this was a perfect thing to wear on our special night. It's easy to slip into, and before things got too hot and heavy it was lovely to lounge around and cuddle in. I really think that this would be ideal if you're just looking for something romantic and cute to put on.
My boyfriend's favorite part of this was the front closure. It was super easy for him to snap open at the ideal moment and didn't require any fumbling around like bra-hook closures do. While this doesn't put your goods on display or have any leather, I still feel like almost all women will be able to feel sexy in it. Totally a 5 star product!
Here is a closeup of the closure between the two cups: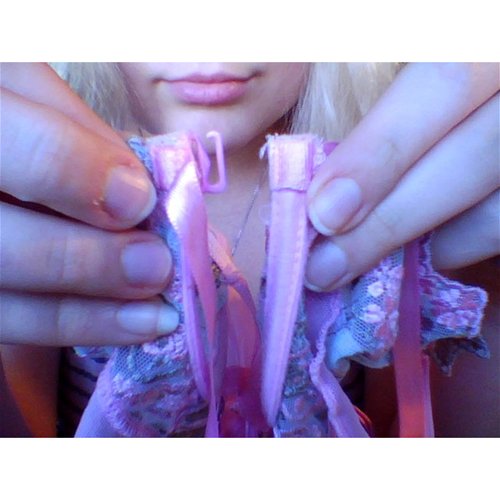 Here is a detail photo of the cups: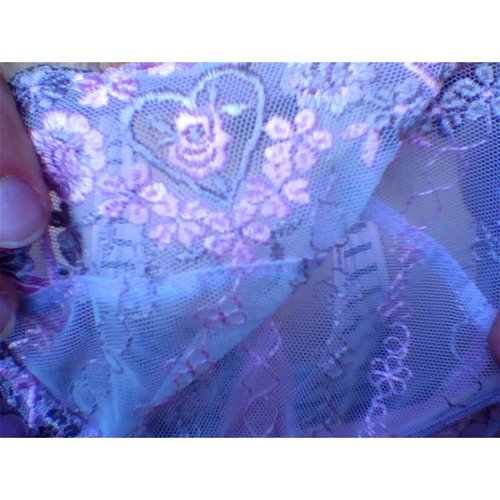 Here is a photo of the crotch liner in the panty: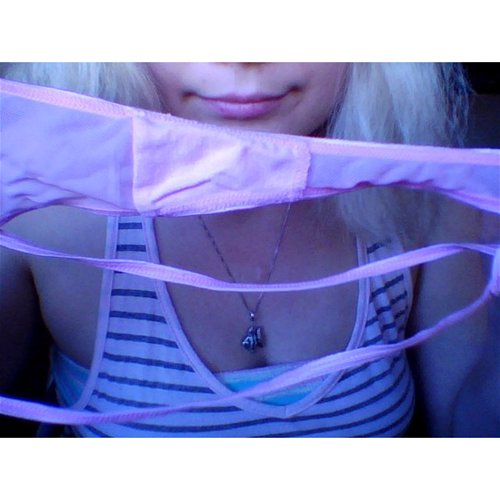 Here is the front, back, and side view with me wearing a patterned demi bra underneath it: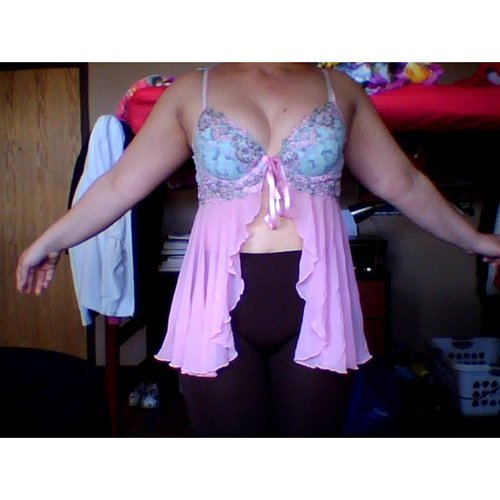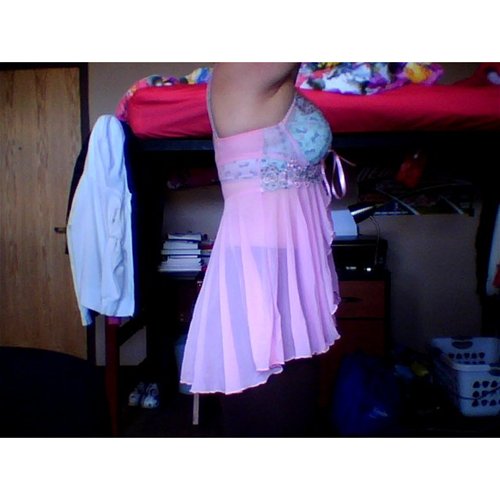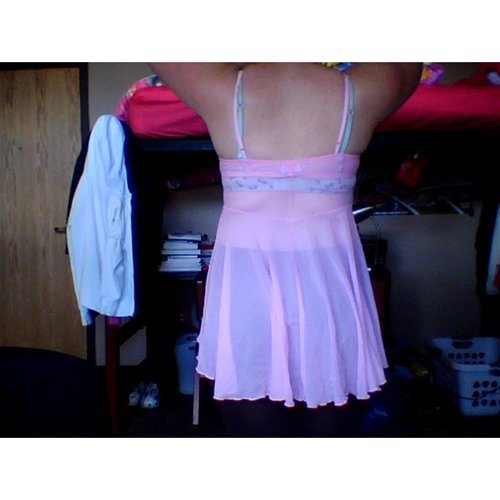 This content is the opinion of the submitting contributor and is not endorsed by EdenFantasys.com

Thank you for viewing
Sweet bouquet baby doll
– babydoll and panty set review page!