Tempting Indeed...
Flirty, feminine and sexy are just a few words to describe how I felt wearing these panties. They fit me very well and I got no complaints from my honey when he saw me in them, a whole 5 minutes, if I recall correctly. New lingerie makes me feel like I did when we were dating, I have been giggling and primping in the mirror, sweating bullets over what he was going to think when he saw them. I realized that if they made me feel this good they were worth every penny.
Published:
Pros:
incredibly comfortable, soft, sexy, good price
Cons:
only comes in 2 colors
Since this is my first foray into the Seven 'til Midnight land of lingerie (on a side note, is it just me who thinks leen gah ree every time I see the word lingerie? Sorry, back to the topic at hand.) I thought that I would start with something small and less expensive like underwear. This is the first of three separate reviews that I will be doing on Seven 'til Midnight undies. As I go along I will try to update you on what I have like about each pair as well as what I preferred as a whole when buying underwear for myself. I prefer boyshort type underwear because it feels more comfortable to me. I hate "granny" panties, although we probably all have several pairs. Bikini panties always feel like they turn into thongs when I put them on. I feel like my ass just sucks up the back of the panty, whether it was meant to go that way or not. Thongs and g-strings seem better suited to slingshots instead of panties, or at least that is how I feel about it. There simply isn't enough material there for me to willingly pick a thong. Also, I have noticed that some thongs don't come with a panty liner and that strikes me as very odd.
Packaging
The Pink Temptation Hipster arrived in a plain plastic bag. Attached to the panty is a small cardboard tag with seven 'til Midnight on one side and the size, style and color along with the website address and the words ...when the fun begins.
Material & Care
The hipster panty is made of 90% nylon and 10% spandex. It was made in China, I am adding this because I know that it matters to some people where an item is made. Care instructions include machine washing in cold water. You should not use bleach on this product. It should only be line dried.
Design, Sizing & Fit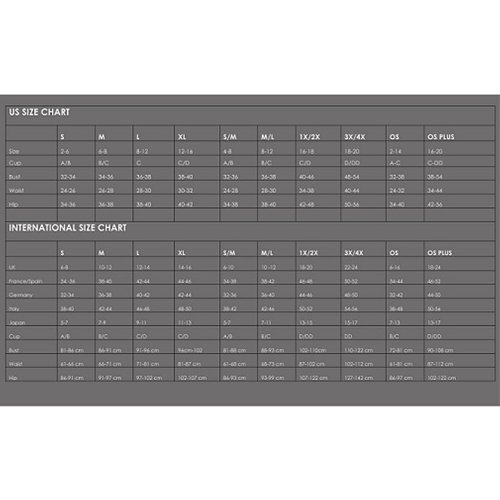 According to the Seven 'til Midnight sizing chart an XL should fit a 30-32 waist and 40-42 hip. My waist is between a 34 and 36. I weigh 160 pounds and I am 5'6 1/2 inches tall. I still have yet to actually measure my hips, so haven't a clue what my hip size is.
Specific Measurements
The hipster panty measures 14" across the waist. The panty waist can be lightly stretched to about 22". From the waist of the panty to the panty liner measures 6". The panty liner is only 3" long which may cause it to sit a little funny on the wearer. I seriously doubt that it would completely cover anyone's crotch because of how short it is. The tear drop shaped hole on the back of the panty is 3" long. The lace sections on the front of the panty measure 6" wide for each side. Although it doesn't look see-through on the stock photo the front of the panty between the two lace parts is see-through, as is the entire back of the panty.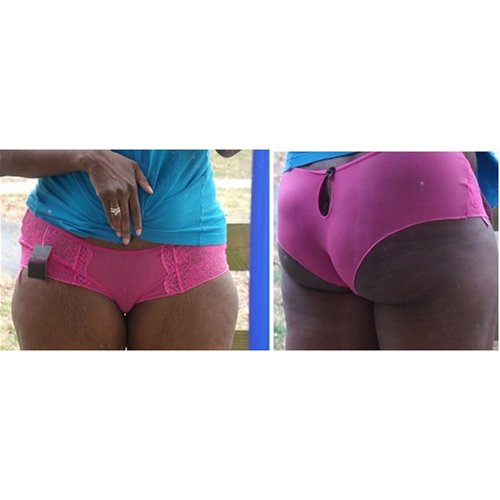 Experience
Comfort and Final Thoughts

I am becoming much more comfortable with my body as well as my sexuality and the lingerie is an easy way I have started to use to express myself. Some items I can tell if it will fit just by looking at them while others I just have to order it and hope for the best. All three of the panties that I recently ordered have been XL and the sizing seems to be spot on. The panties were very comfortable to wear and I wish that they were available in more colors. I am not normally a fan of pink but I feel like bright colors suit by skin tone better than just plain black. The stretchy material that this panty is made of hugs my hips in a very good way. They didn't bunch up when I put clothing over them and almost felt if I weren't wearing any panties at all.
This content is the opinion of the submitting contributor and is not endorsed by EdenFantasys.com

Thank you for viewing
Pink temptation hipster
– sexy panty review page!