Tesa Likes Big Tits
This corset is fond of bigger boobs. It is a nice simple piece, nothing too impressive. It comes in many colors. The zipper on the side is very convenient. This is a great corset if you are looking for something outside of the bedroom!
Published:
Pros:
Handy Zipper
Inexpensive
Color Options
Cons:
No Plus Sizes
Sizing Runs Big
Plastic Boning
I think corsets are beautiful and I've always wanted one that I could wear outside of the bedroom too. The others in my collection were from other stores (oh my!) and were OBVIOUSLY for bedroom only. When I first saw the Tesa corset, I thought it could be pulled off in and outside the bedroom... And it can be!

Packaging:
The Cool Water Tesa Sweetheart Corset by Escante comes in a plain plastic bag with a sticker on the front. Inside you will find the corset with a small white tag on the side and an inside tag on the back of the corset. There are no instructions other than the washing instructions on the inside care tag. The packaging is very basic and not great for re-use or gifting.

Made in Mexico

Design/Shape:
The corset comes in the following colors: Hot pink, Black, Purple, Baby Blue and Green

I bought the baby blue color. The coloring is actually a lot more shimmery and shiny than I was expecting. It isn't a dull color at all, like the picture on the model. It is a little bright, wild... a little intense I would say. Beyond the blue color you have black lacing and a black zipper. The laces are in the back and are basically shoe laces. Nothing sexy or soft. There is a ton of lace, which is great and allows for a range of sizes. When I had it completely tied as tight as it could go there was still over 100 inches of string to tie with! I had to tuck it in the back so it all wasn't hanging out! If you don't like your strings to be as tight as mine, then there is a very nice and handy piece of fabric (called a privacy panel) in the back that goes behind the strings. This hides your skin and flushes with the corset. If you do not like that look, you can always cut it out.

The bottom hem goes to a point in the middle, but not as pointy as in the pictures, which I am thankful for. It conveniently zips on the side so you don't have to undo your hard work of the back ties over and over again! There is plastic boning throughout the corset. I counted 10 total. They are very flexible. There is no underwire, so if it is a tad loose on you, your boobs will sag and you will have minimal cleavage. There is no real shape to mention, since the boning is so flexible. That is why you'll want to get your right size and squeeze into it.

Sizing:
The corset comes in the following sizes: 32, 34, 36, 38
One Cup Size
Now you are probably wondering... well I am not just a 36.. I am a cup size too! Like a 36B or 36D.. how does it fit? Well, in my opinion this corset prefers larger breast sizes, due to the sweetheart neckline and slight cupped shapes.

For me, I am a 34-36D. I have a waist size of 29 and a hip size of 36. (See all my measurements on my profile page). I ordered the 36. The reason I ordered up is because I like to have the lace back very tight and neat. I don't like when the flappy fabric piece in the back is too small. That being said, I wear this with the strings in the tightest position. It fits very snug - everywhere but the chest! And I am a D! In my pictures you can see that I have a lot of room in there. I should have ordered the 34.

Overall, just so you know, this corset likes big boobs and if you are on the verge of two sizes, order down. If you take anything from this review, take this: order on the small side, even if you have nice big C or D boobs. The sweetheart neckline is pretty, but you won't be doing yourself or your boobs any favors if you don't get some sexy cleavage out of it. You won't have cleavage if you don't order the right size, your boobies will just be hanging out in the cups.

Care/ Maintenance:
I would hand wash this corset to keep the shape. You don't want the boning to get misshaped. I keep mine hanging on a pants hanger in my closet.
Experience
cont...
Material/Texture:
Material: Polyester
The material in the product photos differs from that of what you get. The product photos make it look a lot more of a high quality. Now, don't get me wrong, the material isn't bad, it is just not as thick or quality as the one pictured.
I found the material to be very soft and comfortable. It was easy to move around in thanks to the soft boning. This could be a pro or a con for people. The material was thick enough that is does hide flaws and didn't show any bulge.
The stitching is fair-good. It is by no means perfect, but the ends do look finished and it is sturdy. The zipper is standard, not high quality. It is not the cheapest thing I have seen, but it doesn't look like the big bucks either.
Personal Experience :
I think this corset is worth the price. It is on the cheap end of the corsets that I find adding to my wishlist. There are lots of color options, and I plan on getting more than this color, in a 34 NOT a 36. I love the heart shaped top and think it is very flattering for my hourglass shape.
Although there was minimal cleavage and the cups were too big, I think if I ordered down a size it would have worked out a lot better. With the size I got, my boobs were kind of just hanging out, not filling the sweetheart cups at all.
I can definitely wear this outside the house, which was my plan all along. It would also make a good costume piece.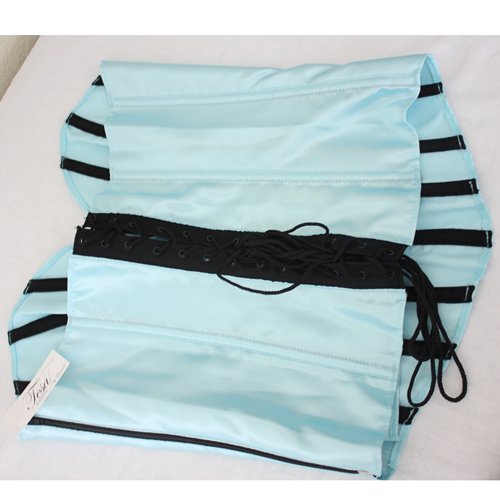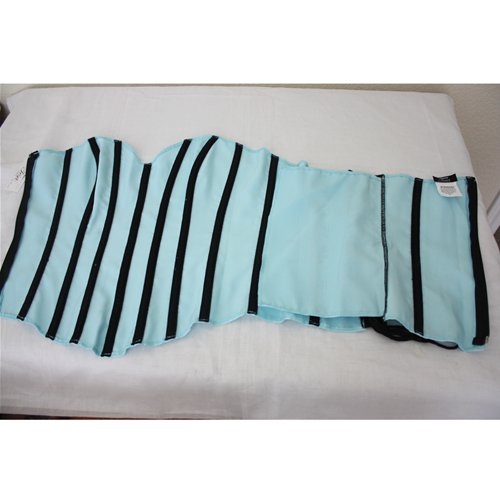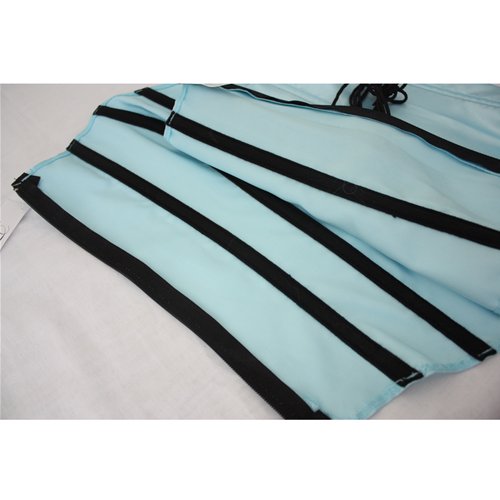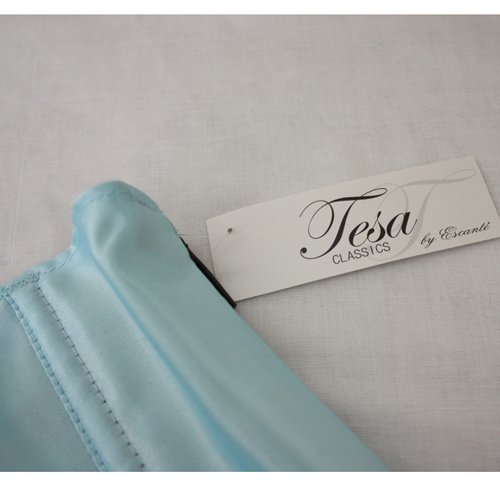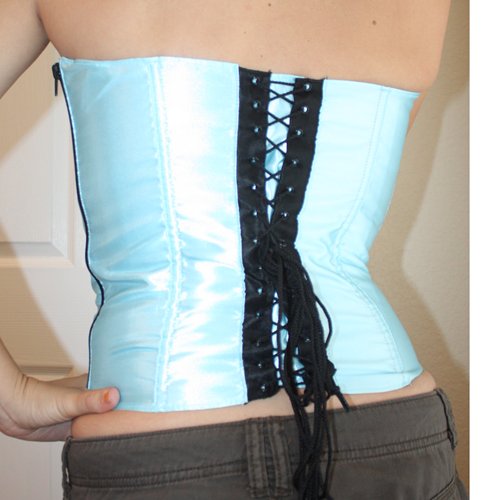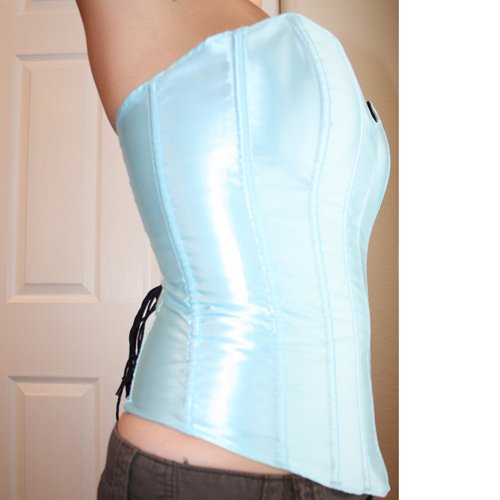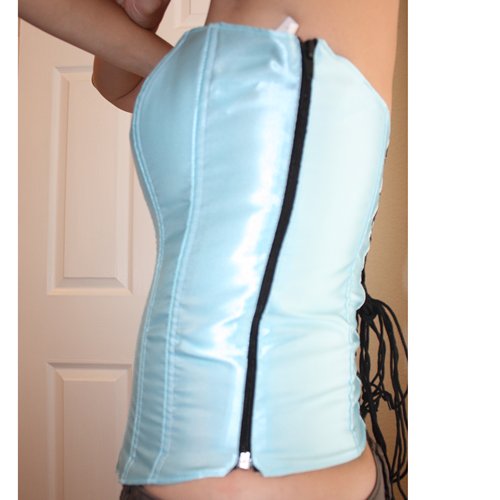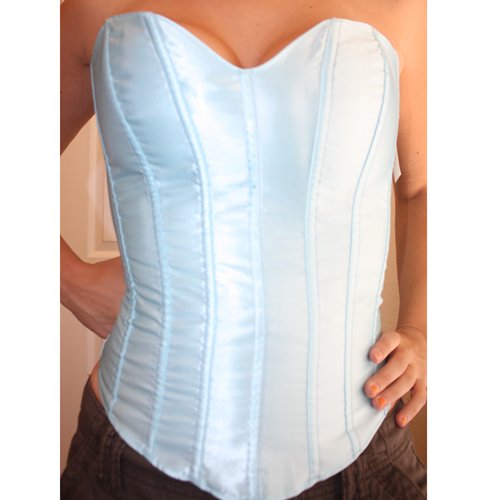 Follow-up commentary
10 months after original review
The Cool Water Tesa's Sweetheart Corset is still a lovely corset. Over time it is still in good shape. The boning isn't as stiff as it once was, so the shape is a little off, but the color and fabric is in great condition. I like this corset and still wear it. I wish all of the corsets were still in stock - I would love to have more colors of this!
This content is the opinion of the submitting contributor and is not endorsed by EdenFantasys.com

Thank you for viewing
Cool water Tesa`s sweetheart corset
review page!