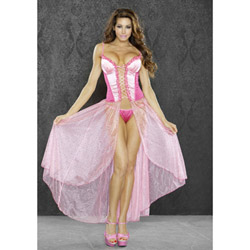 Rhinestone detail corseted long gown
Gown by Fantasy Lingerie
Thank You Mario, But Your Princess Is In Another Castle
My husband and me really love this dress from behind, but are sad that it doesn't have better breast access. We're thinking of buying an extra skirt to go with it, so that I could cosplay Princess Peach (from Super Mario) with it. The skirt is really soft and flowy, and you'll feel like a pretty pink princess in it.
Published:
Pros:
Pink! Would be a great Princess Peach Dress, Princess-y.
Cons:
Boning in the front, Not for bigger chests.
Sometimes the idea you have in mind for a dress isn't exactly what winds up happening with it. I had shown my husband this dress, and he thought it was very "princess-y" and cute. I thought it would add another dimension to our age play, and thought it would be fun even to be coloring on the floor in, pretending to be a princess. When the dress arrived, I was very excited to try it on. At first, I really didn't like it though. While the construction of the dress is very good for the most part, it definitely has some flaws to it too. Whether or not you'll like the dress is probably entirely based upon how good your sewing and altering skills are. This one needed some work.

When the dress arrived, I put it on, and didn't like how it looked on me at first. I got a size large, and liked the feel of the soft nylon (70%), polyester (10%), and spandex (10%) blend. Oh, and stickers. It's hard to forget about the sparkly pink stickers in various sizes which litter the skirt. At first I didn't think I'd like them, because they are far more pronounced than they are in the pictures, but my husband likes them lots, and they've grown on me.

The fit of the dress is really decent, but it has no clasps or closures whatsoever. To get this on, you have to put it on over your head. The bodice of the dress has four flimsy plastic bones, but they don't seem to bunch up much like some boning can. They do tend to stick to your shape though, if you maintain one position long enough.

The bust of the dress is best for a C or a D cup. The cups are very padded, or else a DD would probably fit fine. Unfortunately, you can't remove the padding, it's just how the cups are built. The cups are fully boned with sturdy underwire, so you get a lot of support with this garment. The cups also have some cute rhinestone jewels and also some ruffles made from the same fabric as the skirt. The cups of the garment are the most well-built things on the dress, they're not going to break before the rest of the dress.

My biggest issue with the dress was the way the cups fit. Due to the boning in the front of the dress, when you wear this, the cups are pushed out strangely to the side of the garment. We removed the bones in the front of the dress, and the issue was completely remedied. If you're not good at sewing, but have smaller breasts (a bigger B, or a smaller C) then you might not have the issue, but, with my D cups, the cups got pushed outwards a bit while I wore this. The bones in the back are just perfect though, and we love them lots.

Straight down the front of the dress there's a bit of "corseting". It won't really pull you in, so it isn't a true corset, but it has the appearance of one, with 15 flimsy hook and eyes on each side. They will hold up fine to regular wear or play, but you can't tightlace with this dress.

Here's some measurements for the dress:

Bust: Bigger B cup, or smaller C would be best, but D can fit too.

Underbust (where the wire sits): 26-32".

Waist: 32" - 38"

Hip: Freesize

Length from Center of Bust to where "corset" stops: 11"

Length of dress from waist to floor: 36"

The straps of the dress are incredibly adjustable, and will fit everyone. (Smallest is 9", but stretches as large as 25"!)

The piece does come with a plain dark pink thong which fits me well enough, but is a little small. My hips measure 40", and I feel like in order to be really comfortable in this they would need to be 38". You can easily swap out the thong for a different one, or go without though!
Experience
While I've worn this in the bedroom a couple of times, I think that if you doctored this up a bit, it would make a far better "Princess Peach" (from Super Mario Brothers) cosplay garment than anything. The skirt is completely see-through, but the top is not, so if you managed to find a floor-length pink tulle skirt then you could totally wear this outside of the house to conventions. Then, you'd just need a little tiara, and some white gloves as well as the brooch that she wears. My husband and me both think this is really very close to a Princess Peach, and are even considering wearing it to a convention for fun.

In the bedroom, he does love the look of me from behind in this, especially. The soft skirt makes him feel like he's taking a princess (he tells me), although, the garment doesn't have spectacular breast access. If you pull the dress down a little bit, you could "pop" your breasts out of the top, but it's not going to happen on its own, and doing that too much will cause the dress to stretch around the boning, and you may not be able to wear this out of the house. So, how you wear it is up to you.

To wash this, we put it in a lingerie bag on delicate and hung it up to dry, with good results. The tag the garment came with said you could even put it in the dryer, but the material is delicate, and due to the boning, I don't personally feel comfy putting it in the dryer. If you do, just be very careful.
This product was provided free of charge to the reviewer. This review is in compliance with the FTC guidelines.

Thank you for viewing
Rhinestone detail corseted long gown
review page!