That was Funny
I tried to find redeeming qualities about this set, I really did! But this set will only fit a select amount of women securely. If you are slender and have perky boobs, you'll probably make this work. If you have sizable boobs or want to wear underwear, this probably not work for you.
Published:
Pros:
Holds boobs and makes them look good (if they stay in).
Cons:
Drape Flap, thin plastic piece, side boob.
What was Funny, Mwar?
You ever try on an article of clothing, look at the mirror and laugh? Well, my dear Edenites, I just had a laugh indeed. The Pink Sleek two piece skirt set was a comedy, and these two articles of clothing sure won. The set is by Espiral. It has a bunched skirt and a bikini like top that has a flap that hangs on it.
The Bikini with a Penis
Perhaps a little crude, but it's the best way I can describe the odd, flailing piece of fabric that hangs of the top of this set. It's about 7-8 inches long. It will hang over the top of your skirt. Maybe we could call it drapery on speed. Either way, I tried to find a way to make this odd piece of fabric work (I'll say more about that in the next section). Here's a picture of both part pieces of the set.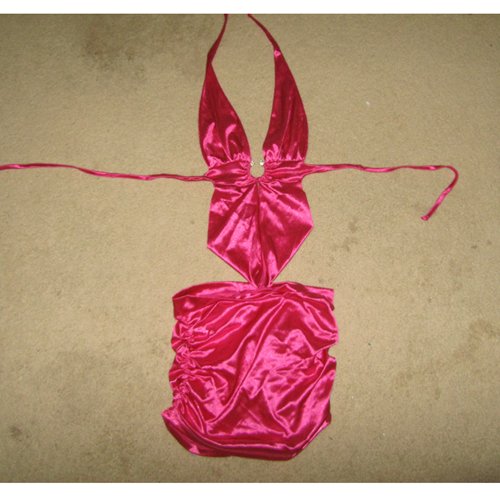 The top has two places to tie: above the neck and around where your bra band generally is. Essentially, it's a bikini top. The center of the band of fabric (under the breasts) has a plastic U-shaped ring. I suppose it's there to add even more flare or give more of a slashing V. Regardless, it's plastic, looks cheap, and if you have any size difference between your boobs, this ring will move toward the bigger boob. Keeping the ring in the center takes a bit of work, especially since the top is doing all it can to keep the girls in. I think the top would have been better off without the ring (or if it was a fully circular metal).
The skirt is pretty basic, if not thin. Leggings might be your best bet with the skirt because almost every pant line is visible (and I think thong panty lines are just as bad if not worse than normal panty lines). The skirt is gathered and bunches (a horizontal pleat? Is there a term for this style?)
How does it fit? Who will it fit?
I'm staring at this set trying to give an unbiased review on it. The sizing of the top is more geared toward perkier boobs. I purchased the medium set. Here's the size chart from Espiral.
Bust (in) Waist (in) Hip (in)
Small 34 25 34
Medium 36 27 36
Large 38 29 38
XLarge 40 31 40
My measurements: I'm a 34D, wear 28 (european) jeans, and am 135 pounds. I figured I would fit in the medium. The skirt fit fine. It is not too short, but it can ride up (like all skirts). It stretches and goes on easily. Except for the thin fabric, I have nothing poor to say about the skirt. It's a skirt.
The top was interesting. Here's how it fit: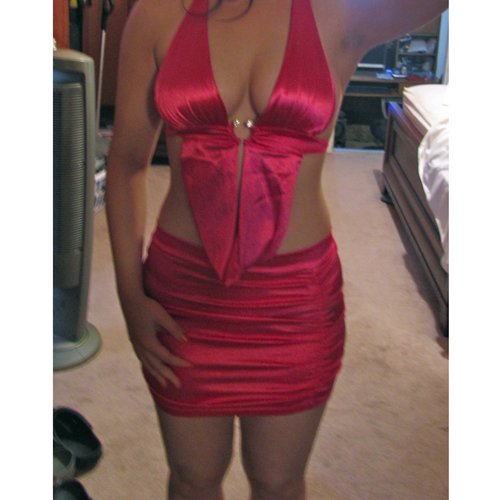 Like the bottom, the top is thin. Unless you want everyone to know when you're cold, it's best to wear pasties. I was pleasantly surprised that the top made my boobs look good. Usually the models either have fake boobs or the help of camera magic that makes them look all perky. Like a good bikini top, it holds your boobs up. I just wish there was more fabric to give more coverage. I felt very insecure in the top. I shook all around with it on to see how the top held up. It did a bit better than my expectations, but not by much (there was one partial nipple slip).
It probably would have been best to get the large. However, the other dimensions of the top, like the drape and the strings, are already big enough, so I don't know how the large would look on me. Along with thinness, there is major side boob in this outfit. Lots of side boob. Did I say side boob? Yeah, that much. I think you'll get side boob even if the top covers you well, it's just the angle and cut.
Overall: The skirt holds up to size, the top is finicky. I don't understand why it has the drapey penis. I'm all for certain cuts or styles that hide certain flaws. However, if the drape was designed to hide the middle, it makes no sense since the rest of your torso is out. I think it was done more for fashion than minimizing areas. I'm tempted to remove the drape and add it on to the top to make it a crop top. I'll update you on it if I do.
This piece will probably work for ladies who are on the slender, sporty side. But make sure you wear pasties!
Experience
[Bold|Okay, how do I take care of this thing?)
There is no care tag on the clothing itself. It's on the back of the box. It says not to bleach, wash separately, and drip dry only. Here's a picture of the packaging. It looks like the packaging you get stockings out of.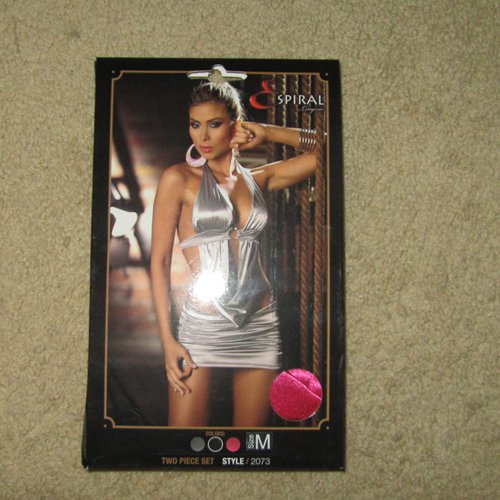 Anything else you want to share?
I like the skirt more as a top than the top itself. If you wear a tan strapless bra, the skirt is wearable. (pardon the light, I'm trying to get better at this.)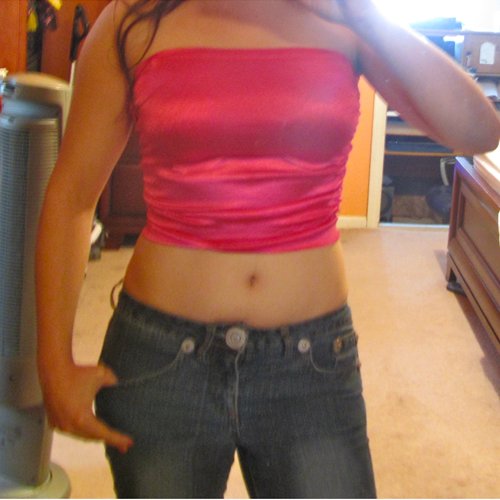 I'm going to cut the drape off the the top piece. I feel it's a useless piece of fabric. I'll probably cut all of it except a small amount and sew it behind the band of the top. I think I would have enjoyed this set more if it were a little thicker and if I could pick the size of each piece. I would order a large top and keep the medium skirt. I don't know how much more coverage the top will give, but you will definitely show some side boob.
Follow-up commentary
6 months after original review
I don't even know where this set is. After reviewing it, I dropped it in a drawer somewhere. Or maybe I gave it away? It'll work for other body types, but not for me.
This product was provided free of charge to the reviewer. This review is in compliance with the FTC guidelines.

Thank you for viewing
Pink sleek two piece skirt set
review page!