The Beauty of Antiquity
This is a wonderful set for a small price. The corset, stockings, and thong are gorgeous together. The belt I'm still a little lost on. I love the antique, classic look of this. Even though it's classic, it's still really unique. DreamGirl's sizing is truly accurate and this fits like a dream! This whole set is totally worth way more than what you pay for it! I'm madly in love with everything (but the weirdo belt).
Published:
Pros:
Multi-piece set, accurate sizing, gorgeous material, solid construction
Cons:
Belt is ugly and doesn't really go with it
Summary

As soon as I saw this in the most recent offerings on the site, I knew I had to have it and added it to my cart the first time I stumbled across the product page. First of all, it was my size, 32, and that's been a rare thing to find in lingerie. Second, the jacquard design was gorgeous and had a slightly antique look to it. However, I thought the belt was really ugly. I saw that it wasn't attached, so I felt like I had to snap this right up and intended to just toss the belt into a dark corner of my closet.

This set is pretty versatile and has a very classic appeal to it. You're actually getting a lot for your money with this one. You get the gorgeous corset, a matching thong, the weird belt that seems to be an acquired taste, and stockings to match! Usually, a simple corset by itself runs more than this whole set does, but everything in the set seems well worth the money you pay for it and then some. Then, think of all the extras! Optional shoulder straps and garters? The only thing this set is missing is the shoes!

Design/Material

The corset is made of polyester, but you wouldn't think it when you looked at it. It doesn't look cheap in any way, shape, or form. The pattern on it is slightly textured and is a mixture between black and shimmery white. The shimmer in it isn't cheap looking, either. It actually looks like something that would be on a fancy piece of upholstery. The garters and straps on it are fully adjustable and totally optional. They're easy to put on and remove but have a secure fit once they're on there. In dealing with corsets at work, I was often irritated by how every time I touched one of them, the straps would fall off and be all over the floor. This is not the case with these. The boning on the corset is made with a flexible plastic so that it provides a good level of support without being too stiff. The front is a nice zipper that seems like it would hold up to use well, and makes putting it on and taking it off a breeze. The back laces up so that you can adjust the sizing of it.

The belt almost seems like it doesn't go with it, but it still looks okay with it on. I'm guessing it adds to the 'antique' appeal. It's made of a vegan leather, or pleather material. It does look pretty genuine even though the material is fake. It's shiny, soft, and has a little stretch to it. The way it's sewn gives it a little ruffle to the top and bottom of it. The front of it laces up and the back has snaps so that it's easy to get on and off. The only issue you'll have when you go without the belt is that the corset has straps attached to it that act as belt-loops to hold it in place and to keep it from sliding when you put it on. There should be no problem with removing these because the shape of the waist usually keeps it in place.

They seem like they can be easily cut off without being too obvious. The other issue I have with the belt is that it can interfere with the lacing of the corset. When it comes to you, it has to ribbons in the back of it that tie in the middle of the corset. When you wear the belt with it, the ribbons get all weird and bunched up in it. It really makes me wonder why they added the belt to it. The corset is a lot nicer without it.

The thong that it comes with is pretty comfortable and matches the material of the corset really well. The back of the thong is pretty generous so it's not one that's borderline G-string, but it fits very well. It has a nice lining in it, also. So far, I'm really digging the thongs that come with the DreamGirl sets because they're not the cheap junk that other companies throw in.

The stockings are also of a wonderful material. These are nicer than the similar style of stockings I have by Leg Avenue. They're made of a very smooth, sheer material that looks incredible when worn, but holds up to abuse really well. They feature an opaque thigh band with a small strip of material that is a little sheerer right below it. Personally, I think this is a really classy look for stockings.
Experience
Sizing
I'll say again that I'm really glad that DreamGirl decided to start making things in a 32, because smaller girls like myself are often frustrated with smalls being too big, and it's no fun to have baggy lingerie. This is the second corset I have by DreamGirl, and both have impressed me because of how well they thought out the sizing of their lingerie. Everything seems as if it was made to fit me. I'm a tiny 5'4, 105 lbs., and my measurements are 32B-24-32. I'm also awkwardly proportioned with a long torso and short legs and always find that garters and stockings are too long to fit me right. Not the case here at all!
The corset fits like a dream. It hugs my curves without being too tight or too loose. The cups of the corset are slightly shaped so that they don't give me pancake boobs like other corsets do, but instead, conforms to my shape. The thong fits just as well. What I was really impressed with is that the garters can actually be shortened so that they fall high enough on my legs that they actually do their job! The stockings don't come up to my butt like others tend to. DreamGirl is dead on with their sizing, here! It's finally time that a company realized that there are short, skinny girls who want to feel sexy and have lingerie that fits, and not everyone has legs up to their neck.
Here, have a look for yourself! Here's the corset without the belt. It looks bunched up in the back, but that's because I haven't fully adjusted the lacing.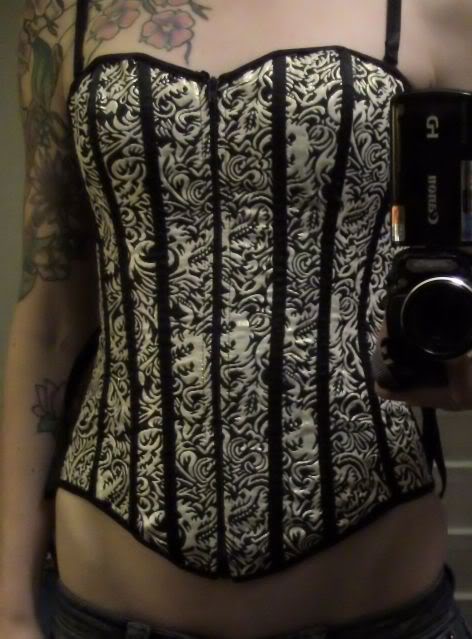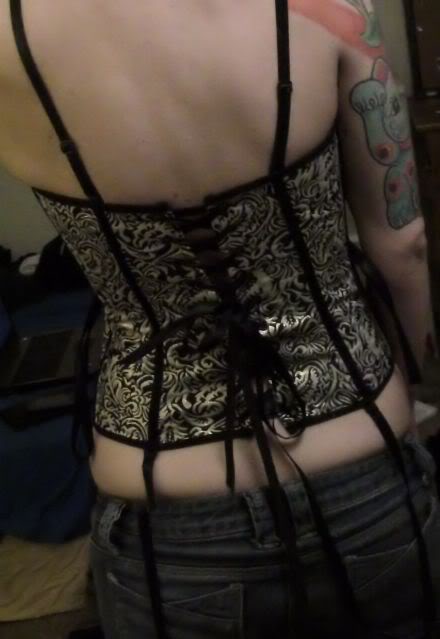 And here it is with the weird belt thingy.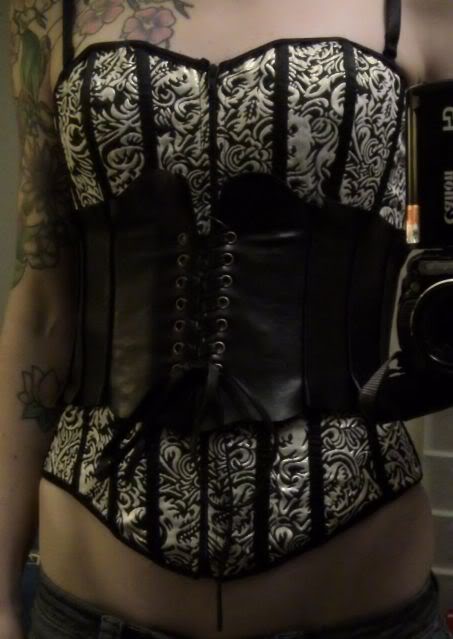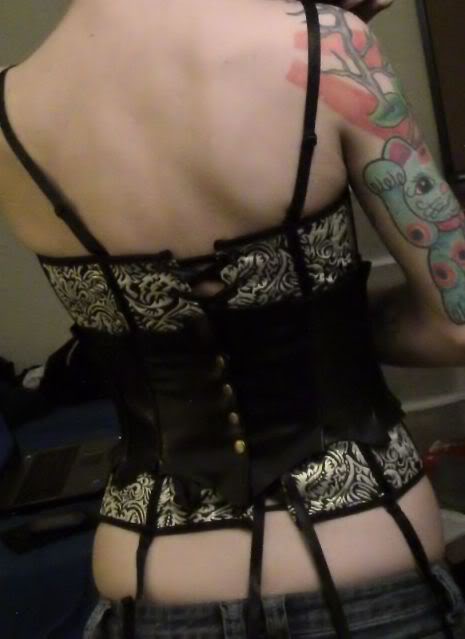 Here's my guess at the measurements since DreamGirl doesn't have much sizing info for these sets:
Dress size: 0-4
Band: 32-34
Cup: A-C
Waist: 24-26
Hips: 32-34
Care
The corset is dry-clean only. It's a good idea to remove your garters and straps before getting it dry-cleaned so that nothing ends up lost. The belt can be wiped down with a damp cloth if needed. The thong says that it's also dry-clean only, which is weird for a piece of underwear. You can probably spot clean this, as needed. Because of this, it's probably not the best for extended wear. The stockings should be hand-washed in cold water without any detergent and left to air-dry.
Follow-up commentary
5 months after original review
Why did I rate this 5 stars again? I really don't like it at all. I mean, it's just that ugly belt thing which I still don't understand. It's been sitting in the back of my closet collecting dust with all the other lingerie fails. Perhaps I'll donate it to another skinny lady friend of mine. In fact, anyone wear a 32? Take it, please.
This content is the opinion of the submitting contributor and is not endorsed by EdenFantasys.com

Thank you for viewing
Jacquard corset thong and stockings
review page!