The colors, print and material were right on, but the cut could use work.
This bikini is feminine and sexy. It fits decently, but isn't top-quality. It's a bikini best for petite frames and small chests. Otherwise, you'll fall out the top. The panties are decent and sexy, but this isn't something I'm ecstatic over. The design could've been made to fit better. However, if you're comfortable in a bikini, fit the size chart and a fan of zebra print & pink, you'll pull this off wonderfully.
Published:
Pros
Pretty colors/print.
Panty covers butt and is decently comfortable.
Cons
Cups a little too close together.
Not the most flattering bikini lingerie I've worn.
Not durable.
This pretty bikini set is similar to the cheetah version by Baci, which I reviewed earlier. This one is is a fine mesh material and is transparent, but since the mesh is fine, it's not extremely see-through. It's simple, easy to slip on and may work for those who are on the petite side.
Bra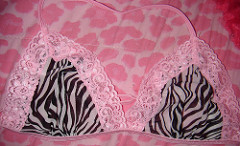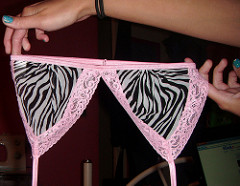 The bra, made of the same materials, colors and design as the panties is lined in lace and zig zag stitched. The cups are simple triangles sewn onto a thin, pink elactic band. The 1" pink pastel lace trim lines both sides of each triangle cup. These cups are not slide-able, you cannot adjust them like most triangle cups. This is unfortunate since the cups will be too close together for most larger chested girls. Thankfully, the top has more coverage than the cheetah bikini and the cups aren't sewed so closely together.
The bra is a halter-style meaning you tie the two 19" long elastic strings -- which are sewn onto the top of the triangles -- around the neck. The back clasps and adjusts identically to the cheetah bikini. In my photos, I've show how to clasp and you'll see the slideable adjusters. The same elastic string is used for the halter ties. It's not sturdy. You have two plastic adjusters that slide like any bra's do. You have two strings with a clasp on one string and a loop sewn onto the other. Slide the clasp into the loop. It stays put wonderfully, which I didn't expect. Using the adjusters shown in the photo will loosen or tighten the bust, especially underneath. The looses setting gives you 9 1/2" of each string, meaning when clasped, you have 30" around, this includes the front measurements. On the tightest setting there's 5" of each string. When clasped, you'll have 21" around, including bust.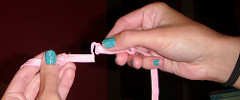 The cups are slightly gathered at the bottom, where they're sewn onto the elastic string. The cups are each 5" wide, including the 1" lace trim that lines both sides of each cup. Length of cups: 5" including lace trim.
It's cute, but will not accomodate much larger than a small C. Any pulling of the strings will cause damage or rip the strings off.
Size: One size
Panties
Front -- left side photo. Back -- right side photo.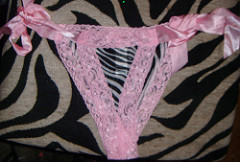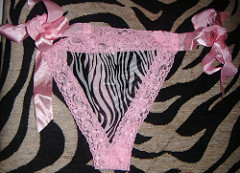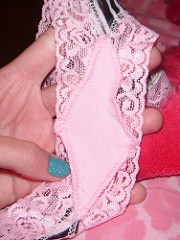 The panties are a stretchy mesh with zebra print and a lovely, feminine 1" of pastel pink lace trim. This trim lines the entire panty, and is what the crotch is made of. There's a crotch liner. These have beautiful satiny pastel pink ribbon side-ties each measuring 14 1/2", which mean they'll fit a variety of sizes and are adjustable. The crotch is full coverage for me and the rear is full crack coverage, but shows my cheeks. They're comfortable and the side-ties mean no digging in or bulging.
Size: One size
Length from top of lace to crotch: 8"
From top of butt to mid-crotch: 8"
The front and butt are similar in size, with the widest part of the front being 4" across and the width of butt 8" at widest part, including lace trim. The butt and crotch tapers as with all panties. The narrow part of the butt is 3" across, making these great for giving a cheek-show. The narrow part of the crotch is just nearly 2" across and stays this way the entire crotch/mid butt crack area. This makes it cover my crack rather than ride in like a thong, but bigger booties will have less coverage. These will likely fit up to a medium. I can't say for sure that they'd fit any larger very comfortably.
My Measurements
Bust: Right: between a B and C cup. Left: 34B
Jean/shorts/size: Zero
Weight: 93lbs
Height: 5 2"
Waist: 26" Lower waist. Where I'm a bit wider, the love handle area: 29"
How to care for this
Machine wash warm, tumble dry low, do not dry clean, wash colors separately. *Note* Handle with care. The lace trim snags easily on hang nails or velcro! I learned this when my butt came in contact with the velcro on my sex sling. It didn't damage, but I had to break the two up. The mesh is fairly sturdy, but delicate still.
Made in China.
Packaging
This comes in the paper box similar to body stockings and other Baci items. It's covered in tacky photos and renders this less than perfect for gifting. Inside the paper box is a clear plastic bag holding the bikini. For gifting, you can simply take it out of the box and leave in plastic.
Material
90% Nylon, 10% Spandex.
Experience
The good thing about this set is that the colors, print and fabrics are flattering on everyone. Unfortunately, Baci sews their bikini cups too close together making it difficult to really get the right fit/coverage. After wearing the panties for a while, they kind of start to sag in the crotch, but not so much that it's really noticeable. The cut just wasn't really well thought out. Baci just took 3 triangles and sewed lace on them, then added elastic strings. It actually doesn't look extremely cheap, but is clearly not top quality.

I love this type of lingerie, but the cut/fit just doesn't make me feel sexy. I feel decent, kind of sexy, but awkward as well due to the training bra-like top and the somewhat saggy bottom. These flaws aren't as noticeable to a partner as they are to yourself though, and apparently my partner is oblivious because he really loved this on me. He even said I make *it* look good! Ha. Ha. He was really fond of staring at me in this though and I want to make it work, so I'll probably continue to wear it until I find one of better quality. It's just one of those things that you don't feel downright sexy in. Only semi-sexy for me.

My partner did enjoy jerking the side-ties and watching them fall off, and I don't think any woman would not look nice in this, but I don't think a lot of us will feel comfortable in it.

I'm just glad the bottoms weren't a blasted g-string like the cheetah version. These are more flattering and comfortable.
This content is the opinion of the submitting contributor and is not endorsed by EdenFantasys.com
Thank you for viewing
Two-piece side tie bikini set
– bra and panty set review page!