The craziest, sexiest, french maid costume... vac-u-locked with it's own dildo!
This is an excellent quality strap-on sex system, which has an interchangeable vac-u-lock system. It's designed to give you command and control for the ultimate in erotic pleasure. This features an adjustable waist up to 60", which will fit almost anyone that's plus size. It's got an open crotch for comfort, easy access, and is the sexiest strap on I've ever seen! If you've ever had a kinky fantasy where you have a penis, well this is a good item to bring that fantasy alive.
Published:
Pros:
Fits plus sizes up to 60" in waist, excellent quality, feminine, strong harness, well packaged.
Cons:
Dildo has a strong odor.
Use
Looking for a little added spice in your relationship? Well Flirty French Maid by Doc Johnson could be that item you've been looking for. This is a costume type lingerie, that is adjustable and fits most sizes. This isn't any ordinary french maid costume, this is one with a vac-u-lock dildo included! The apron part of the french maid costume is a strap on, and can bring lots of pleasure to anyone. Wear this french maid costume as just a french maid, or add the dildo for added fun. Use it as a couple, whether it be female on female, female on male, or wherever your imagination guides you. Where this to shock people at a sexy Halloween party, or keep it in the bedroom.
Design / Craftsmanship / Material / Size / Fit
Starting from the bra portion of the lingerie, the tag states that it's 100% nylon. This is a string bikini style bikini top. The triangle shaped cups of the bikini are black in color, and are a mesh nylon material. Down the center of each triangle cup, runs two white elastic ribbons that open to reveal your nipples. There is a zig-zag sewing pattern that holds the elastic closed a bit, but just enough to peek through. The packaging calls it "break-away threading", where you have to choice of keeping it there, or snipping the threads to reveal more. The ribbon width is roughly 1/4". There is a white satin bow directly in the middle, and is about 1.5" wide. The same white elastic that is down the center of the bust cup, is also bordering the outside of the triangle cup to add support.
The same elastic is what's used to tie the bra together in the front. There's no back closure, but there is a plastic spot where you can make further adjustments if needed. This bra doesn't have any clasps, it ties both between the bust and behind your neck, so it's fully adjustable.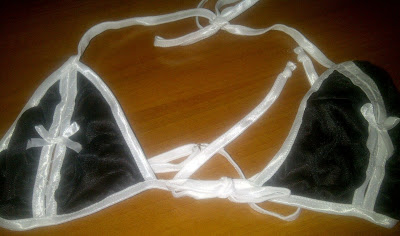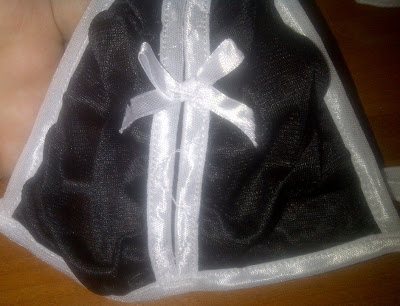 There's a head piece that comes included with this kit. It's a little french maid apron looking thing. It's black in color, and is made of the same nylon mesh. It's got a white lace border that is sewn around the top , which is 1.5" in height. The width of the head piece is roughly 8" wide, and 4" tall. It's attached to a white elastic, same type of elastic that was used for the bra. The elastic is 18" unstretched for the head piece.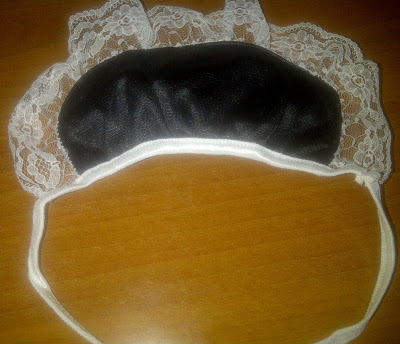 The Top part of the harness portion of the costume, is the french maid apron. The apron is white satin like fabric, that measures 8" wide, and 2 inches in height. Attached to that portion, is white lace. It's roughly 1" added height to the apron, and runs all the way around. It's attached to a small little black skirt that is under neath the apron, and runs on both sides. This black skirt is 12" in width, and the same length as the apron. The skirt is sewn onto the straps of the harness and attached to the triangle shape dildo harness. This section has snaps and a whole, where you would attach the orange vac-u-lock plug dildo attachment. This just goes underneath and snaps snugly in place. It's a little difficult to describe it, so I'm including pictures to help show what I mean. All straps for the harness are fully adjustable, and will fit up to a 60" waist.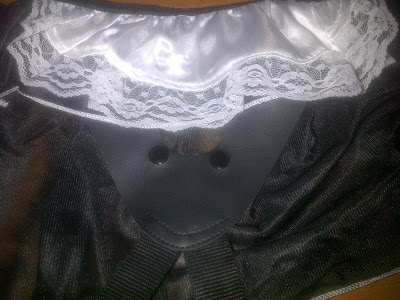 Once the orange vac-u-lock plug is in place, you can slide the dildo on. The orange attachment is 3"x3", and has a little penis with ridges that will help grip and hold the dildo on. The orange attachment has four snaps, that snap onto the harness for extra support.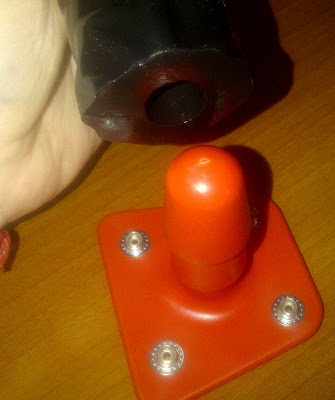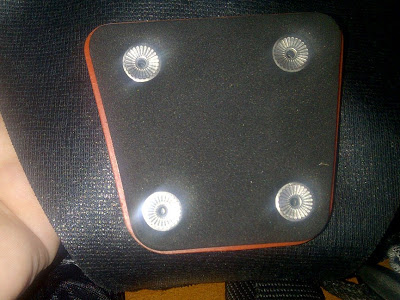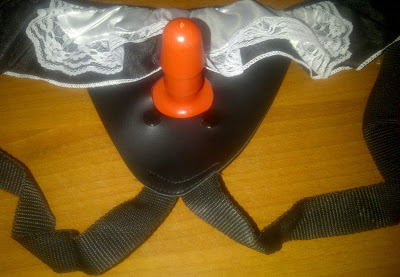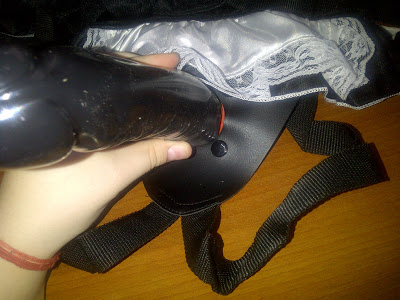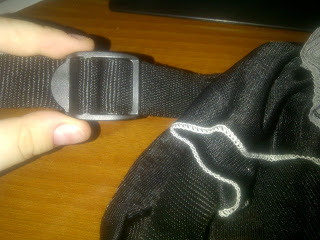 When it comes to the dildo, it's 8" long, and 1.5" wide. The dildo is made of some type of plastic. It doesn't say exactly what it's made of, but the package does say it's "silagel formula", which is antibacterial, non-toxic, latex-free, cadmium free, and non phthalate. The dildo has a sticky texture, and I found it quite hard to remove it from the plastic bag that it was in. I would recommend keeping it in the original plastic bag, as dust and dirt cling to it quickly. There's also a strong odor to the plastic, that even after washing it half a dozen times, I can't quite get rid of it.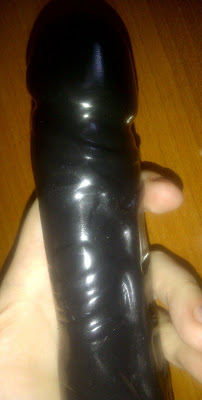 Experience
This is my first harness, as I've never really considered owning one before. When I saw it was a costume, I thought it looked sexy, and a funky idea. I liked that it was fully adjustable, both harness and bra. With me being a plus size, this was perfect for me. I usually wear an XL, and I had plenty of room with this item. This would even fit someone bigger then myself, up to 60".
The dildo was a little intimidating for my fiance, so I never got a chance to use it on him. I have however used it on myself, and it feels great. It's the perfect sized dildo, not too big, not too small. I get more use out of this lingerie when I tie up my partner. I like to dominate him and tie him up, and spank him while wearing this. I don't know why, but this costume is a major turn on for me. I like riding my fiance while wearing this, and seeing my fake penis bob up and down! I guess you can say it's a good fetish piece for my collection. If you've ever had a kinky fantasy where you have a penis, well this is a good item to bring that fantasy alive.
Care and Maintenance
To keep your harness clean and in good condition, wipe harness, plug, and attachment after every use with a mild dish-washing liquid (or any other mild soap), rinse with warm water, and wipe dry. Follow this after every use, and make sure to clean the dildo prior to first use. To wash the skirt portion of harness, hand wash in cold water using mild soap.
When it comes to the bra portion of the lingerie, you will want to hand wash this in cool water with a mild detergent. I personally like to use the product Zero for all my intimates. You will want to lay all items on a flat surface to dry.
Do not twist, or wring out the harness, as it will damage it.
For instructions on how to use the harness, view pictures below: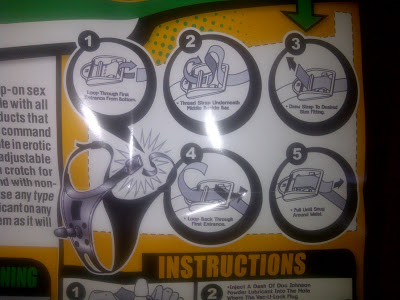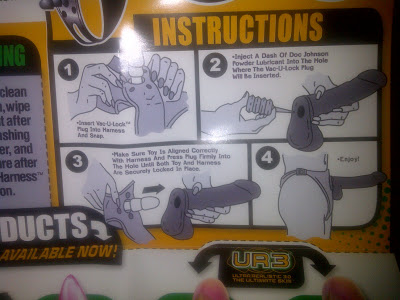 Packaging
This lingerie outfit came nicely packaged inside a nicely decorated box. The box is light blue in color, and has a photo of a model wearing the costume. The front shows the front view, the back of the box shows the back view. The back also includes a description of the product and further information. Once removing contents from the box, everything was wrapped in clear plastic. Every section was properly sealed, as you could tell it was brand new. The actual lingerie came in one section, the dildo in one, and the harness attachment in another. The box also included a separate insert with full instructions on how to use the product, how to clean it, etc. For full instructions, view section above for photos!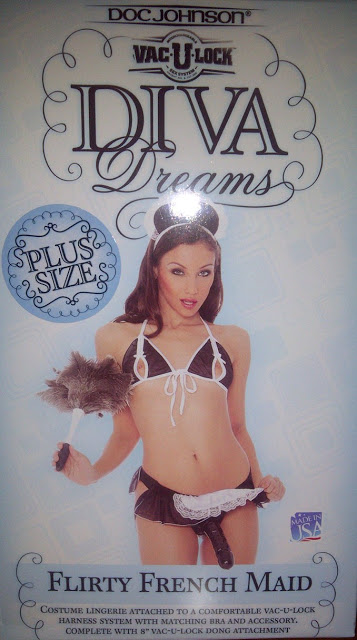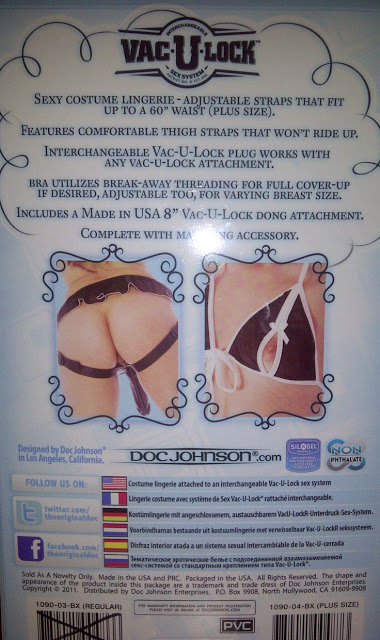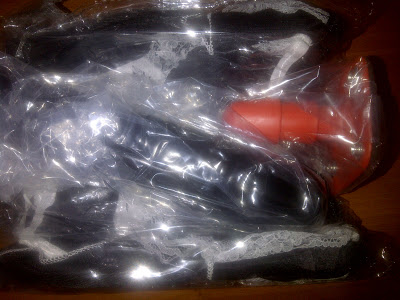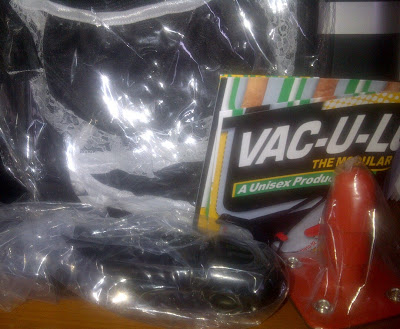 Follow-up commentary
4 months after original review
I ended up getting rid of this item, as it took up too much room in my sex cupboard. It was a fun idea, but the fact that the harness with dildo attached kept getting in the way of storage, made it an easy decision to toss it. I have plenty other toys that are more fun, and takes up less room. Cute idea, but not for me.
This content is the opinion of the submitting contributor and is not endorsed by EdenFantasys.com
Thank you for viewing
Diva Dreams flirty french maid with dong
– patent dildo locking system review page!