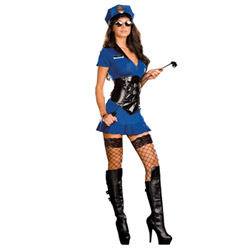 Officer Anita Friskya
Costume
by DreamGirl
The dirtiest cop of them all!
As soon as I saw this costume, I knew I had to have it. I was incredibly surprised by how comfortable and well made this costume is. It is totally versatile. You can use the pieces for different outfits. It fit me wonderfully. Having such an awesome experience with this makes me want to buy more DreamGirl costumes!
Published:
Pros:
Durable, fits extremely well, nicely made, versatile, can be worn in public.
Cons:
Crappy crop.
Overview

Officer Anita Friskya is one of the kinkier cops on the force. She's not afraid to enforce a little bit of sexy police brutality. She uses her crop to punish those naughty boys and girls out there who are breaking all the rules. In her spare time, she's a dominatrix and has a passion for anything vinyl. She says her sexy waist cincher just makes her uniform complete. She loves wearing sexy boots and thigh-high fishnets because they all demand respect.

Design/Material/Quality

This is an amazing costume for the price. It's an entire 7 piece set that is actually extremely versatile and can be refashioned into several other different costumes. Each piece looks very high-quality and sturdy. The stitching is extremely solid and the material seems pretty durable. It includes:

-Adjustable police hat with badge attached: This is a very sturdy hat that seems to be made of a denim-like cotton material. It holds shape very well. The front of the hat is reinforced with a stiff piece of plastic to keep it from collapsing or losing its shape. The back of the cap is adjustable in a baseball-cap type manner. It should fit just about anyone regardless of head size. A super shiny, chrome-looking badge comes pinned onto the cap, but can be removed easily, and replaced later. It's incredibly comfortable and can either be worn high or low on the head. When it comes out of the package, you will have to shape it to your preference. A lightly warmed iron and some starch may help it hold its shape.

-Zip front top: The top has a vinyl collar around it, and a pocket on the right breast. It is made of stretchy lycra material that has a great amount of stretch. The zipper on the front is a chunky, plastic zipper that matches the color of the top. The great thing about the style of the top is that is can be worn with a bra or without. It is a short, crop-top design.

-Anita Friskya name badge: The name badge is made of super sturdy cardboard. It has a very authentic look to it. It comes with a pin attached to the back of it for easy placement and removal. In my experience, it doesn't leave any holes in the material when put on and taken off. The glue doesn't seem to be the sturdiest glue, but if the pin pops off, it can be easily glued back on.

-Vinyl waist cincher: (This is my favorite part and was the selling point for this costume!) The waist cincher is made of a sturdy vinyl material, and reinforced with plastic boning. The vinyl is pretty thick and looks very well made. The buckles on the front are metal, and they do function, but are not needed to get a proper fit. The back (which is not shown in the product pictures) is made of stretchy lycra with a nice zipper that is easy to zip. At first I was worried about it not fitting properly when looking at the product pictures, but the fact that this has a super stretchy back to it means it should flatter women of all shapes very well. My favorite part of this waist cincher is that it can be worn with other outfits, or by itself.

-Skirt: The skirt is modest enough to be worn in a public setting, but sexy enough for some steamy role play. It hugs the butt and hips in a very flattering way, and has just a bit of ruffle at the bottom for a little bit of flair.

-Crop: Sadly, it's not the one in the picture. It's actually a plastic stick with a vinyl tassel glued on one end, and a loop of string on the other.
Experience
Sizing
I'm 5'4 and weigh about 105-110. I've got short legs and a long torso on a petite frame. My measurements are about 32"-24"-32". This makes buying lingerie a nightmare. I decided to go with the XS in this costume. The suggested weight range for this costume is 85-90lbs. The size measurements are 30-32" bust, 23-25" waist, and 32-34" hips. Even though I'm over the suggested weight, I still fit into the measurements really well. This costume fits like a dream! The sizing runs exactly how it's supposed to (even though the weight range didn't).
Wearability
Can I tell you just how comfortable this costume is? Hell, it's more comfortable than my regular clothes. I also love that this costume can be worn in different pieces. You can go with or without the waist cincher, you can take off the badges and just have a cute mini dress, you can wear the cincher with other outfits. I'm totally digging the versatility of the design.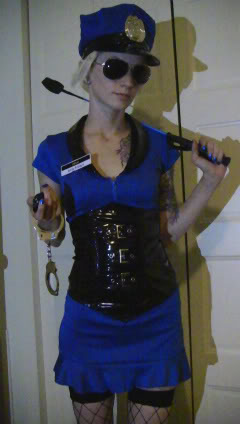 **Note: That is totally not the crop it comes with! The sunglasses were $5 at Walmart.
Care and Washing
Every piece of vinyl on here says that it is dry clean only. If it gets dirty, wiping it down with a slightly damp cloth should get it clean. The skirt can be hand-washed in cool water. The package can be used for storage, as it has a hanger top on it. The buttons on it snap shut.
Suggested Accessories
Double Locking Nickel Handcuffs
A much better crop
Some fence net stockings
Follow-up commentary
1 month after original review
This costume holds up really, really well to use and wear. Even though I've worn it a bunch of times, balled it up and thrown it in my bag, and washed it, it still looks like it did the day I got it. I've worn it in and out of the bedroom. I've done a photoshoot with it. The only issue I've had with it is that the pin came off the name badge, but I easily glued it back on and it's super secure again. This is a costume I intend to have for quite a while and may be my Halloween costume this year.
This product was provided at a discounted price in exchange for an unbiased review. This review is in compliance with the FTC guidelines.

Thank you for viewing
Officer Anita Friskya
– costume review page!