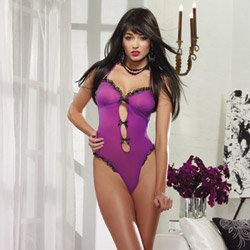 Stretch mesh teddy
Teddy
by DreamGirl
The Good, the Bad, and the... Weird.
If you're teeeeeeny tiny, you'll probably love it. If you're not miniature, I can't imagine this working for you. For mesh, there sure as hell isn't a lot of stretch. I'm giving it 2 stars, but who knows, maybe I'll change my mind once I lose a little more weight.
Published:
Pros:
Cute design, Adjustable straps
Cons:
Crotch area, Cup area, Uncomfortable
I know, it's sort of a weird design, and almost looks like something a female WWE wrestler would wear. But I thought this teddy was strangely cute when I first saw it. That being said, after receiving it and wearing it, it's still sort of cute. I wanted to like it. I wanted to be able to wear it for my man, but it's just too uncomfortable and ill-fitting.

The teddy came in a simple paperboard box, with the stock image seen here printed on the outside. Not great packaging, certainly not the cutest anyway, but I didn't think it was half bad, either. No fancy hanger or anything inside, just a piece of somewhat bunched-up lingerie. It wasn't wrinkled at all, just sort of looked thrown into the package.

I took it out of the box and inspected it. The quality seems good as far as a mesh garment goes, no loose threads and the bows were all securely attached. Next, I moved to try it on.

I pulled it up, tied the back ties comfortably tight, then did the ties behind my neck. I love that this has adjustable straps, and I love halters. They're usually so perfect for me, not so with this one. I'll explain why in a moment.

One of the things I found the prettiest about this teddy were the bows on the front. Well, once it was on, those didn't look so pretty. I'm fairly thin, wearing a small or medium in most shirts, and my stomach is pretty flat - but this made me look like I have a pot belly! The open spaces between the bows got all stretched out and looked like my gut was bursting through the seams. I don't even have a 28" waist!

Though I was hopeful my chest would fit since this didn't have totally molded cups and has no underwire, it fell far short of my expectations. I wear a 34D bra, and the cup area this has is tiny and nowhere near as comfortable as it looks. If I wear it with the bottom part underneath, where it's supposed to fall, it's painful. If I wear it where it fits best, it looks horribly unflattering, and makes my chest look awkward. Halters usually work better for me than this, what gives? Typically, halters give me a comfortable, perfect amount of push up cleavage. This teddy does nothing at all to make my boobs look good.

Unlike the picture, this teddy is most definitely see-through. I wasn't too surprised by this, seeing as "Mesh" is in the name, so that didn't really disappoint me at all. The color is only slightly off, the real deal being a slightly paler but not quite pastel version. It's not my favorite shade of purple by any means, but it's still a pretty, feminine color.

Now, the lower half. This is the part that I was the most unsure about from the pictures, and sure enough, it's no good. It looks like the bottom is really "pointy" if you know what I mean, and the hip area rises up a lot. Not only that, but the black lace around the crotch is crooked. It goes down closer to the groin on one side than on the other. I assume this was just a slight flaw on my piece, but still what happened to quality assurance?!?

I'm used to wearing thong underwear, which I know a lot of people think of as 'butt floss,' but to me they're usually comfortable. This thing feels like a *painful wedgie!

I'll definitely give DreamGirl another shot, but I'll make sure to get products with different sizing options next time.
Follow-up commentary
5 days after original review
I wore this last night, and while my boyfriend liked it on me (as he IS a man...) he agreed that it wasn't the most flattering piece, and he wasn't too attached to it when I said I sort of hated it and wanted to get rid of it.

I'm typically a person who has a hard time getting rid of things, but with this, it wasn't an issue.

No other changes.
This product was provided free of charge to the reviewer. This review is in compliance with the FTC guidelines.

Thank you for viewing
Stretch mesh teddy
review page!