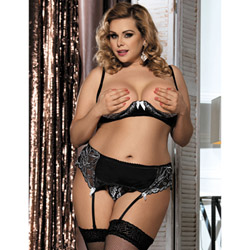 Opening night shelf bra set queen
Bra, panty and garter belt set
by Charm Wear
The Opening Night's Performance was a Rousing (or A-rousing) Success!
The Opening Night Shelf Bra Set (Queen Size) was a success for me, however it is not my favorite lingerie outfit in my collection. It's both crotchless and cupless, putting all your "naughty bits" in full access, and the sexy design is a nice way to add to and show off your natural features in a way that full nudity can not.
Published:
Pros
Matching Set, Sexy Shelf Bra, Crotchless for Open Access
Cons
Some Loose Threads, Flattening Under Garterbelt, Difficult Garter Fastens
Packaging

The packaging for the Opening Night Shelf Bra Set Queen is just what I've come to expect from EdenFantasys' shipping and Charm Wear's packaging. I got a small, plain brown box in the mail, with the shipping sticker showing Web Merchants Inc as the company so there are no signs of naughty contents to give away the true nature of the package.

As for what the item itself was packaged in inside of the shipping box, it was another of Charm Wear's resealable plastic baggies with a white lace trim design border and a bright pink top. These bags are nice so you can reseal your lingerie outfits back inside without worrying the pieces will get separated from one another.

It was a little disappointing that the product image tag displayed two images of the "regular model" and only one of the queen, despite this being the queen size outfit, but this is just a personal nitpick of mine.

How'd It Look?

While the item had a few loose strings when I unpackaged it to try it on, these were easy enough to deal with. All of the included pieces were extremely easy to just slip on. Note that, even though there is a garterbelt, stockings aren't included, so you'll need to provide your own or deal with the dangling garters.

It's disappointing to me that so many lingerie outfits include g-strings as their bottoms. For me, they're not the most comfortable of undergarments, but the fabric was soft enough that this was not an issue. I just wish g-strings weren't the only choice available. Regular panties, and boyshorts, can be sexy too!

I did like how the garterbelt concealed the straps to the g-string. It had a nice look to it this way. However, the garterbelt did not keep a well-rounded shape in my hips like it does on the product model. While on her it seems to rest gently against her body and accentuate her shape, on me the garterbelt - while it did not feel tight - squeezed my body and led to a sort of strange flattening of this area that did not make for a nice profile image.

My favorite item in the set was hands-down the cupless shalf bra. The lace gently caressed the underneath of my breasts while putting the rest on full display. It has a cute little bow right in the middle, and is an overall great item to show off without full-on nudity.

All-together? All of the included lingerie items match each other with the same white pattern, and white bows on the bra and garterbelt, making a lovely unified look. I'd suggest wearing black stockings to match the main color of this outfit - I personally wore my Ruffle Top Fishnet High Thights (Catalog ID: 5806), another Charm Wear product, with my Opening Night set.

Final Thoughts

Just a note: I. Hate. Fastening. Garters. I have come to accept that while they are gorgeous and attaching them to stockings can really elevate a lingerie outfit, making it a full-body look all the way down to your toes, that I struggle with fastening them. Technically the garterbelt is not a necessary part of the outfit, at least - you could wear just the cupless bra and crotchless g-string if you do not want to mess with the garters. This is a shame, though, because I like the look of the garterbelt around my waist. I just wish there was an easier type of garter clip!

My struggles with the garters aside, this is a nice little outfit! It is made to be extremely revealing, so be prepared for the fact that nothing will be hidden in this outfit - everything is out on display, with the cupless shelf bra prominently displaying your breasts.
This product was provided free of charge to the reviewer. This review is in compliance with the FTC guidelines.
Thank you for viewing
Opening night shelf bra set queen
– bra, panty and garter belt set review page!