The sexiest kind of high.
This hi-waist set is an excellent addition to anyone with a love of vintage looks. It will flatter many shapes and sizes of women, and remain classy. Escante seals the deal by adding a pair of hose to the mix. It runs a little small but other than that it is a perfect outfit that I would recommend to anyone.
Published:
Pros:
Hi-waist, flattering for many shapes, hose come with.
Cons:
Lace up back is just a decoration, runs a tad small.
Finding lingerie sets for someone with a lot of curves can be a hard task---Ive stayed clear of lingerie because of it. I seen the Vintage hi-waist set with hose and knew this would be perfect to conquer my fear of two piece outfits. The hi-waist panties are flattering on my large hips, and the lacy bra is a lovely delicate balance to this rather large amount of fabric. This flowered and stripped sheer number is one of the most elegant sets I have seen in a long time---Escante didn't disappoint at all with this one.
While this is a three piece set, consisting of a bra, hi-waist panty with garters, and stockings; you can easily mix and match the pieces with items you already have. Most of these pieces seem practical outside of the bedroom under your every day clothes. I feel I can easily wear the bottoms under a particularly tight dress that I need a little extra stomach pouch support with.
The design pattern on this set is really simplistic, which is more my taste---I am not big on heavy pattern or frills. It is a lovely deep black color with a bit of sheen to it. The lacy isn't overly done, but in turn offsets the stripes that cover the entire body of the two pieces. The bulk of this is made of 90% polyester and 10% elastane---the lace part being 92% nylon and 8% elastane. A bonus being that you can wash this! I would throw it in a pillow case with your other delicates; a heavy cycle might snag parts. Quality wise the bra and bottoms seem really high, this set is going to last awhile---the hose it comes with will easily snag, but are easily replaceable.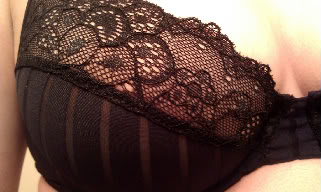 The bra is soft-cupped with an underwire. I was worried about the bra in particular before receiving it, I have a chest size of 36 to 38 c or d; depending on the make. Though ideally with this bra Id love a little extra coverage, I am not falling out of it. The lacy starts about where the nipple falls, but like the rest of the sheer parts, you cannot really see through them. The straps are set a little farther apart than normal bras, so they may stand out while wearing a tank top. There are 3 eyelet hooks in the back, and the hardware seems pretty sturdy. This bra won't give you cone boob or quad boob, which is a real plus if you ask me---it leaves a nice natural curve to the bust.
Before slipping the bottoms on I was worried they wouldn't have much give and would be too small, I found that wasn't the case. Once you give them a nice tug they fit comfortably without digging into the skin. The front consists of 3 panels, these help the fit from bunching. The back has these panels as well, the middle has a peek-a-boo cut at the top. In the description the peek-a-boo cut is labeled as a lace up piece, but the lace up is more just for decoration and not actually useful. If you do try to lace it up the elastic at the top of this part bunches up, leaving it not particularly flattering. At the bottom there are four garter attachments, they are adjustable and a tad bulky. (A little over 7 inches of adjustment, and 1inch thick) I found it hard to open and close the garter attachments without almost snagging the hose---though with a little help it's easier managed. The crotch on this is lined and not sheer like the rest of the bottoms. There are about 13 inches from the top waist band to the start of the crotch lining.
Like I said before, the hose can be easily snagged. They are cheaper quality than the rest of the outfit. I still find these to be a nice touch in making a complete set. You can still get a few wears out of them without a problem. The hose are one size fits all, because the garter is adjustable I don't think anyone will have a problem keeping these up.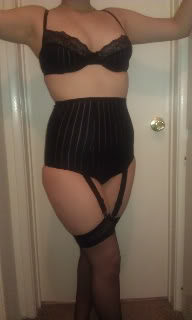 Experience
The size chart for Escante lists the large I grabbed as from 140 to 160 lbs. I don't think this is the case, I fluctuate between 130 to 140 and this fit me quite snug. If I had tried this same size at the start of this year, I don't think it would have fit me with the added weight. So to be safe I would say order a size up, this seems to be my experience with most lingerie. My hip size is 36" and my waist is 28" for those who need a size of reference on fit.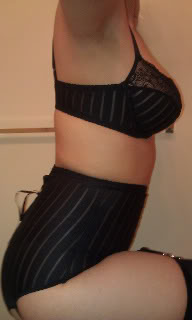 I am really glad I got this as my first separates lingerie outfit. As I hoped, it fit really flattering on my curves and gave me coverage which I was comfortable with. I get really self conscious about my little stomach pouch so I avoid separates like the plague, this was a good compromise. I think this look could work on a number of body types; it seems to be a flattering fit. My only real issue being I can't wear this during the deed, but it is effective as major eye candy.
This product was provided free of charge to the reviewer. This review is in compliance with the FTC guidelines.

Thank you for viewing
Vintage hi-waist set with hose
– bra and panty set review page!