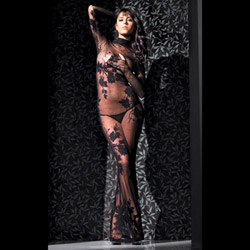 Long sleeve stretch lace gown
Gown by Fantasy Lingerie
The Tragically Hilarious Story Of How I Was Almost Trapped In A Body Stocking
Getting it on was not necessarily the hard part. Wearing it like a sex goddess rock star wasn't even the hard part; in fact, that part was a breeze. The hard part was getting the damn thing off without hair and arms getting all tangled in it, possibly trapping you within its viney clutches for life.
Published:
Pros:
Stretchy, sleeves come down over hands, includes hole for thumb.
Cons:
Kind of awkward, might be hard to take off.
The reason I chose this gown was largely based on the excited opinion of my boyfriend, who has yet to see me in anything lingerie related. His opinion of the picture of the model was that the gown looked weird, but because of my curves he thought it would look hot on me (I'm a size 14 with gigantic boobs.)

And then it arrived in the mail.

Smelling of cheap Halloween costumes and stretchy like nylon should be, I examined the gown and determined that the head hole looked pretty small, but stretching it out I found that I would probably be able to get into it, so I attempted to slip it on.

Okay, just putting it on like a regular dress from the bottom up through the top was weird and unnatural and my hair kept getting caught in the lace. It was then that I decided to bunch it up and put it on like a skirt. I was surprised to find little thumb holes toward the end of the sleeves which was cool because the sleeves come down over your hands and just let your fingers peek out like hobo gloves. The skirt part was all bunched up around my middle so I pulled it down and straightened it out, then adjusted my boobs so that they were at the same level. The cool thing is the stretchy nylon kind of acted like a bra in the sense that it held them up and held them in place, but don't try to defy too much gravity. Nylon is forgiving and all, but not very sturdy. Generally speaking though, the girls looked great.

The lady on the package was wearing underwear, but my only black pair was in the dirty clothes and not incredibly sexy, so I just went bare. I did, however, slip on some black heels that sort of look crocheted (made by Dollhouse) and thought it looked all right. Admittedly it did look a little awkward like in a dream where you go to class naked but it all worked its self out when I came out of the bathroom and he said "that looks really hot on you."

On closer examination, he couldn't stop running his hands over my stomach and breasts and arms. He said that it felt nice, like I was wearing clothes but not. And he said I kind of smelled like a new car, and we debated whether the smell was closer to that or the Halloween costume smell I'd first been reminded of.

It wasn't long before he gently pulled up the skirt and we made love. As we did, I ran my nyloned hands all over his face which he reported as feeling exotic. It was then that I decided that maybe if I were a stripper I'd wear a getup like this over my bra and panties, as it seemed very strippery to me.

When we were finished, something bad happened. I couldn't get it off. It's stretchy and everything and putting it on and wearing it was simple. Pulling it off meant bunching it and pulling on the arms to get them to release me from their tangled vine like grips. Plus it rolled up in the back and got my hair caught in it again so I was screaming just a little bit as he tried to get the damn thing off of me. We almost resorted to my boyfriend using his diving knife to cut me out of the net like a fish but instead he just stretched everything really far so that I could slip out of it more easily. Still, it was kind of a nightmare and I don't think I'd get many tips if that happened in my hypothetical striptease show. It does, however, open up the opportunity for audience participation.
Experience
The gown is neat but not sexy. Possibly to be worn under a shorter black dress for Halloween as part of a witch costume, but too impractical to get off for regular usage in the bedroom. I'm not entirely sure how to wash it except maybe by hand in sudsy water or however you clean nylon stockings. It does seem like it would be a puckered wrinkled mess if you were to carelessly wash it with your regular laundry so care should be taken to ensure the integrity of the gown.
Follow-up commentary
19 months after original review
This ended up working very well under my witch Halloween costume. It kept me surprisingly warm, and with a green skirt and black skirt thrown over it you'd never know it was once a trap. LOL!
This product was provided free of charge to the reviewer. This review is in compliance with the FTC guidelines.

Thank you for viewing
Long sleeve stretch lace gown
review page!