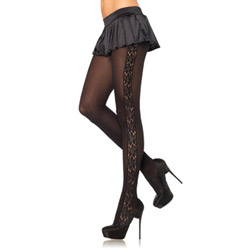 Opaque pantyhose with plumeria lace side panel
Pantyhose
by Leg Avenue
These Were Just Right... For About An Hour.
For the first hour of wearing these, I thought I had found my perfect pair of tights. Unfortunately they stretched out a lot, and ended up making me feel like I was in some kind of torture devise, after just a few hours of wear.

If they fit you properly, these will be great...just be aware that these will stretch out.
Published:
Pros:
Fabric doesn't seem to run, Pretty, Stretchy
Cons:
Stretches out, Bunches
As someone who avoids wearing pants whenever I can, I'm constantly looking for nice tights to wear under my dresses. I thought that these tights, with their adorable side panel, would be just what I was looking for, and if the fit was better, they would be.

I can't see these properly fitting many people, though other reviewers seem to disagree with me on that, so perhaps I've just had a bit of bad luck.

So what exactly are these things?:
Leg Avenue brings us a gorgeous pair of opaque pantyhose with a floral lace panel going up the outsides of both legs. This pair of pantyhose is NOT crotchless.

Where can you wear them?:
Honestly, these pantyhose are great for a wide variety of situations. You can wear them with a casual dress, or you can wear them with a sexy number on date night. They're even appropriate for the office, so long as you pair them with the right outfit.

In my opinion, these aren't the sort of pantyhose that you'd want to wear with lingerie, due to the fact that they're not crotchless; but to each their own.

What are they made out of? How do you care for them?:
These gorgeous stockings are made of 100% nylon, exclusive of the decoration.

The material itself is thick, and feels very durable. The stockings seem unlikely to run, despite the fact that I've been fairly rough with them. I was surprised to find that the material wasn't itchy against my skin as most stockings irritate me. The actual fabric was very comfortable.

One flaw with the material is that I feel like it's going to stretch out very quickly. When I took the pantyhose off, after having worn them for an hour, they appeared to be extremely stretched out.

Now, I know you're all wondering, are these really opaque? Yes, they are! The more you stretch them, the more sheer the material will appear, of course. That said, even stretched over my fairly thick thighs, the material appeared opaque.

As for care? I'd recommend that you hand wash these in warm water, and then hang them to dry.

So how did they fit?:
These stockings are available in one size fits most, but it's difficult for me to tell you exactly how they fit me. You see, when I first tried slipping these pantyhose on, they were too tight. Then, within minutes, they seemed to fit absolutely perfectly. Then... well... after an hour of having them on, I found myself getting angry at the fit, as they suddenly seemed to be much too large for me.

I personally am 5'6", with 40" hips, and a 32" waist. My thighs measure 26" at the widest part. Height wise, these tights fall right around my waist, where they fit perfectly.

For the first hour of wearing these, everything seemed to fit great, then suddenly everything became every loose. After an hour, I had bunching at the knees, ankles, and even on the thighs. The waist also seemed as if it was just way too big.

I would like to say who these would fit properly, but the truth is that I don't believe they'll fit anyone properly (at least when worn for long periods of time). That being said, other reviewers have had great experience with the fit, so perhaps my body is just odd.

Tell us about the design, please!:
The design of this pair of pantyhose is pretty basic. They're black opaque tights with a floral lace panel going up the outsides of each leg.

The lace panel continues down the foot area of the tights, which can be slightly annoying while wearing these.

The lace panel can also make these tights slightly tricky to put on, due to the fact that you'll want to make sure that the panel goes up the sides of your legs as it should. That being said, it's not too hard to adjust it properly.

How's the quality?:
This is where I'm torn.

The material feels like it's of high quality, and I don't feel it will rip easily. That said, the material does stretch out extremely easily, which isn't really a good thing.

All in all, I am giving these stockings a 2 due to the fact that these stretched out so much that they actually made me feel angry.
Experience
After wearing these for a few hours, I HAD to remove them (even though I was still out in public at the time). Wearing a much too short dress without stockings, in public, was more appealing to me than spending another minute in these stockings.

If these fit me properly, they'd be great. It's just a shame that the fit was a disaster for me.
Follow-up commentary
2 months after original review
I wish I loved this pair of pantyhose, but there's nothing I can do to change the horrible fit. Every time I put these on, I find that I have the same experience as before: they fit great for about an hour, and then they stretch out to the point that it annoys me.
This product was provided at a discounted price in exchange for an unbiased review. This review is in compliance with the FTC guidelines.

Thank you for viewing
Opaque pantyhose with plumeria lace side panel
review page!