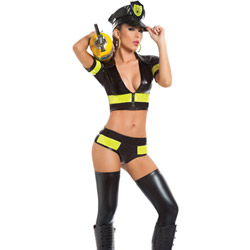 Five alarm fire flirt
Costume
by Espiral
This Fire Fizzled Out
The costume will look cute on some people, but overall I don't think this costume is worth the money. It seems overpriced for what you get and it just isn't that flattering of a piece.
Published:
Pros:
Cute costume
Cons:
Runs a little small, hat looks sloppy
The Five Alarm Fire Flirt set is a sexy little costume from Espiral with a firefighter theme. It is a three piece set that contains a hat, a pair of booty shorts, and a zip up top. It does not come with the thigh highs that are shown in the picture however. It would make a great Halloween costume for those who like more risque costumes and also is a fun costume to wear in the bedroom. It's not a costume that you could easily wear during intercourse itself, but it's easy to incorperate the costume into a sexy striptease.
According to the label, the costume is made of 93% polyester and 7% elastic. However, I do believe some of the pieces on the costume such as the reflective pieces are made of some sort of plastic because they definitely don't feel like polyester to me. The stitching of the material seems to be good and there are no loose threads or pieces that are coming loose. The outfit is to be hand washed only and can be hung up or laid flat to dry.
I received a size XL. I have had two other costumes from Espiral and both of those were made of a very stretchy material so I was expecting this costume to be made of a similar stretchy material and was hoping the outfit would fit me even though I was slightly outside of the size chart with my 40-33-42 measurements. The material was not as stretchy as the other pieces I own so I had to really squeeze into these. I would say it even runs a little small to the measurements listed in the size chart with a 40" bust, 31" waist, and 40" hip. The waist measurement isn't a big issue though since it is exposed in the outfit, but the bust and hip are slightly smaller than what would fit those measurements and probably runs about a size small. The hat seems to be a one size fits all hat. I usually wear a 'medium' size when it comes to hats and helmets and things like that, but this particular hat felt very small on me. I could get in on, but it felt very tight on me.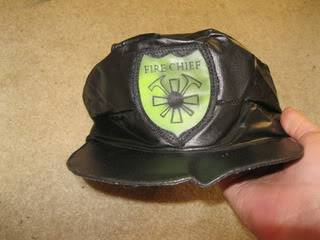 The hat was the biggest dissapointment of the outfit in my opinion. The visor portion of the hat has a permanent crease down the middle where the hat was folded in the box. I've tried and tried, but have not been able to get the crease out. The fire chief badge seems to be miscolored on mine with parts of it being brighter than others. So while the hat was a fun idea in theory, the execution of the hat just wasn't very good, and it just made the outfit look more sloppy in my opinion.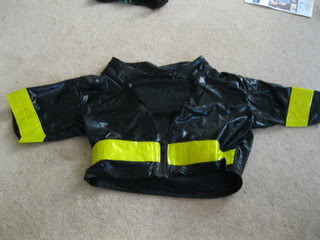 The top is a mid-driff baring, zip-up jacket. There are about 4 inches of zipper and lets plenty of cleavage show. There are four pieces of yellow reflective plastic which contrast against the black polyester.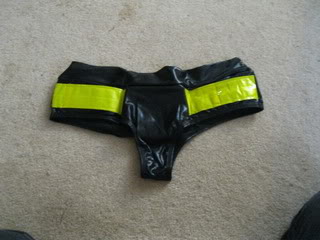 The bottoms are a low rise pair of booty shorts that show quite a bit of cheek. There are two reflective pieces along the front and none in the back. They are lined on the inside.
Experience
This outfit was a little bit of a disappointment for me. I have two other outfits from Espiral which I love, so I was hoping that the Fire Alarm set would be great too, but I was unhappy with it. It fit awkwardly and just didn't make me feel sexy at all. I almost didn't even want to wear it for my partner. I finally did wear it for him and he agreed that it wasn't one of my cuter pieces of lingerie.

This probably isn't going to be a keeper for us, it will probably look cuter on some people, but for me it just didn't feel like a sexy piece.
This product was provided free of charge to the reviewer. This review is in compliance with the FTC guidelines.

Thank you for viewing
Five alarm fire flirt
– costume review page!