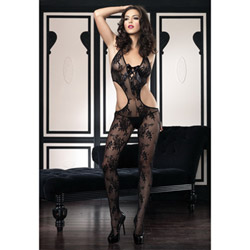 Floral lace bodystocking
Bodystockings
by Leg Avenue
This Flower Bouquet is a Tad Short
This body stocking will really play up an hourglass figure by putting the waist on display. The back is also open and depending on your chest size and height, the front can show a lot of skin too. The one piece design with an open crotch allows it to be worn during sex, comfortably, and easily.
Published:
Pros:
Unique, Works for sex, Gorgeous tie up detail and open back
Cons:
Halter & band don't tie (restricts size range, Not best for tall people or those with large breasts
This looked too gorgeous to pass up. It's the open back that really got me wanting it. The crotchless feature, pretty flowers, and lace up front are selling points too. Body stockings, in my experience, have been COMPLETE hit or miss. This one is best for someone who is a little smaller than me in the chest, but will work with women up to about size 10. It's also better for someone who is an inch or two shorter. It's a decent one size fits "most" item.

*Contents/overview: One pieces

This one piece set from Leg Avenue is a crotchless body stocking. It is offered in one size fits all.

*Material: Great, Durable

This body stocking is made of 100% nylon exclusive of the trim which is the satin ribbon. I also feel like this has some spandex in it although it is not listed. The pattern is a mesh fishnet with a pretty flower pattern throughout. It sort of feels thick since the flower pattern adds to the density of the fabric. It has a decent amount of stretch, but I think it is mostly due to the design. The fabric looks great against the skin and will diminish scars and other flaws, but will still show tattoos and things of that nature. Note that piercings can get caught sometimes too. It is relatively soft and not abrasive but the softness is not impressive. It's pretty average.

*Design/craftsmanship: Excellent, Well made

A body stocking is typically a solid piece of lingerie that resembles a jumpsuit or leotard in that it covers most of the body. So knowing that, this particular body stocking is not traditional, and has some unique characteristics. The biggest different is that the body stocking has large cut outs for the sides of the torso.

The top has a halter neck, but it does not tie around the neck. It is simply a loop. This proves to be a pain for putting the body stocking on, which I will get to later. The bust line is VERY low considering it actually goes down to the belly button, almost. Depending on your height the bust and breasts size the bust will cover more or less than the model. For me, it was less. The cups are triangle like with no additional support. A band goes around the back and does not adjust like a bra. It too is fixed and does not tie. The bust line is a deep V. On the sides of the V, about half way down, are nylon loops. A long, black ribbon is laced through it like a shoe lace would be. It ties at the top. If you'd like, it can be removed and replaced with a different ribbon or something similar. It does function as a way to tighten the front of the body stocking.

The cut outs on the side are very long and for most will fall somewhere around the hips. In the back, it falls right above the butt line. The body stocking is crotchless. The whole is smaller than my last two body stockings in that it doesn't look crotchless until I bend over or open my legs. This might be a plus or a con for you. For me, it's a plus since it still works for sex and doesn't get in the way. The legs are solid, the toes closed and not reinforced. There is a seam that goes up the front of the torso, down the butt, and down the inside of the legs. They are not abrasive.

*Cleaning/care/storage: Hand wash/cardboard box

The tag says to hand wash in warm water. This is easy to do. I wouldn't put it through the wash with the ribbon in it or without a lingerie bag. I would drip dry and never put it through a dryer. It comes in a plastic bag, molded around a cardboard piece that slides inside of a small cardboard box. It has cleaning instructions, sizing, and pictures of the model wearing the piece.

*Sizing/Fit:Good, has set limits due to lack of ties

This item is a one size fits most. For Leg Avenue that usually means it is pretty small, but overall, this item is a good fit. The box says it fits 90-160 lbs. According to Eden's product page it says it should fit heights 5'2" - 5' 9". I don't know where this information came from since it is not on the box or the size chart. It's not accurate in my opinion either. I'm 5'6" and this was almost too short for me! Any taller and the cut outs would have fell below my hips.
Experience
The medium should fit sizes 6-11, cup A-C, band 32-38", waist 23-29", and hip 34-40". I weigh ~142 pounds, size 7/8; curvy but fit with a ~34/36 D bra size. My hips are about 38". The thickest part of my thighs are almost 23".

Putting on the stocking is somewhat difficult. It's best if you bunch up one leg and put it on up to the knee, then do the same for the other leg. The next step is to pull each leg up to the crotch. The difficult part is next. The taller you are, the more difficult it will be. You then have to bend over and get the back strap over your head! The neck strap goes over the head a lot easier. The biggest down side to the sizing is that those two things don't tie.

I found that the breast area was a LOT more open than it is in the picture. It also doesn't cover my breasts nearly as much. Size C is really the functional max for this body stocking. If I bend over, my breasts can somewhat fall out. The band fits me well and doesn't cut in. Lacing up the front brings the cups together and the ribbon looks gorgeous.

The hips fit nicely, but because of my height stretching the outfit, it fell a little low because I am a bit too tall. I had to pull the stocking up a few times when the cut outs fell below my hip line. The thighs were the tightest part of the outfit, but they still fit well. You can tell that the fabric doesn't stretch as it should for a piece like this because the pattern shows strain on the flowers. It creates little lines where the flower pattern gets stretched. Again, not an issue for fit, but it does look a little different. This is also due to the stretch needed for my height. So, this does fit well, but due to my height and larger breasts it is more revealing than it is on the model. I blame the lack of actual spandex in the material.

*MY RE-DONE SIZING CHART:

Dress: 4-10
Cup: B-C (Ideal especially if you are over 5'5")
Band: 32-38"
Waist: Nothing to worry about
Hips: 34-39"
Thighs: Up to 24"
Height: 5'2"-5'5" (Ideal for best fit)
Weight: 110-150ish

*Conclusion: 4 Stars

All said and done, the fit is pretty good for the middle size range. I do which the material had more stretch in it for my height though. It's just a tad too short for me, nothing that is really a deal breaker. For most the biggest issue will be the fact that the neck and band do not tie or even clasp. My boyfriend absolutely loves this even though I felt a little silly in it at first since my chest is much more exposed than it is on the model. Perhaps that's why he likes it? ... ha.
Follow-up commentary
2 months after original review
This is a really pretty piece, but it is not something I like to wear often. I'm not a huge fan of the bust and therefor know that their are other things I own that look even sexier. It has held up, though.
This content is the opinion of the submitting contributor and is not endorsed by EdenFantasys.com

Thank you for viewing
Floral lace bodystocking
– bodystockings review page!