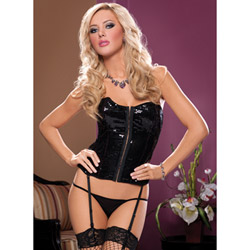 Black sequin bustier set
Bustier
by Seven 'til Midnight
This is news with a black sequin perspective. (XL)
Overall, this is an okay piece, but it's WAY too short on me to be doing my body any favors; also, while I wasn't expecting much in the way of breast support, I was surprised to find that there was ABSOLUTELY NONE in this "bustier" (no boost whatsoever). I wish it was better suited to my body, because the smooth back and hook-and-eye closures in front are truly fantastic. If you are short and perky, this just may suit you.
Published:
Pros:
Sparkly, Good craftsmanship, Fastens in front, Very comfortable, Very accommodating, Nice thong
Cons:
NO breast support, Too short (unflattering), Garters too short
This was not a piece I wanted upon first sight. Even though it was covered in sequins (in front), it was a little too plain for me. As time passed, and I reviewed other items, the things I liked about it became ever more appealing (the front closures, the price, that it was from Seven 'til Midnight, a brand I've had luck with before). On a whim, I snatched it up on buyout while I was ordering my Caged Heat items. Eighteen bucks didn't seem like much of a gamble.
This "bustier" from Seven 'til Midnight came in a (non-reusable) plastic bag, no hanger, no hanging straps (which I usually cut off).
Included in this set: The bustier top, four detachable garters, and matching thong.
The tag (for both bustier and thong):90% Nylon 10% Spandex. Machine wash cold, Do not bleach, Line dry.
Wait, machine wash? With all the sequins and whatnot? That's what the tag says, but I'll probably be hand-washing mine, as I don't mind hand washing, and I'm reasonably certain my washing machine has something against me.
So here we have the ludicrously short "bustier" laid flat.
There are eight pieces of boning.
The front of this garment is two layers thick. The outward-facing layer is, of course, a thoroughly en-sequined fabric that is very thin. It is backed by a layer of soft black mesh (that is a little stretchy), which makes the garment very comfortable (and not itchy at all, as some people think it is by the looks of it).
The back of the garment is one layer thick. This layer is a very stretchy, soft, smooth, opaque nylon/spandex. It's the shiny nylon fabric used in a lot of shapewear and such. I would venture a guess that it's also very durable, as I have a pair of black panties that seem to be the exact same material and I've had those for about seven years (of machine washing them and being a little too fat for them).
The front is a hook-and-eye deal. Eighteen hooks, actually. There's only one row of eyes, but the thing is so stretchy it doesn't matter. Contrary to the product page pic, this garment DOES have a modesty flap, so NO skin shows through. The lack of a modesty flap was the one thing I really didn't like about the product (before I got it), so I thought other people would like to know that it DOES HAVE ONE.
Sequin detail. Aren't they lovely? They're laid out so perfectly and there are no defects anywhere on mine.
Here we have the detachable garters that are useless with this piece (if you are at least 5'8" anyway. I can't say for folks shorter than that). I usually have pics that show the garters at the longest and shortest, but I couldn't even get pics of the garters being shorter than their longest without: 1)Exposing my breasts or 2) Being molested by my thigh-highs.
I really didn't get this to wear it in the bedroom, though, so I never intended to wear it with garters anyhow. Just including this information since it CAME WITH THE GARTERS and they DON'T WORK OUT IF YOU'RE TALL. I don't even consider myself tall and they're stupid short to me.
A surprisingly nice thong, even for Seven 'til Midnight thongs (which always fit me well). The triangle material is the same as the material on the back of the bustier, and the band is adjustable. My first thought was, "If you're ordering an XL, aren't you just going to max out the band for the least tight fit?" (I prefer my underwear a little loose so there's no cutting), but I remembered that some people order up for, say, their bust, and have narrow hips.
Sizing Information:
At some recent point in time, Eden acquired the
Seven 'til Midnight size chart
....or I'm just incredibly unobservant and it was there all along.
So, according to STM, an XL should fit one who fits these measurements:
Size 14-16
Cup D-DD
Bust 38-40
Waist 30-32
Hips 40-42
MY measurements:
Size 16
Cup C
Bust 42
Waist 32
Hips 42
HEIGHT 5'8"
I would say that this garment runs a little big. The STM chart says 30-32 inches, but UNSTRETCHED the garment is 32 inches from the hooks to the eyes. This garment is close to being loose in my waist, and I think it would COMFORTABLY fit a 36" waist, if not more. The hips could take a few more inches, maybe up to 46" even. The bust....I'm over the guide and it's not tight. You could easily fit D's or DD's in this, I think, but just know that this thing won't give ANY SUPPORT AT ALL. YOU'RE ON YOUR OWN.
Experience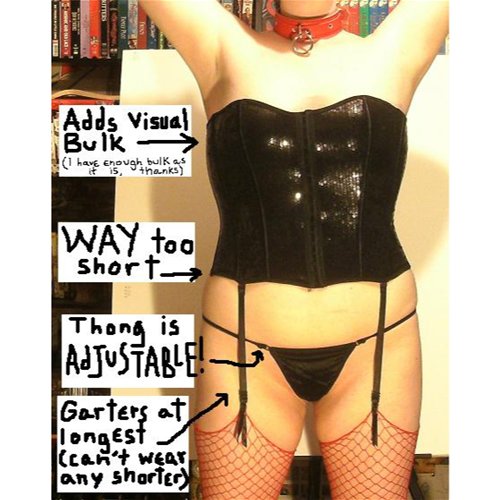 Look at how short this thing is on me.
Check out the fit on the plus-size model.
Either she is SUBSTANTIALLY shorter than me or she got a hella-different top than me. I feel that the short length makes my ribcage looks wider, which I don't particularly care for as I already have a MASSIVE ribcage.
ANYWHO, you can't tell, but the garters (at their longest) were desperately trying to pull my top down while I was taking these pics.
The thong would probably comfortably fit up to 44" hips.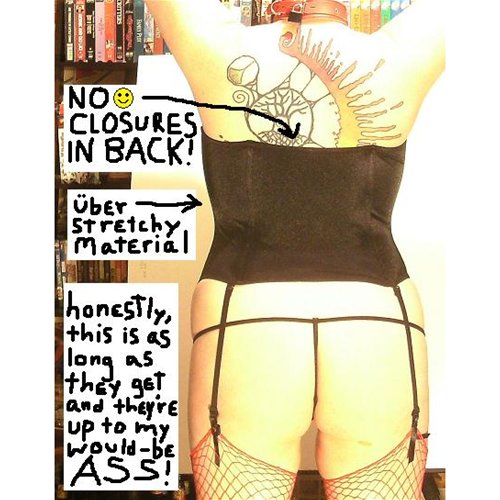 It's a back view. And overexposed (it's difficult to get useable pics at night because I have to use a lamp to make it bright enough).....I'm really pleased with the back, being all smooth and closure-less and what have you. I'm also happy that it's both stretchy and opaque. I've all but come to expect super stretchy to equal transparent.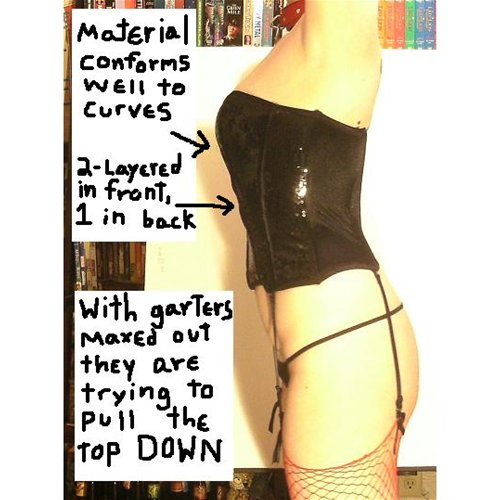 Side View. The material molds very nicely (and comfortably) to the skin.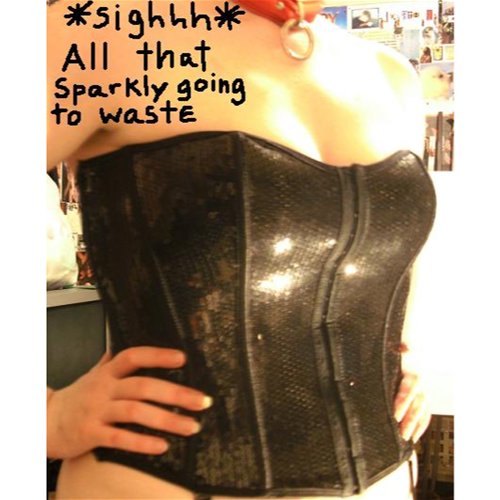 It really is lovely. It's just too short for my body. I'm probably going to try and alter it into a dress or something because I really want it to be something I can wear.
If I failed to leave anything out, feel free to ask questions in the comments :)
This product was provided at a discounted price in exchange for an unbiased review. This review is in compliance with the FTC guidelines.
Forum
| Discussion | Posts | Last Update |
| --- | --- | --- |
| corsets | 15 | |
Thank you for viewing
Black sequin bustier set
review page!