This kinky bride says, "I do!"
This is a beautiful set and I was pleasantly surprised that my boobs weren't cut in half. Rather, they filled the cups nicely and looked great. The garter belt is just as lovely as the bra but more adjustable. The g-string was a little lacking and plain, but underneath the garter I guess it doesn't matter much. I recommend this set to anyone looking for a kinky lingerie set.
Published:
Pros:
Shiny, elegant, accomodating to a large size range, and high quality stitching.
Cons:
Larger than I expected, so I didn't get enough support. PVC can get hot easily.
Overview:
This Dark Bride set by Fantasy Lingerie is very flashy, and would be perfect for kinky BDSM settings (or not!). If I were to sum up this set in three words it would be
classy, kinky, and dark
. It comes with three items: a bra, a garter belt, and a g-string.
Packaging:
All three pieces came together on one plastic hanger inside a plastic cover. It isn't very cute or fancy, and actually looks quite cheap. Both the hanger and the plastic cover are suitable for storage if taken care of.
Material and care:
The product page simply says the material is polyester (I assumed it would be super shiny wet look), but the tags say that it is a 70% poleather (what the hell is p
o
leather?), 30% polyester blend. It is actually PVC, which is different from wet look items as it isn't very breathable. Wet look is a shiny polyester/spandex fabric and is much more breathable.
The PVC material itself is a little stretchy, and due to the stitching and probably some elastic, the seams are very stretchy to accommodate sizes and movement. It is much shinier than my wet look pieces, and shinier than real leather too. The lining of all of the pieces is soft polyester, which is very comfortable.
This set's instructions say to gently wash with darks separately, tumble dry low, remove promptly, do not twist or wring. I personally would NOT wash or dry these with other kinds of clothes, since it's PVC. It can be wiped down on the outside with an Eden wipe. If the lining needs to be washed, hand wash in cold water and hang dry.
Sizing:
Here is Fantasy Lingerie's size chart:
This set comes in small, medium, and large. I wear a 34D bra and a size 10 in pants, so my top should be a large and the bottom should be a medium, according to the size chart. I chose a large because there is no way my boobs would fit a medium. Here are the measurements for each of the items in this set:
Bra
Cup height (from where the bra points out): 15cm or 6in high
Cup width from one end of the underwire to the other: 23cm or 9in wide
Bust length with shortest hook setting: 80cm or 31.5in long
Bust length with longest hook setting: 84cm or 33in long
Note that the bra stretches a lot width-wise (seen in the image below), and can accommodate another 8cm of stretching, but I doubt that would be comfortable at the max for anyone. The bra wasn't perfect, but I was expecting it to be much worse. The bust was too loose for me, so I didn't feel as much support as I probably could have if I were a 36 or a 38, but it wasn't falling off of me. 34D boobs are hard to fit, so I was surprised that it worked at all. The cups, however, were perfect, even if they seemed slightly pointy before trying the bra on. I filled them out nicely.
Garter belt
Garter belt width (where white stripe is): 17cm or 6.69in wide
Garter belt length (not including adjustable lace-up part): 80cm or 31.5in long
Lace length: 80cm or 31.5in long
Garter straps at shortest height: 15cm or 6in high
Garter straps at longest height: 26cm or 10.25in high
The garter belt has a lace up closure, and can fit a variety of sizes because of this.
G-string
Triangle width: 15cm or 6in wide
Triangle length: 19cm or 7.5in long
G-string circumference: 77.5cm or 30.5in around
G-string length front to back: 43cm or 17in long
The g-string was not snug enough for me, but I don't have a lot of assets so I expected that. The strings are made of elastic to accommodate booties of all sizes. If you wear size 12 or higher, the g-string will probably be fine on you.
----------------------
Overall the sizing wasn't perfect, but when you consider only three different sizes are available for a matching bra, garter and panty set, it wasn't the worst I've ordered. The bra is usually the hardest part for me, and it actually stayed up without pinching me or cutting into my boobs at all. The cup size was right for me, but the bust and the g-string were probably meant for larger measurements than what I have. I'm curious to how a medium would have fit me.
Experience
Pairing suggestions:
I like how this set is paired with a pair of white fishnet thigh highs in the model's picture: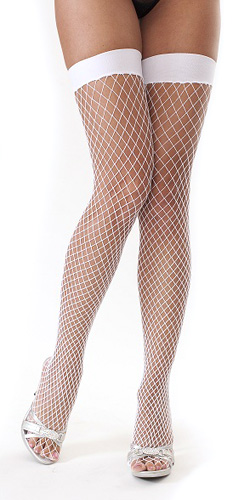 White fishnet thigh highs
I also tried this set with my wet look thigh highs, which didn't quite match since they were made of different materials, but it was a fun look:
Quality:
I was impressed with the quality work done on this set. All three pieces feature the same elastic straps and black pleather material. The stitching on the bra and garter belt is beautiful and I really appreciate how stretchy everything is to accomodate the lack of sizes. The g-string was a little cheap and featured a very small cloth lining at the bottom of the triangle, but I am used to getting cheap underwear from lingerie sets. If you want a better thong to match, Fantasy Lingerie makes other PVC lingerie items.
Experience:
Overall, I am really impressed with this set. I like how the material feels more than my wet look pieces, but I wish they matched them more. The sizing, like I mentioned, wasn't spot on and I was prepared for a disappointment and was proven wrong. Despite not fitting perfectly (my boobs are always hard to buy bras for), I'm giving this set 5 stars.
Follow-up commentary
1 month after original review
This was really sexy when I first wore it, but I haven't really felt the urge to wear it again. The material is not the worst, but I feel more comfortable in other lingerie sets that I own. For now this will be collecting dust in the closet. Shame, really.
This product was provided free of charge to the reviewer. This review is in compliance with the FTC guidelines.

Thank you for viewing
Dark bride bra and garter set
– bra and panty set review page!